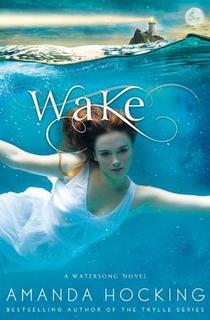 Wake by Amanda Hocking
Series: Watersong #1
Published by St. Martin's Press
Publish Date: August 7, 2012
309 Pages
Source: Publisher for Review

Gorgeous. Fearless. Dangerous. They're the kind of girls you envy; the kind of girls you want to hate. Strangers in town for the summer, Penn, Lexi and Thea have caught everyone's attention—but it's Gemma who's attracted theirs. She's the one they've chosen to be part of their group.
Gemma seems to have it all—she's carefree, pretty, and falling in love with Alex, the boy next door. He's always been just a friend, but this summer they've taken their relationship to the next level, and now there's no going back. Then one night, Gemma's ordinary life changes forever. She's taking a late night swim under the stars when she finds Penn, Lexi and Thea partying on the cove. They invite her to join them, and the next morning she wakes up on the beach feeling groggy and sick, knowing something is different.
Suddenly Gemma is stronger, faster, and more beautiful than ever. But her new powers come with a terrifying price. And as she uncovers the truth, she's is forced to choose between staying with those she loves—or entering a new world brimming with dark hungers and unimaginable secrets. –(summary excerpt from Goodreads)



My Thoughts: I feel like I can call myself a pretty solid fan of Amanda Hocking after reading The Trylle Trilogy and loving each of those books to pieces. I was thrilled to pieces to read Wake and I have no doubt that this is going to be another series that I'll fall for. Just as I suspected, I'm already pining away for the next book to be released.

1. The Characters.
Gemma. Star swimmer and super pretty. Gemma loves swimming and has a tendency to go down to the ocean and swim late at night alone – she feels most at ease there when there are no crowds and she can be under the stars. Gemma becomes increasingly annoyed when a trio of ridiculously beautiful girls show up in her area of the water and start partying nightly while she's swimming. ~ Gemma has fallen for Alex, the literal boy-next-door and her sister's best friend.
Harper. Gemma's older sister. More responsible, slightly less beautiful, and nearly unable to let loose and have fun, Harper worries almost constantly about Gemma and her reckless decisions (like swimming alone at night). Harper doesn't really date since she spends so much time helping her father raise Gemma but she kinda-sorta develops a crush on a guy that lives down by the docks. (I loved this.)
Alex. Gemma's boyfriend who actually lives next door. Alex has always been a little bit on the nerdy side, but lately he's gradually starting to be quite handsome. Gemma finds herself thinking about him more and more – his personality, his handsome face, and his body, which is starting to fill out. Alex sweetly admits to Gemma that he thinks of her too, and the sparks fly – but the two react slowly. What a great guy, this Alex! He is respectful and respectable, and basically a breath of fresh air. I like him!
Secondary Characters. Just as I suspected, the secondary cast in Wake is fun and I found myself falling for them. In particular, I loved Gemma's father, Brian – he worked hard as a single parent since his wife lives in a group home after a car accident. He may be a little bit scatterbrained and lax in his parenting (in some ways), but he has a good heart and his intentions are always well-placed. I also loved Daniel, the guy that lives on the boat down at the docks. He turned up at some of the most unexpected times (to Harper) and by the end of the book it looks as though there may be a crush brewing. Daniel was by far one of my favorite characters in the book and I look forward to more of him in this series.
2. The Sirens. There are some new girls in town and they aren't your ordinary mermaids, folks! Penn, Thea, and Lexi have shown up in town and nobody knows where they came from. These girls have beautiful singing voices and they love to dance. They're absolutely gorgeous and people can't help but be almost entranced by these girls when they're around. Is it their looks? the way they talk? No one knows! They have an odd interest in Gemma and she just wants them to leave her alone.

The author uses classic mythology as the background for these sirens, of course, which I loved – but she puts her own spin on it, which is always fun. (Oh yeah, they have super-sharp teeth and like to feed on flesh. There's that too. Mmmhmm.)
3. The Story. Gemma loves the water and is a great swimmer. She's also very beautiful. The sirens convince her to party with them while she's alone for a night swim, where they make a decision for her that has some pretty huge consequences and changes Gemma's life forever.
The first half of the book is pretty much a build-up of characterization, setting, and mythology – one might say the story is very character-driven up until a certain point. I didn't actually find out the sirens' story until nearly halfway through the book – by that time I was pretty solidly invested in all of the characters. From there, though, there was a lot going on while Gemma struggled to deal with some stuff and the rest of the cast tried to figure out what in the world was up with her. The pages turned much faster and the plot moved much quicker in the second half of the book. Amanda Hocking has such an easy and elegant way with her language – her story just seems to flow well and her words dance. Even though these girls were vicious creatures, I loved reading about them because the story-telling was just so doggone lovely.
4. The Romance. While I was reading Wake, I was thinking that this was like a romance-lite because there is no love triangle. Gemma and Alex are friends that turn into a crush that turn into a slow relationship with solid feelings by the end of the book. I loved it.

5. The Cover. So pretty. So, so shiny. And when you flip it over, there's a surprise. I love all the things about the cover!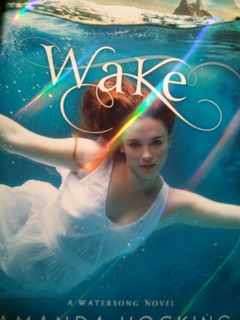 Look how shiny the cover is
under the light!
************************************************
Wake by Amanda Hocking is a lovely start to what I'm expecting to be a great new series. When I started reading, I thought this was going to be another mermaid series (I was okay with that!) but when it turned out to be a book about sirens, I got really excited. Of course the author that brought us the series about those awesome trolls would go straight for sirens! I absolutely cannot wait to see where she takes us with the next book. I have no idea where she's going to go with this story!

While I did think the book moved slower in the first half than in the second half, I was not bothered by this at all. I trust this author to tell great stories and by the end of Wake I felt satisfied that she has started us on a fun journey with Gemma, Alex, Harper, and these pesky sirens. The ending was very high-energy and there is a slight cliffhanger but I'm not worried! Why? Because I JUST LOVE THE WAY ST. MARTIN'S AND AMANDA HOCKING WORK TOGETHER. Of course, just as before, these books are set to be released every six months instead of every year. I wish this happened more often!

I recommend Wake to fans of Amanda Hocking's previous books. I also think fans of mermaid books in general will like this series because while it is completely different mythology with sirens, it still pertains to the ocean. Fans of YA romance will enjoy what looks to be the beginning of a very powerful romance in Gemma and Alex and (hopefully) in Harper and Daniel. Also there is a draw, I think, with people that are hesitant to start new series right now because these books are being released in quick succession.
Wake will appeal to fans of:

YA Paranormal/Fantasy
Romance: no triangle, nice & slow
Sirens! (not mermaids.)
Short wait between each book in this series! YAY!

Wake by Amanda Hocking
is currently available for purchase.
**
I received a review copy from the publisher in exchange for an honest opinion and review. I received no compensation for my thoughts. Thank you St. Martin's!
*************************************************************
MacMillan Audio has provided a sample of the book
in audio format.
Click HERE to sample
Wake by Amanda Hocking
in audio format!
I like the way it sounds! I would absolutely consider this for a re-read!
Thank you so much, MacMillan Audio!
*************************************************************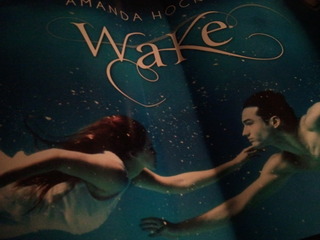 Look at the surprise under the cover!