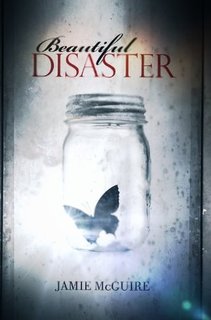 Beautiful Disaster by Jamie McGuire
Series: Beautiful #1
Published by Atria Books
Publish Date: July 12, 2012
(first published May 26, 2011)
276 Pages
Source: NetGalley
The new Abby Abernathy is a good girl. She doesn't drink or swear, and she has the appropriate number of cardigans in her wardrobe. Abby believes she has enough distance from the darkness of her past, but when she arrives at college with her best friend, her path to a new beginning is quickly challenged by Eastern University's Walking One-Night Stand.
Travis Maddox, lean, cut, and covered in tattoos, is exactly what Abby wants—and needs—to avoid. He spends his nights winning money in a floating fight ring, and his days as the ultimate college campus charmer. Intrigued by Abby's resistance to his appeal, Travis tricks her into his daily life with a simple bet. If he loses, he must remain abstinent for a month. If Abby loses, she must live in Travis's apartment for the same amount of time. Either way, Travis has no idea that he has met his match. –(summary from Goodreads)
Beautiful Disaster by Jamie McGuire

My Thoughts:
Wow, what a sassy little book! I chose to read Beautiful Disaster because it was getting all kinds of mixed reviews. I sat down and inhaled it. And then I tweeted to another reading friend that it was a very entertaining trainwreck, and I stand by that.
The first thing you need to know is this
:

Mixed reviews add fuel to my fire.
If there is anything that will make Asheley pick up a book, let it have mixed reviews. Beautiful Disaster seemed to be getting mixed reviews lately, so I literally threw everything down and started the book right away. And I can totally understand why everyone feels all-over-the-place about this one.

I went into it thinking that the main male character, Travis, was this big abusive dude that was horrible and awful and that I would hate him. I had this idea that he picked on poor, innocent, sweet Abby and that I would maybe-probably find her to be a weak character. BOY WAS I WRONG. Preconceived ideas, be darned. This book is a wonderful example of how everyone can have different perceptions of the same thing.

I will say that I inhaled Beautiful Disaster, and for good reason. And as soon as I finished the book, even before I turned off the my Kindle, I tweeted a reading friend that it was the most entertaining trainwreck I had ever read.
The second thing you need to know is this:
Abby Abernathy is NOT a good girl.
Travis isn't as bad as some people think, either. At least not in my opinion.
Abby is impulsive and wild and reckless. Sure, she thinks about what she does. She just doesn't think well or clearly or enough. Abby always seems to be able to justify her worst behaviors to herself. She takes shots of alcohol on her birthday because she's getting paid per shot and she needs the money. (!!!) She has a fake ID because she has some things going on in her life that make her need a fake ID. (Oh, these things!) She has unprotected sex because she just cannot wait. (!!!)

Abby! Have you ever heard of alcohol poisoning, prison, or ALL THE THINGS that can happen when you have unprotected sex with a womanizing man like Travis? YES. Yes you have. Everybody has. So stop acting like that!

Case in point: Abby is reckless, a trainwreck.

Travis uses women, big-time. He doesn't do commitment, doesn't take phone numbers. He doesn't always get the names of the women he sleeps with. And there are many, so many. Travis is hot, so very handsome. Tattoos, muscles everywhere. Everyone knows who he is – the big man on campus.

Travis is not only well-known for his looks and reputation with women – he's also well-known in an underground fighting ring on the campus. Travis pays his bills by beating the crap out of anyone who dares to challenge him to a fight. People come out in droves to secret locations to see the fights and they bet money on Travis because he always wins. Travis is very cocky and people are actually a little afraid of him.
Travis! Don't you know it's wrong to use women the way you do? YES. Don't you know it's awful to beat the crap out of people for no reason? YES. Don't you realize that having the I'm-the-Boss attitude makes you look weak? Apparently not.
Case in point: Travis is a well-known guy, a womanizer, a fighter.
People try to stay on the right side of his temper or pay the price.
And women fall all over him only to be disappointed when he isn't interested,
even though they know he won't be.
Despite everyone's opinions of Abby, she irked me. Abby made bad decisions. Very bad! She was not weak. She just acted wildly inappropriate on every level. Abby gives good college-aged girls a bad name. And despite everyone's opinions of Travis, I didn't dislike him as much as everyone made me think I would. YES, Travis is a raging alpha-male. And YES, Travis acts inappropriately. Travis needs some serious help. The difference that I saw in these two is that Abby did not try to be better. Travis tried to be better over and over, he just kept failing at it. There is a realization in Travis that he isn't okay, that his behavior isn't good or safe. I never saw that in Abby. With Travis, he just did not make the extra step and seek out help for his unsafe behaviors – he viewed Abby as the one who could help him when she was clearly as unstable as he was.
For more in-depth information on exactly the things Abby and Travis do, there are tons of reviews everywhere. And they're very opinionated and in-depth. There are equal parts FOR and AGAINST this book. So find them and read them.

The third thing you need to know is this
:

I was able to read this book without TAKING ON
the issues inside of it. Does that make sense? Probably not.
Let me explain.
When I chose to read
Beautiful Disaster
, I sort of knew what I was getting into. I read it because it was controversial. I knew that there were issues of a possibly heavy-handed male being in a relationship with a female, so I knew that this would be an issues-contemp. If you pair a good issues-contemp with a good romance, those are my favorite kinds of contemporaries.
Here's the thing, friends. That's exactly what Beautiful Disaster is: issues-contemp + romance-contemp. And if you go into the book expecting exactly that, that's what you get. If you go into the book expecting to fall in love with Travis – well, you might, cause some are. But you also may be disappointed.
I was able to separate myself/how I feel about the issues inside of the story from the actual story, and because of that I think I enjoyed it much more. Was it a trainwreck? Heck yes. Was it entertaining? Absolutely! Like I said before, it was the most entertaining trainwreck I've ever read.
***********************************************************
Guys, this book is called BEAUTIFUL DISASTER. Don't go into it expecting the most awesome romantic love story ever with fluffy clouds, butterflies, rainbows, and unicorns. This relationship is troubled. Abby and Travis should not be together! But they are and it is a disaster. Is it a beautiful disaster? I'm not really sure, but it is one heck of a story and the author wrote it like a champ.

These characters are just nutty. They both have issues like crazy. They both start out the story with so much potential and by the end of the story…well, they're pretty much the same. If either of them made any forward progress, maybe Travis made a little bit of forward development. Certainly Abby did not. But that is the story! THAT is the STORY – that these two are so absolutely not good for each other and still they end up together anyway.

To make it clear: Abby and Travis are not two characters that I love. I'm not sure if I even like them. I know I don't really like Abby. I do, however, like their story.

There are a few secondary characters in the story that stand out. Shepley is Travis' best friend, cousin, and roommate. If there is a reason that Travis is still standing and functioning, it is probably most due to Shep. He is the most rational and level-headed – and NICE – of the group of four friends. Travis' family – his brothers and his father – are wonderful, in my opinion. I loved them like crazy and want MORE of them. I want more of them in the next book, set to be from Travis' point-of-view (I think) or I want spin-offs! One character that I did not care for at all – probably the least in the entire book – is America. As Abby's best friend, I would have expected more from her. While she did support Abby unconditionally…well, that's exactly it. She supported Abby unconditionally. Good friends need to step in and tell you when you are drinking WAY too much and making BAD BAD choices in your life or are they really your friends? (Hmmm. Some food for thought there.)

Beautiful Disaster has a bazillion MATURE themes in it. That means that it isn't something I'm recommending for my younger blog readers. Got it, you guys? This isn't a young adult book so use some common sense and good judgment! I do recommend it to older and more mature readers that enjoy the new adult contemporary titles and contemporary romance, particularly those that are issue-heavy.
I gambled on this book and it paid off well for me, and this is because I was able to see the story for exactly what I felt like it was. I went into it expecting a disaster so I wasn't surprised when I got one. I will absolutely read the next book when it comes out, as soon as I can. Even though Abby and Travis are a disaster, I loved reading about them because I think this author is onto something very interesting and I'm anxious to see what she does with the next book.
Beautiful Disaster will appeal to fans of:

New Adult Contemporary Romance with Issues
(romance-contemp + issues-contemp)
This book has mature themes!
Use some good judgment, young readers. Seriously.
Beautiful Disaster
by Jamie McGuire
is currently available for purchase.
**
I received a review copy from the publisher in exchange for an honest opinion and review. I received no compensation for my thoughts. Thank you Atria and NetGalley!
*************************************************************
Have you read BEAUTIFUL DISASTER yet?

If you have, what did you think?
If you haven't, do you plan to?