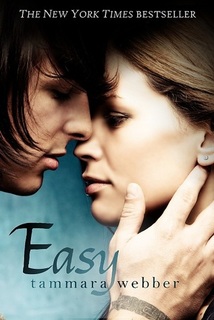 Easy by Tammara Webber
Published by Tammara Webber
Publish Date: May 25, 2012
304 Pages
Source: Borrowed via Kindle Loan

A girl who believes trust can be misplaced, promises are made to be broken, and loyalty is an illusion. A boy who believes truth is relative, lies can mask unbearable pain, and guilt is eternal. Will what they find in each other validate their conclusions, or disprove them all?

When Jacqueline follows her longtime boyfriend to the college of his choice, the last thing she expects is a breakup two months into sophomore year. After two weeks in shock, she wakes up to her new reality: she's single, attending a state university instead of a music conservatory, ignored by her former circle of friends, and failing a class for the first time in her life.
Leaving a party alone, Jacqueline is assaulted by her ex's frat brother. Rescued by a stranger who seems to be in the right place at the right time, she wants nothing more than to forget the attack and that night–but her savior, Lucas, sits on the back row of her econ class, sketching in a notebook and staring at her. Her friends nominate him to be the perfect rebound.
When her attacker turns stalker, Jacqueline has a choice: crumple in defeat or learn to fight back. Lucas remains protective, but he's hiding secrets of his own. Suddenly appearances are everything, and knowing who to trust is anything but easy. –(summary from Goodreads)

Easy by Tammara Webber


My Thoughts: YAY! I was finally able to snag this one as a borrow and read it and GOOD GRIEF I need to buy it ASAP. That is all.
The first thing you need to know is this
:

ONE. SITTING.
Most of you know that I have absolutely no problem ignoring life if the life I'm reading about captivates me enough. Such was the case with Easy by Tammara Webber. One sitting, you guys! The story started off with a pretty intense scene and I was hooked – not because it was an awesome, fun scene, but because I HAD TO KNOW what was gonna happen. By the time the first few chapters were over, there was enough swoon that I knew my household would be taking care of themselves for the morning.

Honestly, it wasn't just the swoon-factor that kept me quickly Kindle-clicking away at Easy. The story was wholly fascinating and I found it realistic, which made me want to keep reading. But lately, as I've been reading more and more contemporaries, when you add just the perfect amount of romance-contemp with issue-contemp, I'm sold.
The second thing you need to know is this
:
I liked Jacqueline and Lucas and Landon as characters.
A lot!
Jacqueline felt like a genuine college-aged student that was trying hard to make it on her own with the fresh status of "ex-girlfriend." She was dealing with quite the adjustment of being ex-girlfriend to one of the popular fraternity brothers on campus, which made her a nobody overnight because she was not in a sorority. (This is very much the way I remember things on campus where I went to college.) Fortunately, Jacqueline had a great support system in her best friend PLUS she was lucky enough to have one college professor in particular that was caring enough to suggest tutoring and a chance to make up the lost grades she suffered when she missed classes after her break-up. Lucky for Jacqueline, her tutor was fantastic. Landon was understanding and kind, even when she wasn't able to meet with him in person pretty much at all throughout the semester. He took extra care to tutor her over the computer and send her helpful worksheets through email. What a guy, that Landon.

If I'm being honest, though, it was Lucas that stole my heart. He was easily my favorite character and I'm sure I'm not the only one. Every time I found out something new about him, I liked him more and more. The thing is that even though he worked a ton of jobs and kept appearing in all of the places Jacqueline frequented around campus – and despite the fact that his home life was incredibly dramatic and hard – it was still very authentic for a college student and I never felt like it was too good to be true. Lucas ended up, of course, catching the eye of Jacqueline and the two have a fantastic slow-burn relationship that I will want to read over and over and over. NOT JOKING. There was a depth to Lucas that I really loved outside of his budding relationship with Jacqueline, and I love how the author kept revealing it to us in bits and pieces. Lucas was much more than just a hot guy in a book, and I can appreciate that so much. It made the swoons so much better.

All of the characters in Easy,
supporting cast included,
were fun and lovely and believable. The bad ones were sadly believable and just horrible, and unfortunately some of us have known losers like that in real life. The good ones were supportive and wonderful and fun to read, and thankfully most of us have the good fortune to have people like that in our lives as well. Overall, this book is cast superbly from the main cast to the supporting cast, and even the people that only appear in one or two scenes. I loved reading them all.
The third thing you need to know is this
:
Indie publishing has several New Adult titles.

Let's not overlook Indies, you guys!
As with music and movies – let's do the same with books.
I'm glad that the emergence of the New Adult sub-genre is giving more attention to some great Indies out there. That is all.
**********************************************
Easy by Tammara Webber completely made my day when I read it. It made me skip through the house and sing songs and want to start it again from the beginning, right away. Nobody loves horrific events in life when they happen to us or those around us, particularly those around us. But when we can overcome them, it's awesome. When we can use what we've been through to help other people, it's awesome. When we can overcome things together with other people who are going through things too, it's awesome. Easy represents one of those stories. It's about several people that had terrible things happen to them BUT they rise above their circumstances and begin a healing process and learn to trust again and try to move forward with their lives. To this end, Easy is an incredibly powerful book.

There's this other part of it that is a little more lighthearted and that is the college experience. It was fun to step back into the lives of these characters for a couple of hours and remember how life was back then. Spending the majority of time studying and working, and occasionally finding time to have a little bit of fun grabbing coffee or hanging out with friends – these moments in the story were so much fun. I loved them.

But…the romance between Jacqueline and Lucas was awesome and steamy and another slow-burn of awesome. GAH I LOVE THOSE, you guys. Because of what happened in the beginning chapter or two of the book, this is a relationship that began with nothing but respect – and from there it was just lovely. This author knows how to write a romance – in particular, a romance suited for a mature YA audience – and my only question is WHEN DO WE GET THE NEXT ONE PLEASE?

If you haven't already read Easy, I recommend that you just do it. Just grab it and read it. It isn't expensive and it's easily available for eReaders, phones, computers. It's WORTH ordering in paperback if you don't have an eReader. I recommend Easy for readers that love contemporary romance, people that love the New Adult sub-genre/are taking the New Adult challenge, and love the SWOONS. Other than what I've said here, I can only gush and speak incoherently about this book.
Easy will appeal to fans of:

New Adult Contemporary Romance
(romance-contemp + issues-contemp)
Swoon-Worthy Male Lead
*Low-cost, Lendable Ebooks*
Easy
by Tammara Webber
is currently available for purchase.
*************************************************************
Have you read EASY yet?

If not, is it on your wish list?