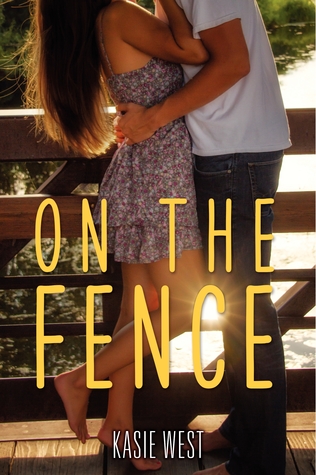 On The Fence by Kasie West
Published by HarperTeen
Publish Date: July 1, 2014
320 Pages
Source: Borrowed
Find It: Goodreads / Amazon / B&N


She's a tomboy. He's the boy next door…

Charlie Reynolds can outrun, outscore, and outwit every boy she knows. But when it comes to being a girl, Charlie doesn't know the first thing about anything. So when she starts working at a chichi boutique to pay off a speeding ticket, she finds herself in a strange new world. To cope with the stress of her new reality, Charlie takes to spending nights chatting with her neighbor Braden through the fence between their yards. As she grows to depend on their nightly Fence Chats, she realizes she's got a bigger problem than speeding tickets-she's falling for Braden. She knows what it means to go for the win, but if spilling her secret means losing him for good, the stakes just got too high. -(excerpt from Goodreads)
On The Fence by Kasie West
I have learned by now that I can expect great stories from Author Kasie West and I also know by now that she is instant-read status. I have loved everything that I have read by her. Regarding her contemporary books – last year's The Distance Between Us, and most recently, On The Fence – I literally read them both with smiles on my faces.
I think that On The Fence is probably my favorite of West's books to date, and the reasons why are the same reasons that tend to pull at my heartstrings in any story. Main character Charlie (who is a girl) lives with her father and her overprotective brothers, and of course there's the guy-next-door that she claims as a brother, but really isn't. Her mother died years ago and naturally Charlie still mourns for her, but more than that she has arrived to the place in her life when a mother would make everything easier – from how to dress and act like a lady…to wearing make-up…to having friends that are actually girls…to handling the always-tough subject of boys and what to do when she has a crush. Charlie copes with these things by pretending that she doesn't care about any of it, by being the best tomboy she can be, by playing sports as well as any guy ever could. Charlie has no idea that all of the guys around want a chance to go out with her because she's, well, she's Charlie.
Then two really interesting things happen:
Charlie's dad makes her get a job to pay off a traffic ticket. She hates it, but she does it. Through this job, she finds a couple of gal friends who teach her quite a bit about "being a girl."

Charlie finds herself spending one-on-one time with Braden, the guy next door – the one guy she claims as a brother that isn't really a brother.
***********************************************************
There is so much fun and fantastic packed into this story. First of all, there is Charlie and her transformation. I liked the Charlie at the beginning of the book but I just LOVED the Charlie at the end of the book. She had a tough time at several points – life is hard under regular circumstances, and Charlie had a few really awkward and hard things pop up here and there – but she got through them really well. She is a really great and well-written character because she is not afraid to put herself out there and be tough, and yet at the same time, she makes mistakes and she is not afraid to own up to them. Charlie follows this path to finding herself, this really fantastic coming-of-age that really only truly begins throughout the course of this book, and it was absolutely a thrill to read.
What made it all-the-more fantastic was the bond she had with her brothers (including Braden, the guy next door). She loved these guys so fiercely that their sibling relationship almost jumped off of the pages, and that made me want to hug this book. In a household where the mother was missing and the father felt awkward in taking care of his teenage daughter, these brothers really stepped up and helped their dad out – they were her friends, her brothers, and her protectors. Sure, they were overprotective to the point of annoyance (for Charlie) and hilarity (for me) at times, but I loved reading their relationship all the same. Their inclusion of Braden into their bunch was as much due to their friendship and proximity as it was to his less-than-ideal home situation, and it made me love them even more. These are some of my favorite bookish brothers ever, I think.
And Braden – what a ride for this guy! How awkward would it be to be included into a family with the girl that he is crushing on – playing sports with her every day, joking around and laughing and cutting up every day, seeing her every single day – and being treated as another brother? Charlie genuinely saw Braden as her brother…she even called him that…until she began meeting him outside at night for little chats at the fence between their property. This, THIS. This is when things got really interesting and things began to change.
I loved the way everything went down with Charlie and Braden and her brothers. I love how everything unfolded. Everything felt completely real and true, and I could imagine myself being a bystander and watching one of my friends going through what Charlie was experiencing. That is what is so great about this book – and of course the swoon factor. On The Fence is absolutely refreshing and cute and fun, and I loved it so much. I devoured it (just like I have Kasie West's other books).
I recommend On The Fence by Kasie West to fans of YA Contemporary with romance, fans of fantastic sibling/family relationships, and fans of friendships-to-romances. Great book, great character, fun romance, and HELLO! super-cute cover!
******************************************************************
On The Fence will appeal to fans of:
YA Contemporary Romance
Romance: Slowly-developing. No Triangle.
Great Main Character with Development
Sibling/Family Relationships
Friendship-to-Romance
Stories with Sports
HEA
Standalone
On The Fence by Kasie West
will be available for purchase on July 1, 2014.
******************************************************************
Because I love Author Kasie West so much and because I want others to read her books
AND because I'm moving and clearing out my shelves, I have a giveaway for you!
(Open Worldwide) * (Ends 7/31)
*Some Contemporary Month giveaways will require following this blog due to the cost of international shipping. Thank you for understanding!*