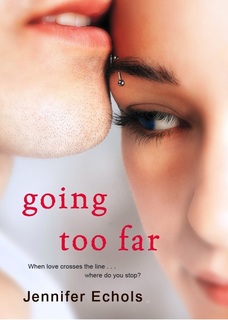 Going Too Far by Jennifer Echols
Published by MTV Books
Publish Date: March 17, 2009
245 Pages
Source: Library

HOW FAR WOULD YOU GO?

All Meg has ever wanted is to get away. Away from high school. Away from her backwater town. Away from her parents who seem determined to keep her imprisoned in their dead-end lives. But one crazy evening involving a dare and forbidden railroad tracks, she goes way too far…and almost doesn't make it back.

John made a choice to stay. To enforce the rules. To serve and protect. He has nothing but contempt for what he sees as childish rebellion, and he wants to teach Meg a lesson she won't soon forget. But Meg pushes him to the limit by questioning everything he learned at the police academy. And when he pushes back, demanding to know why she won't be tied down, they will drive each other to the edge — and over…. –(summary from Goodreads)
Going Too Far by Jennifer Echols

My Thoughts: I visited another blog a few days ago and saw the name Jennifer Echols and realized that I hadn't picked out an Echols book for this Contemporary Month. Now, being new to the contemps, it shouldn't surprise most of you that I've never read an Echols before. BUT…I know that lots of people love her books like crazy and are always fangirling over them. So I did what any respectable person in my situation would do…I tweeted Ginger because of her authority on the subject of YA romance contemps. Long story short, I ended up going to the library almost immediately, grabbing this book, and shifting all of my other books around so I could immediately read this one.
Um, can anyone say best decision I've made in a long time? THANK YOU.
The first thing you need to know is this
:
This is my first Jennifer Echols book.
This will NOT be my last Jennifer Echols book.
WHY ON EARTH HAVE I NOT READ THIS BEFORE NOW? Oh yeah, I wasn't reading these types of books yet. I remember! But now that I am, I'm forever thankful to Ginger (@GReadsBooks) for hooking me up with this title. After a quick Twitter discussion & determining my library availability (limited funds, yo), Going Too Far was my choice for which Echols book would make the Contemporary Month cut.

I approve of my own choice!
I like the way Jennifer Echols writes. Her style is easy and fun and witty. I laughed a few times but there were series times and swoony times too. Yes, yes there were. Slow-burn, I–love-you-Officer-After swoony times. Echols created great characters and a believable story that did not have me hating on this book. It DID have me turning the pages fast. This gal has a talent for YA romance.
The second thing you need to know is this
:
I thought a few details about the book were slightly cheesy.
BUT WHO CARES. WHO?
Because there's Johnafter, you guys.
See, first there was Meg with the big chip on her shoulder, but I was quickly able to look past that because I realized that it was part of her character and her past, and it made for a great opposite to Johnafter. But blue hair? I laughed at the way they kept referring to her like a Manga character…but HEY if the shoe fits, right?

Also, the name JOHNAFTER. *stops, looks around for a minute, continues* I live in Eastern North Carolina, people. I would not be surprised if someone around here had this very same name. I think I not only rolled my eyes, but I actually did this weird head-roll thing when I saw this name. But the more I read about him, the more I started saying the name out loud and it became lovely.
Y'all can laugh if you want to – but if you've read the book, you've done it too. Right?
Honestly, I think there are at least a few cheesy details in most YA contemporary books. I think it must be standard for there to be something a little dorky in all of these books because they're kind of like real life, and real life has these dorky things in it. So I'm willing to look past it if you guys are. (This includes the cover, which I'm not even going to write about. Just, no.)

The third thing you need to know is this
:
If you are like me and haven't immersed yourself
in the world of Jennifer Echols yet, you need to just do it.
Apparently all of Echols' books are great, according to what I'm hearing around through the grapevine. And I'm just getting started here. If they're all this good, I want to eat them.

This book was exactly what I needed at exactly the perfect time. It was like this perfect spontaneous thing – unplanned and awesome. I finished the story and closed the book and was JUST SO HAPPY.

*******************************************************************
The ease with which these characters came to life was astounding to me. Meg, with her Manga-blue hair and her feisty attitude, was hanging out with the wrong people and headed down a bad path. Enter Officer After – the good-looking, level-headed, straight-arrow gentleman that catches Meg breaking a few laws. Stuck together for a week while Meg does the time for her crimes, these two ooze tension and it's awesome. Meg is written so well, with these great one-liners and her hard-headed independence. She's the type of person that I'd probably not care for too much in real life because of her attitude, but it completely worked in this book. Plus, I identified strongly with Meg's feeling of needing to get out of her small town and start her adult life somewhere else.
Officer After (aka Johnafter) was the perfect complement to Meg's character because he was so much the opposite of her. He was not rash in his thinking or actions, he was even-tempered and rarely sounded harsh or snarky, and he was content to stay right where he lived, regardless of how small the town. It was so much fun to read how their relationship developed, and how hard it was for Johnafter to keep his feelings for Meg separate from his job. I loved his character because he was swoony, yes, but also because of all of the things that made him, and I JUST THOUGHT HE WAS GREAT, OKAY?
There are more things in this book besides the developing romance and tension between Meg and Johnafter, but this is totally a YA romance. Meg's other friends, Johnafter's other friends, some plot twists, everything – all of these things tie into the romance and make it great. This book doesn't try to be an issue book or anything other than what it is: it's straight-up romance, YA-style. I loved it.
Going Too Far was the perfect way for me to start out my love affair with Jennifer Echols' books. I'm eager to dive into more of her stuff. I could've written something about characterization and plot and setting and all of that, but so many people have written reviews that you can find all of that anywhere. What you need to gather from my ridiculous gushing is this:

1. I read this book.
2. I loved this book. Like, a whole whole lot.
3. I already want to read it again.
4. I recommend it to all of you.

That's basically all I have to say. I'm thrilled that I threw my contemporary schedule into chaos for a few hours because Going Too Far was totally worth it.

Going Too Far will appeal to fans of:
YA Contemporary
Romance!
Men In Uniform

Going Too Far by Jennifer Echols
is currently available for purchase.

*******************************************************************


Have you ever read any books
by Jennifer Echols?
Which ones?

Which YA Romance books are your favorites?
I want swoony recommendations, friends!