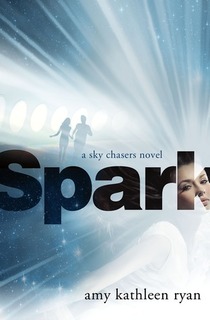 Spark by Amy Kathleen Ryan
Series: Sky Chasers #2
Published by St. Martin's Griffin
Publish Date: July 17, 2012
309 Pages
Source: Print – Publisher, Audio – Library

Waverly and Kieran are finally reunited on the Empyrean. Kieran has led the boys safely up to this point, and now that the girls are back, their mission seems slightly less impossible: to chase down the New Horizon, and save their parents from the enemy ship. But nothing is truly as it seems…Kieran's leadership methods have raised Seth's hackles— and Waverly's suspicions. Is this really her fiancé? The handsome, loving boy she was torn from just a short time before? More and more, she finds her thoughts aligned with Seth's. But if Seth is Kieran's Enemy No. 1, what does that make her?
In one night, a strange explosion rocks the Empyrean—shooting them off course and delaying their pursuit of the New Horizon—and Seth is mysteriously released from the brig. Seth is the most obvious suspect for the explosion, and Waverly the most obvious suspect for releasing him. As the tension reaches a boiling point, will Seth be able to find the true culprit before Kieran locks them both away—or worse? Will Waverly follow her heart, even if it puts lives at risk? With the balance of power precarious and the clock ticking, every decision counts… every step brings them closer to a new beginning, or a sudden end… –(summary from Goodreads)

Spark by Amy Kathleen Ryan

My Thoughts: Spark is the second book in Amy Kathleen Ryan's Sky Chasers series. I read and blogged about the first book, Glow, not too long ago. I liked Glow and by the end of the book, I really had no idea where this author was going with the plot and I had no idea where the loyalties were among the characters. When I picked up Spark – having no idea what to expect – crazy things got crazier.
The first thing you need to know is this:
Spark picks up pretty soon after the first book ends.
Which is good because THINGS are happening at the end of Glow.
Stuff happened in
Glow
that was all kinds of crazy. And by the end of glow, THINGS were still happening. I was like WHAT!?!? I like it when a book leaves me with feelings like that. I was really glad that I already had
Spark
in hand and was ready to just go with it.
If you'll remember, in Glow, the New Horizon attacks the Empyrean: most of the adults were killed and the young Empyrean girls were taken as hostages. The young boys were left on the Empyrean to run the ship, pretty much alone. The New Horizon crew lies to the girls, making them believe they were rescuing them from a damaged Empyrean, when really they had some pretty awful plans for them. As the younger girls begin to believe the New Horizon crew, the older girls plan for an escape.
(You can read my thoughts on Glow
HERE
. Please do!)
The second thing you need to know is this:
I thought the characters kept me on my toes in Glow,
but that was only because I hadn't read Spark yet.
The first book is alternating POV's between Waverly and Kieran – but in Spark, a third point-of-view is added to the mix, and I can say with certainty that it is my favorite of the three: Seth. Good gracious, these three are a volatile bunch!

Kieran had already taken a leadership role of the Empyrean in the first book after things took a turn for the bad – but now, he's gone too far.
Kieran
has taken his "role" too seriously and has become more like a dictator or cult leader than a captain.
In fact, he is calling himself Captain of the Empyrean without holding elections – going as far as to make up new rules, hold people as prisoners without trial, etc. and it is starting to make the crew members and passengers nervous and angry. People are starting to question his authority. Ex-girlfriend/hero, Waverly becomes ostracized when she stands up to
Kieran
as he begins to turn people against her. After rescuing the young girls from the New Horizon but leaving the adults behind as hostages (not a spoiler), Waverly has her own feelings of guilt and self-doubt to deal with…she certainly doesn't need
Kieran
making things worse for her. Her main goal is to catch up with the New Horizon and rescue those she left behind.
Kieran
is doing everything he can to keep her from her goal because 1) he knows she can accomplish it because she is strong and 2) he wants to be the hero himself.
In the beginning of the book, Seth is being held in the Empyrean's prison for trying to overthrow
Kieran
(without a fair trial, mind you) but someone – no one knows who – has opened his cell door and released him. As bad and dangerous things start happening around the ship –
a young boy dies from being poisoned, someone tampers with the ship's surveillance system –
the blame is immediately thrown on the escaped Seth. Seth happens upon evidence that there is a saboteur on board the Empyrean. He tries to alert
Kieran
and his commanding officers but
Kieran
lies to the ship, telling them that Seth is the saboteur and that Waverly has been helping him.
While all of this is going on, the leader of the New Horizon has been trying to establish contact with
Kieran
to negotiate a peace treaty for when they finally arrive on the New Earth – so
Kieran
is overwhelmed with responsibility. Will he crack under all of the pressure? Does the Empyrean finally hold elections or does
Kieran
continue to act as a dictator? What happens to Seth and Waverly? Who is really the Saboteur? OH IT IS SO EXCITING.
The third thing you need to know is this
:
Spark was filled with action and plot twists

and the ending was another WHAT!?!?
Spark is basically a race through space with one ship chasing another to take back what is theirs, all the while dealing with corruption and fighting among passengers and crew members. It describes some of the scientific effects of zero-gravity on the body, on the engine of the ship, and the mental wear-down of this sort of mission on the crew members. It also talks of power struggles, negotiations, and fighting for what is right. There is mention of the reproductive issues and even religious issues that were discussed in Glow, although these don't seem to be as heavy as they were in the first book.

What I loved about Spark was that once it gets going, it keeps going. The plot never slows or lets up. The people on board the Empyrean just can't seem to catch a break. They're doing the best they can but WOW things just keep happening to slam them. Hard. Still, they are super courageous and when it is time to make tough decisions and fight, they always meet obstacles head on. The Empyrean is a group of people that is at odds with others and among themselves. They have all of emotional issues to deal with after losing people they love and disagreeing with the people around them over some issue (usually a governing issue) but then they still have to band together for their common goal. There are loads of meaty subjects in this book, but they're housed under a fast-paced, action-packed story with great characters and an ending that left me ready to read a third book that isn't even out yet.
**************************************************************
I have to be honest and admit that Spark by Amy Kathleen Ryan was a little bit slow at the beginning. I had a hard time getting into it – not sure if I had trouble connecting with the beginning of the story or if I had a particularly crazy moment in my life when I was trying to read. To help with this, I checked the audiobook out of my library's Overdrive system and restarted the book, which was completely the right way to go for me. After a few chapters of listening while I read, I was hooked on the story and found that it was intense, with plenty of action and pages that I couldn't turn fast enough. The characters are so well-developed and the story is complex and well-crafted. I was a little bit annoyed with a few repeated phrases, but this didn't matter that much to me. I'm so glad I pushed through the first one or two chapters and kept going because Spark was an awesome science-fiction/dystopian adventure story and I love those.

I am impressed with the way Spark progressed in terms of action and plot and pacing. For me, I thought the plot was better and more complex, and the pacing was quicker and more even-paced, than it was in Glow – but I've enjoyed both books very much. Like I said, once I got past the first part of the story, I couldn't stop reading/listening. I HAD to know what was going on, mainly with Seth and everything that was being thrown against him, even as he was a good guy that was trying to help everyone. These characters are so unique and so different, but they come together so well to create this story and the themes and craziness on the inside of it. I really want them to get along and find some common ground and live in peace, but I will admit that reading about them the way they are is a lot of fun. (I also wouldn't mind if Waverly played kissy-face with one of the boys. I'm just sayin.)

I am fully invested in this series and I am thinking that the next book will be great. Flame (Book Three) is scheduled for release in June of 2013, and there are several story lines that should be wrapped up and questions that should be answered. I am completely eager to see how Ms. Ryan finishes this trilogy. I liked it when I began it, but the further I read into it, the more I like it and I am really eager to get to the last book to see how everything works out for the passengers and crew of the Empyrean. I know how I want it to work out, but I'll have to wait and see what actually happens…
As for the audiobook: Spark: A Sky Chasers Novel, Book 2 is published by Macmillan Audio. It is 11 hours, 12 minutes long, Unabridged. It is narrated by Ilyana Kadushin and Matthew Brown. These readers did a pretty good job with this audiobook. I was fortunate to be able to check it out from my library and listen along with reading the print for an hour or two to kickstart the book for me.
**************************************************************
Spark will appeal to fans of:


Science-Fiction, Dystopian
Action-Driven Plot
Romance, although it still isn't HUGE in the plot:
Still not a triangle, as Waverly isn't interested in a relationship.
An unsurprising cliffhanger!
Spark
by Amy Kathleen Ryan
is currently available for purchase.
**
I received a review copy from the publisher in exchange for an honest opinion and review. I received no compensation for my thoughts. Thank you St. Martin's!
*************************************************************

Is this series on your to-read list?

It absolutely picked up with this book
and I'm eager for the final book in a few months!