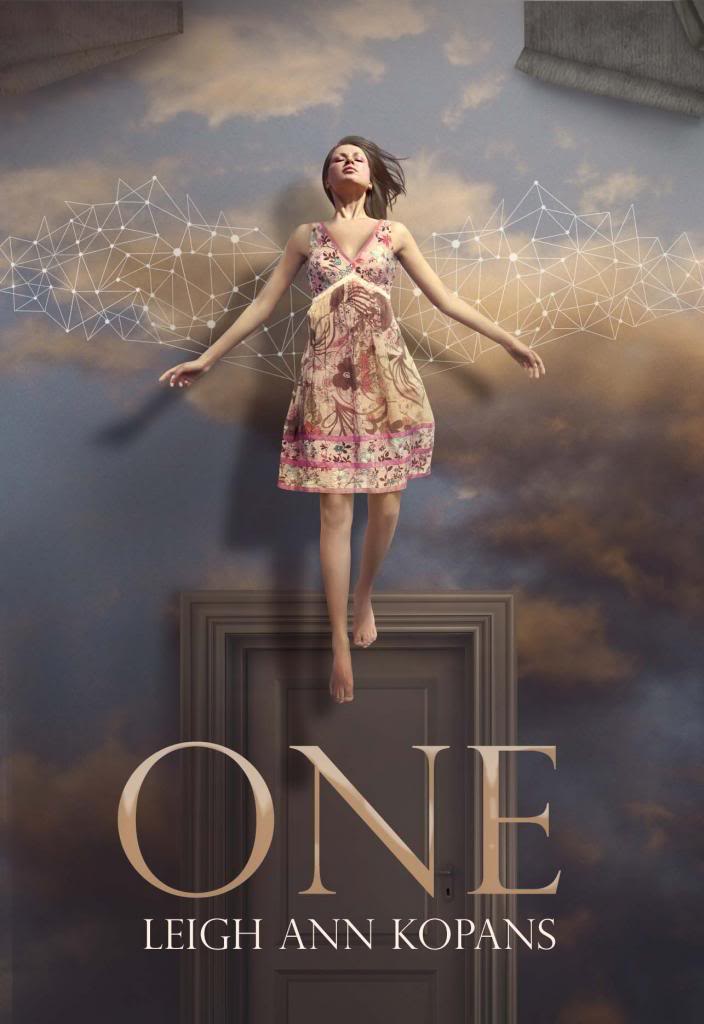 One by Leigh Ann Kopans
Series: One #1
Publish Date: June 11, 2013
374 Pages
Source: Author for review – Thank you!
Find It: Goodreads / Amazon / B&N


When having two powers makes you a Super and having none makes you a Normal, having only one makes you a sad half-superpowered freak.

It makes you a One.

Sixteen-year-old Merrin Grey would love to be able to fly – too bad all she can do is hover.

If she could just land an internship at the Biotech Hub, she might finally figure out how to fix herself. She busts her butt in AP Chem and salivates over the Hub's research on the manifestation of superpowers, all in hopes of boosting her chances.

Then she meets Elias VanDyne, another One, and all her carefully crafted plans fly out the window. Literally. When the two of them touch, their Ones combine to make them fly, and when they're not soaring over the Nebraska cornfields, they're busy falling for each other.

Merrin's mad chemistry skills land her a spot on the Hub's internship short list, but as she gets closer to the life she always wanted, she discovers that the Hub's purpose is more sinister than it has always seemed. Now it's up to her to decide if it's more important to fly solo, or to save everything – and everyone – she loves. -(from Goodreads)


One by Leigh Ann Kopans

My Thoughts: I'm just going to be completely honest with you all and tell you right now that when I heard about this book – a superhero-type story – my first reaction was to get all excited/flaily and then to be like WAIT A MINUTE. Because I'm a die-hard fan, like so many of us are. Will it be any good? Will it bore me to pieces? Will I laugh at everything this GIRL writer has to say about superheros?
I'm as serious as I can be when I say that not only did Leigh Ann Kopans do superhero-stuff right in this book, but she freakin' knocked it out of the park. AND she made me proud to be a GIRL. Who the heck says writing superheros are only for boys? Certainly not Author Leigh Ann Kopans, and you can tell this wen you pick up ONE. Because you should. Because it is fun and awesome. (And I'm even talking to you, traditional publisher people. Y'all need to be reading it too, if you haven't already.)


*********************************************************************
Main character Merrin is a lowly ole' One, meaning she's stuck in the middle. Being a Super means you have two powers (and that's what you want!) and having no powers means you're Normal (which is also what you want!). Merrin feels alone, isolated, like a freak. She has an inkling of a little itty bitty power – it's so cute – she can float, kind-of hover. But it isn't enough to make her or her family happy because it's basically useless. And this thing, this one power of hers that embarrasses her so – it comes out when she's feeling emotions more intensely than at other times – like when she's embarrassed, etc. Poor Merrin.
To make things harder for her:
Merrin's two brothers have amazing powers – um, ever heard of walking on water anyone? They're twins, and when they link up (ie, hold hands) they can go really fast across the water. HOW COOL IS THAT? Very.

Merrin's transferring from her old school, Superior, to a new school for high school, a Normal school. This gal just wants to fit in – she doesn't want anyone to know she's flawed, a misfit, a freak. She doesn't want to float or hover. She just wants to go to school and be Merrin.
Merrin can totally DO THIS. She can hang with the Normals, right? Things are gonna be okay at this new school. She can feel it.
Until she meets Elias.
See, Elias is a One too. ARE YOU FREAKING KIDDING MERRIN? SHE JUST WANTS TO FIT IN, not be noticed. But Elias has picked her out and eventually (womp womp) the two bond over their uniqueness. And then something extremely cool happens while the two are forming a relationship.
Elias and Merrin realize that when they touch – when they combine their powers – they get a power that is pretty much far greater and more awesome than the sum of its parts. Aaannnddd, they're certain nobody knows about this – they're certain because between the two of them, they each have parents that do research with Supers and their powers and all that jazz. So the question is: Do they tell what they know? Do they hang onto it a little while longer and just bask in its awesomeness? What do they do with this information? Because, you see, there are other Ones out there like the two of them that would give anything, anything, just to be significant, not one of the in-betweens.
Then some crazy stuff happens and it gets really good.
*********************************************************************
Okay, so I'm leaving you all right there with ONE by Leigh Ann Kopans because superhero stuff is best when it is discovered bit by bit. You guys, this book is just so much fun to read – I couldn't even believe it. In the paraphrased words of my beloved This book has everything: super powers, romance, flying, drama in the families, science, flying, and superheros with super powers. Oh, did I say that twice?
Main character Merrin is so cool, y'all. She is a quiet girl but fierce. She realizes that she wants something that she hasn't yet been able to attain, so she keeps trying, trying, trying until she finds a way. Can we say hello to a kick-butt female just for being persistent and being herself? And being okay with that? Sure, she has her days when she feels a-little-less-than-cool but WE ALL DO. And then when she meets Elias and they combine their powers – DUDE, the sky is the limit for this gal! (Yeah, I realize that I just said that when she ends up being able to fly.) Then crazy things happen (as they always do in plots like these) and I kept on loving Merrin because she kept on being awesome, even when she was faced with some strange mystery stuff and the safety of the people was called into question. Super cool gal. Loved her.
And Elias. He's already present at the school Merrin moves to, so he's already established as far as friends and some popularity goes. He has a presence there, well-liked among his peers, and self-confidence even though he is a One. There is a bit of an insta-attraction/insta-love romance between Elias and Merrin, but it is very well-done and I think readers should not mind this a bit at all. I really liked Elias.
As you all know, I love the bonds between siblings in books. In ONE, Merrin is close with her twin Super brothers just as Elias is close with his twin Super sisters. Their is a strong family presence even though some (not all) of the members of the families tried to push Merrin and Elias to try, try hard to find their second power so they could become Super. Great family and sibling dynamics, very fun to read. ALSO ALSO ALSO, Elias lives in a house named Rosie. That talks and stuff. Very cool.
I just loved this book a lot – it was a great breath of fresh-super-power-air from all of the contemporary I've been reading lately and I have to tell you that (despite not knowing what the author's stance on publishing is) I AGREE THAT THE PUBLISHING WORLD NEEDS TO TAKE SOME NOTICE ON THIS ONE. At the very least, this book needs to be in the hands of as many people as possible because it is a heckuva good time, particularly for people like me.
I highly, highly recommend ONE for fans of superhero books with awesome characters with awesome powers. There is a romance that is well-done and I think readers will enjoy it as well. This one is one to be watched, you guys. Superheros for the win!
Today I have Author Leigh Ann Kopans
on the blog to talk about superpowers.
Or specifically, one superpower in particular.
I asked her a very simple question.
*********************************************************************
Leigh Ann, if you could choose your two powers that would make you a Super, what would they be and why?
Thank you so much for inviting me to your blog today!
Well, without a doubt, if I could have one superpower, it would be to never, ever ever need sleep. I would have everything I ever wanted – enough time to manage my entire life! I'd have a clean house, homecooked meals, I'd write ALL the books, and I'd have a bangin' body because I'd be able to work out SO MUCH.
The really cool thing about this question is that no one really knows exactly WHY we need to sleep, but we do know that it's due to a mixture of physical and mental exhaustion. The Super ability to never need sleep would probably come mostly from the brain, though – one that could catalog memories and organize learned information while it was still awake, instead of needing to sleep to do it. Which means, in addition to being able to use all 24 hours of the day for productivity, I'd also have a super speedy and efficient brain! I would probably be a KILLER multitasker.
This was a really good question! Most people think that not needing sleep is kind of a boring superpower, but I think all the best superpowers are in the brain – telepathy and telekinesis. They're the silent but awesome type, and since I'm such an introvert, I love that I could be awesome without people even knowing it.
Thanks for having me over to the blog today! I loved thinking about my OWN super power more in-depth for once!
*********************************************************************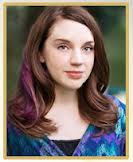 Raised on comic books and classic novels, Leigh Ann developed an early love of science fiction and literature. As an adult, she rediscovered her love for not only reading, but also writing the types of fiction that enchanted her as a teen. Her debut novel, ONE, is about a girl with only half a superpower, the boy who makes her fly, and her struggle to make herself whole.
Leigh Ann, her husband, and four children live in Columbus, Ohio. When she's not immersed in the world of fiction, you can find her obsessing over the latest superhero movie or using her kids as an excuse to go out for ice cream (again.)
*********************************************************************
And now for the Giveaway!
Author Leigh Ann Kopans
is offering
a TON of amazing stuff.
I can't even believe some of it.
Seriously.