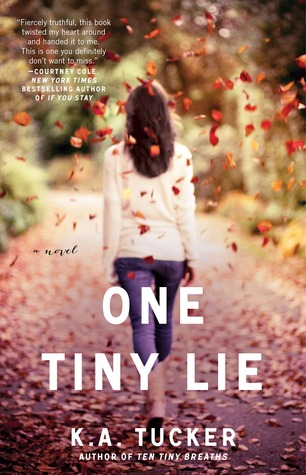 One Tiny Lie by K.A. Tucker
Series: Ten Tiny Breaths #2
Publish Date: June 11, 2013
Published by Atria Books
Source: Publisher
Find It: Goodreads / Amazon / B&N


Livie has always been the stable one of the two Cleary sisters, handling her parents' tragic death and Kacey's self-destructive phase with strength and maturity. But underneath that exterior is a little girl hanging onto the last words her father ever spoke to her. "Make me proud," he had said. She promised she would…and she's done her best over the past seven years with every choice, with every word, with every action.

Livie walks into Princeton with a solid plan, and she's dead set on delivering on it: Rock her classes, set herself up for medical school, and meet a good, respectable guy that she's going to someday marry. What isn't part of her plan are Jell-O shots, a lovable, party animal roommate she can't say 'no' to, and Ashton, the gorgeous captain of the men's rowing team. Definitely him. He's an arrogant ass who makes Livie's usually non-existent temper flare and everything she doesn't want in a guy. Worse, he's best friends and roommates with Connor, who happens to fits Livie's criteria perfectly. So why does she keep thinking about Ashton?

As Livie finds herself facing mediocre grades, career aspirations she no longer thinks she can handle, and feelings for Ashton that she shouldn't have, she's forced to let go of her last promise to her father and, with it, the only identity that she knows. -(from Goodreads)



which is her newest book, the companion to Ten Tiny Breaths. You guys, I absolutely loved the story so much, which is pretty obvious if you take the time to click over and read my review.
(You can also enter to win a signed Galley of the book. Just saying.)
Today, I have the honor and privilege to have Author K.A. Tucker right here, on Into the Hall of Books to talk about something that I love so much – so very, very much – sibling relationships. Specifically, she's talking about the sister relationship between Kacey and Livie in this series. They have a wonderful relationship and I've really loved reading it.
*********************************************************************
When I wrote Ten Tiny Breaths, I knew that the relationship between Kacey and Livie would be special.
I knew that, in the end, Livie would be Kacey's rock. What I didn't expect is how readers would respond to the sweet, straight-laced younger sister. OTL has given me the opportunity to delve deeper into the bond between these two sisters. You will see that, while they're very different in many ways, they're also quite similar.
Both sisters have a sarcastic sense of humor. Kacey likes to shock people with her inappropriate words while Livie delivers her teasing in a softer way. Kacey usually doesn't filter herself (because, if she's joking, why should anyone be offended…right?) Livie, on the other hand, is always conscious of how her words may be taken. She keeps harsh thoughts to herself. Unless she's talking to Ashton, in which case she can't keep from blurting all kinds of inappropriate things out.
Kacey has always been the more outgoing, edgy, daredevil of the two. Before the accident, she enjoyed a well-rounded teenaged life—friends, sports, boyfriends, academics. She was a typical teenaged girl.
Livie has always been the cautious, sensible one, focused only on school. It's what has kept her out of trouble and on the path to Princeton. It has also kept her from letting loose, making mistakes, and, inevitably, learning who she really is.
Both sisters can be as stubborn as mules. But, while you can't get Kacey to do anything she doesn't want to do, Livie is easily persuaded to do all kinds of things she's not keen on doing if it means she will please those she cares about.
Kacey is brazen as it relates to the opposite sex. She has no issues with PDA, making suggestive
comments in front of others, and flirting heavily. Livie, on the other hand, is extremely shy around the opposite sex. Before Dr. Stayner's help, she couldn't be around an attractive man without sweating profusely. Throughout OTL, she "gains" experience but, in the end, she's still a private girl.
Livie is so much more forgiving and tolerant of others than Kacey ever was. While Kacey threatens to mutilate testicles on a regular basis, it takes time and some harsh goading for Livie to react. In fact, it seems like Ashton is the only one who manages to get under Livie's skin… but she can't seem to hold a grudge.
Though Kacey is fiercely protective of her sister, she ultimately makes a lot of her decisions based on her own needs. Livie has always been the exact opposite—a selfless person, making decisions based on what everyone else wants for her. But, when Livie begins college and faces her own set of personal challenges, we start to see how her life plan conflicts with what's in front of her. It is a harsh learning curve for her and she makes some poor judgement calls along the way.
The way that the two sisters handled the loss of their parents is day and night. Kacey, who had the
added horror of living through the accident, bottled everything up and refused to deal or even talk
about it. Livie acknowledged the loss from the very beginning, focusing on how to move on. In the end, both have some serious healing to do, but in very different ways.
I hope you all enjoy Kacey and Livie's antics in One Tiny Lie.
Thank you to Into the Hall of Books for hosting me today!
K.A. Tucker
*********************************************************************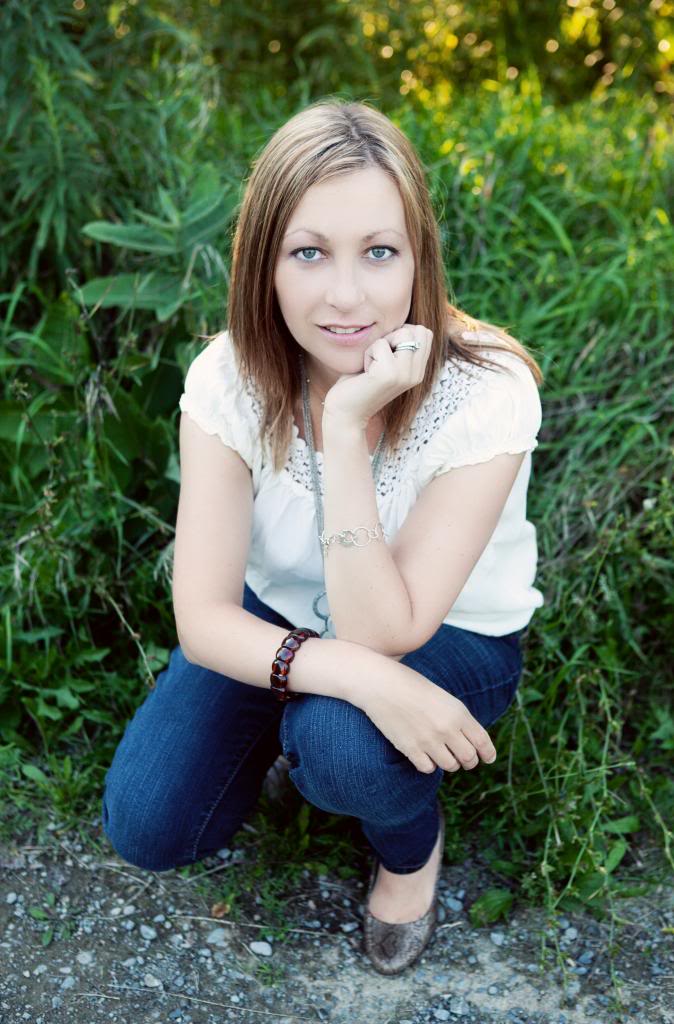 Born in small-town Ontario, Kathleen published her first book at the age of six with the help of her elementary school librarian and a box of crayons. She is a voracious reader and the farthest thing from a genre-snob, loving everything from High Fantasy to Chick Lit. Kathleen currently resides in a quaint small town outside of Toronto with her husband, two beautiful girls, and an exhausting brood of four-legged creatures.
*********************************************************************
And now for the Giveaway!
Author K.A. Tucker
is offering
3 Signed
ONE TINY LIE
Galleys
for three winners!