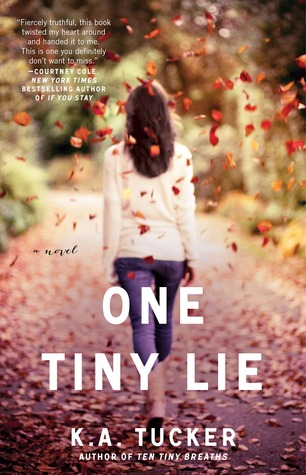 One Tiny Lie by K.A. Tucker
Series: Ten Tiny Breaths #2
Publish Date: June 11, 2013
Published by Atria Books
Source: Publisher
Find It: Goodreads / Amazon / B&N


Livie has always been the stable one of the two Cleary sisters, handling her parents' tragic death and Kacey's self-destructive phase with strength and maturity. But underneath that exterior is a little girl hanging onto the last words her father ever spoke to her. "Make me proud," he had said. She promised she would…and she's done her best over the past seven years with every choice, with every word, with every action.

Livie walks into Princeton with a solid plan, and she's dead set on delivering on it: Rock her classes, set herself up for medical school, and meet a good, respectable guy that she's going to someday marry. What isn't part of her plan are Jell-O shots, a lovable, party animal roommate she can't say 'no' to, and Ashton, the gorgeous captain of the men's rowing team. Definitely him. He's an arrogant ass who makes Livie's usually non-existent temper flare and everything she doesn't want in a guy. Worse, he's best friends and roommates with Connor, who happens to fits Livie's criteria perfectly. So why does she keep thinking about Ashton?

As Livie finds herself facing mediocre grades, career aspirations she no longer thinks she can handle, and feelings for Ashton that she shouldn't have, she's forced to let go of her last promise to her father and, with it, the only identity that she knows. -(from Goodreads)



One Tiny Lie by K.A. Tucker


My Thoughts: I read K.A. Tucker's Ten Tiny Breaths way back at the beginning of the year before it became an Atria title. I remember sitting down beside my fireplace when I began the book and realizing that I needed to get up and make dinner – never putting the Kindle down, just cooking one-handed while I continued to read – and then sitting right back down by the fireplace to finish the book. Basically, I read in one sitting while half-way neglecting the things I needed to do and almost neglecting feeding the people in my house. I loved the story that much.


I absolutely love it when a story can captivate me in that way. I know that I'm not alone.


THEN!!! I saw that there would be a second story – this time about [the main character from Ten Tiny Breaths Kacey's sister] Livie and her time away at college. Aaahhh, these companion series make me so excited and nervous – I tell you all this all the time! Will I like them as much? Will I like them more? If I do, will I feel guilty about that, because I've bonded with the characters from the first book? (so dramatic, I know) But I waited and waited and the day finally came for me to read the book and needless to say:


YOU GUYS THE BOOK IS AMAZING I CAN'T BELIEVE IT THE STORY IS OHMYGOSH I COULDN'T PUT IT DOWN HOW CAN I LOVE THIS ONE AS MUCH OR MAYBE EVEN BETTER? HOW?


Run on sentences, you guys.
Poor grammar and sentence structure.
That's how much I loved Livie's story.
*********************************************************************
Livie Cleary left her sister and makeshift family behind. She left her feelings of comfort in Miami to come to the campus of Princeton University. At some point prior to the story beginning, older sister Kacey has contacted her psychiatrist and talked to him about Livie – about how Livie needs to loosen up a little bit, live life some, stop being so straight-laced. Livie doesn't necessarily agree that she needs to let loose, but she goes alone with Kacey and Dr. Strayner because he's a nice man, a good doctor, and because everything he's said has seemed harmless enough. When it comes time to leave for college, Dr. Strayner advises Livie to pretty much be a freshman – make mistakes, have fun, do the college thing. Kacey accompanies her sister to campus to get her settled in and while they're there, they attend an off-campus party. It's there that they meet Ashton Henley for the first time and that first impression is not a positive one for Livie.
Sort of. Probably. Definitely. Kind of?
See, Livie does live it up. She lives it up so much that the next morning, she only remembers it in bits and pieces – and by way of the pictures that Kacey took for her. And apparently some of the evening included some good fun with Ashton Henley (but not the kind you're thinking of – minds out of the gutter, people!).
Livie is humiliated and a little bit proud (on the inside). She did it! She lived a little. She apparently also got a tattoo (what was she thinking?). But that night set in motion a series of events that keep Ashton Henley coming around, that keep Ashton Henley in her head, and eventually put Ashton Henley in her heart.
Good gracious, I loved it so much. What a ride! Once again, I read the book in one sitting. I couldn't put it down.
*********************************************************************
Livie Cleary is completely opposite of her wilder, more carefree sister Kacey – she's always, always gotten perfect grades, never gotten in trouble, never ruffled any feathers. Livie has always done exactly the right thing, always done what would've made her late parents proud. Everything she has done in her life is what her parents would've wanted her to do had they lived beyond the car accident that took their lives seven years ago. She's gone to the school her father would've probably wanted, she's chosen the career that she talked to her father about as a child, she replays the conversations in her head in which her father tells her to make him proud. When Livie begins seeing Dr. Strayner and he has her complete some ridiculous tasks, she complies with his requests without even challenging him, not even realizing that he is analyzing her and forming conclusions about her – things that will eventually help him to help her. Eventually he sits down and talks to her, and naturally Livie doesn't like what Dr. Strayner has to say. And of course, she replays the conversation with Dr. Strayner and herself over and over for weeks and maybe even months. But will she do anything about it? Character growth, you guys. I always love it. Livie is pretty great already, but she becomes better.
She begins to really think about what made her choose Princeton, her career path, all of her decisions. It's hard watching her struggle, but it's good.
Over the course of the book, Livie makes a group of really great friends at Princeton. She has a fantastic roommate that helps ease the sting of leaving home, and some other great friends too. But she also meets two guys that she kind-of falls for and these make up the romance portion of the story. There is Ashton, which I will talk about in a second, and there is Connor. Connor is Irish with an accent like Livie's father, good manners, a good body, and smart as a whip. He is athletic and doesn't push Livie to do things she isn't ready for. He makes her feel pretty and she loves spending time with him. He has pretty much everything that Livie is looking for and he's a really nice guy. Her family would more-than-approve of Connor.
But, see, then there's Ashton. Ashton is the guy that made a negative impression on Livie at her first party on campus – and he keeps showing up everywhere, including her mind – constantly. He's loud and he's proud of it. He's got a body to die for and he's by far the most good-looking guy on campus. He's also athletic – the captain of the rowing team, alongside Connor – and he makes Livie want to do things she's never done before. Ashton makes Livie feel not only pretty but sexy and wanted. She wants to spend time with him. She wants to be his girl. The thing is that he has a girlfriend, although the circumstances of their relationship are a bit unusual, and Livie is dating Connor – who happens to be his best friend. If Livie pursued a relationship with Ashton, a relationship that she would love to have, it would mean breaking Connor's heart and doing some other damage as well. Ashton keeps pushing her away – but he seems to also want her. What's his deal?
Livie dates Connor but wants Ashton. She's absolutely crazy about him. This is the story within this story. And man, it is so good. Because you see, Ashton has issues that he doesn't want to talk about – he's 'the mysterious guy.' He has reasons for not talking, for not divulging his secrets and his past. And Livie is the girl that is afraid of taking that leap and pushing him and following her heart. There is so much at stake here for the two of them to come together – it was like K.A. Tucker interviewed me and asked me exactly what kind of romance I loved and wrote it. This story is freaking good. Stick a fork in me, I'm done. Sorry Conner, but Ashton Henley has stolen my heart.
Y'ALL KNOW THAT I LOVE THE FORBIDDEN ROMANCES.
Honestly, though, since Livie is so straight-laced, what will she do? How hard will it be for her to just listen to Dr. Strayner and live a little, follow her heart? It's so good, you guys. Gosh, it's good.
I recommend One Tiny Lie to people that love New Adult Contemporary Romance, stories with college settings, and those doggone broken boys that absolutely capture my heart and make me flipping crazy. I'm not kidding, I read this book straight through and my eyes were flat-out stinging – it was all I could do not to restart it right away. K.A. Tucker is 2/2 in the contemporary department for winning me over and dominating my time with good stories. I want more from her like these. MORE FROM HER LIKE THESE.
Also, HELLO WHAT A BEAUTIFUL COVER! Nice job, design team. I approve!
*********************************************************************
One Tiny Lie will appeal to fans of:

New Adult Contemporary Romance
with Issues
Romance: Slow-burn. Triangle present. But it's good.
College Setting.
One Tiny Lie
by K.A. Tucker
is currently available for purchase.
*I received a copy of this book from the publisher via NetGalley in exchange for my honest thoughts and opinions. I received no compensation for my review. Thank you Atria!
*********************************************************************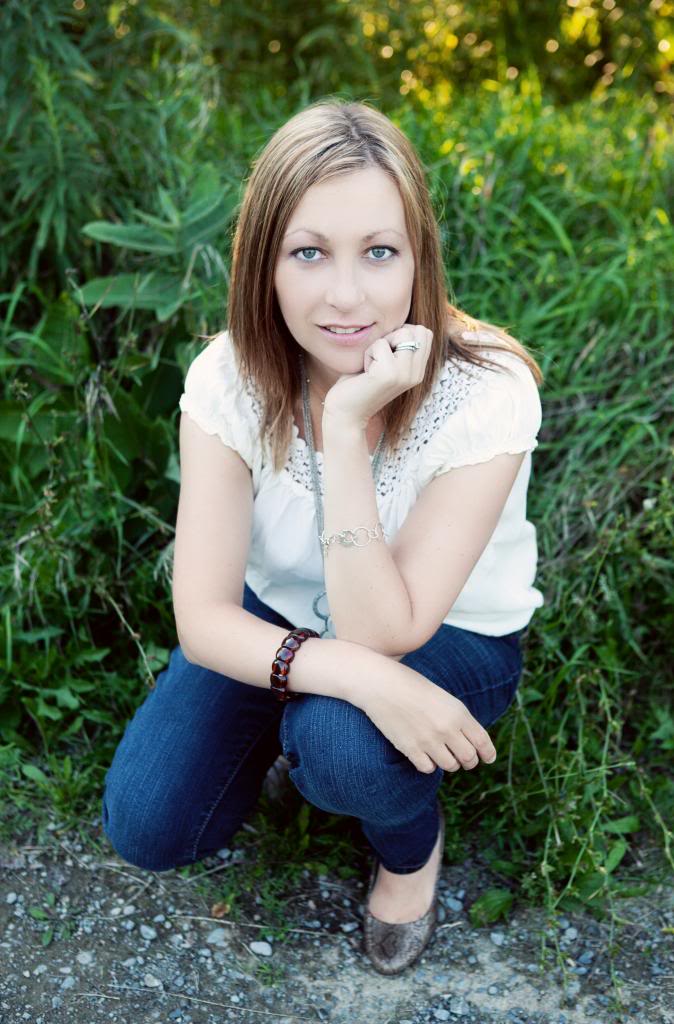 Born in small-town Ontario, Kathleen published her first book at the age of six with the help of her elementary school librarian and a box of crayons. She is a voracious reader and the farthest thing from a genre-snob, loving everything from High Fantasy to Chick Lit. Kathleen currently resides in a quaint small town outside of Toronto with her husband, two beautiful girls, and an exhausting brood of four-legged creatures.
*********************************************************************
And now for the Giveaway!
Author K.A. Tucker
is offering
3 Signed
ONE TINY LIE
Galleys
for three winners!