Desperate to break free…
I've spent my entire life under my father's thumb, but now I'm finally free to make my own choices. When my roommate dragged me to my first college party, I met Finn Coram and my life turned inside out. He knows how to break the rules and is everything I never knew I wanted. A Marine by day and surfer by night, he pushes me away even as our attraction brings us closer. Now I am finally free to do whatever I want. I know what I want. I choose Finn.
Trying to play by the rules…
I always follow orders. My job, my life, depends on it. I thought this job would be easy, all the rules were made crystal clear, but when I met Carrie Wallington, everything got muddy. She's a rule I know I shouldn't break, but damn if I don't inch closer to the breaking point each time I see her. I'm ready to step out of line. And even worse? I'm living a lie. They say the truth will set you free, but in my case…
The truth will cost me everything.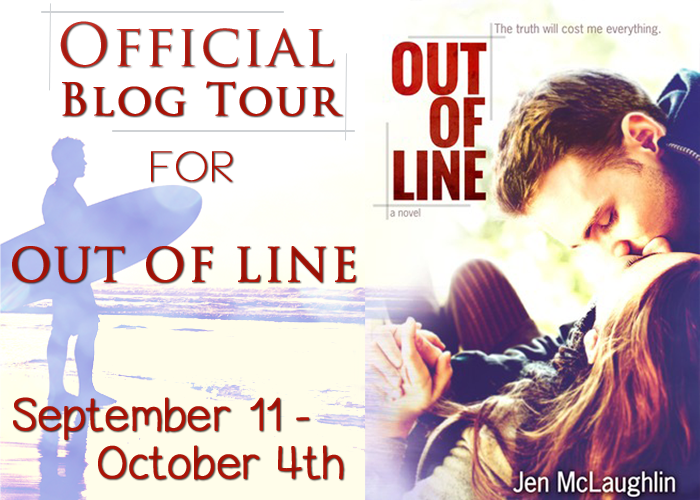 Hosted by InkslingerPR
My Thoughts: Boy I devoured this one. I actually ate it up. Quickly too, and now I want more.


Carrie Wallington is a college freshman. She's attending college on the West Coast, as far away from her father as she can get. See, her father is a big-time politician in Washington, DC and has spent all of Carrie's life practically smothering her. He's kept her surrounding with guards at all times – they've gone everywhere with her, even to the point of watching her sleep. (Creepy, right?) Well, Carrie's had enough, and she's convinced her father to let her go to college on her own, without a guard to protect her. Nobody out here on the West Coast knows who she is and she isn't about to give up her identity. She isn't about to do anything at all to draw attention to herself, to give up the freedom she's finally gotten, because it feels so good to be able to walk down the sidewalk alone, to be able to walk around campus alone, to be able to sit by the ocean alone. Carrie feels like she can finally just breathe.


Carrie's at a party one night with her roommate – she didn't really want to go in the first place, but she went because her roommate asked her to. She didn't last very long inside the party, so she stepped outside for fresh air and felt someone lurking in the shadows. Carrie yelled for the person lurking in the shadows to show themselves, and out stepped this hunk of a man – super good-looking – and Carrie was immediately drawn to his body and his face. This is the first time she's been free to really look at a guy, to talk to a guy without a guard right by her, so doggone it – she's going to! But she isn't stupid, and she isn't giving up her identity. She doesn't want any reason for daddy-dearest to send a guard out to protect her. So she talks to this hunk of a man, but she's very careful about it. His name? Finn.


Finn Coram is a surfer. He's a Marine. He rides a motorcycle. He's very good-looking. And he seems interested enough in Carrie to have a conversation with her. (She is pleased!) What Carrie doesn't realize is that her Father DID, in fact, hire a guard to follow her around and protect her while she's a student on the West Coast, and she is currently talking to him. Finn works for Carrie's father and as the youngest man on staff, he was the obvious pick to be Carrie's guard because of his ability to blend in among a college crowd. Finn realizes it was probably a mistake to blow his cover to Carrie because he realizes, as he is talking to her, that she isn't at all what he expected.


See, Carrie is very likable. She isn't at all the stuck-up, snotty, rich-girl socialite that he thought. He expected a girl that would be shopping and partying all the time. Instead, Carrie spends her time studying and volunteering to help the less fortunate in the communities around her. She donates money and gift cards to needy families. She even donates her designer clothes to the girls in her dorm that need them more than she does.


The problem? Finn has begun to spend more time around Carrie because she simply wanted to learn to surf. What started out as simple surfing lessons became hanging out on the weekends while they both were growing increasingly smitten with one another. When Carrie made her growing feelings known to Finn, he kept her at arm's length for a little while – because he had to – but before too long, he couldn't help himself and he let his guard down. He had already fallen for her long ago.


To complicate things, there are absolute ramifications for Finn if he blows his cover to Carrie or "touches" her – he signed a contract with her father! And now he's gone and fallen in love with her? Oh dear. Finn knows he needs to tell Carrie the truth about who he is and why he is in California, but he's afraid that when he does, he will lose her forever.


*********************************************************************
Out Of Line by Jen McLaughlin was literally one of the most enjoyable books I've read in a long time. I inhaled it, clicking the pages on my Kindle like a madwoman, because I was absolutely lost in the world of Carrie and Finn. I loved Carrie. I loved Finn. And I loved the two of them together. I have to admit that the story was a little bit predictable a few times, but I didn't even care. I liked it that much – and now I'm making very impatient faces because I don't have the next part of the story already on my Kindle and ready to read.
Carrie is a lovely character to read – she is fiesty and independent but also vulnerable and flawed. She isn't weak. She isn't whiny. She knows what she wants and she goes after it. I love that she has tried to make a stand against the overbearing nature of her father (even though he only wants to protect her) by attending college as far away from him as she can go – it shows that she means business in the "I'm-growing-up-and-I-need-my-own-space" department. Even way out in California when she thinks she's out from under the watchful eye of her father and his staff, she keeps her head on her shoulders. She doesn't go wild and crazy – she is able to have fun at times but still concerns herself with her studies and, more importantly, with the needs of the people who are less fortunate than she is. Carrie would give anything she had to anybody that needed it. She gives her time, as well, serving organizations that mean something to her. She's just a great female lead to read; a breath of fresh air. (For all of her goodness, she was more stubborn that I wanted to be a time or two in the book, but I chalk that up to being sheltered by her father for far too long. Even when she was stubborn, she was still good-hearted.)
And Finn. What a great guy. Serving his country as a Marine and also working hard in an actual real job – this is something that is often missing in New Adult Contemporary Romance these days, but Finn has the "real grown-up guy" thing going on, and he's doing a great job at it. He thinks of others before himself, and that includes his own father, who makes small appearances throughout the story. I couldn't help but feel for Finn and also chuckle for him because of the "mess" he got himself into – he signed a contract to not become involved with Carrie and he goes and falls in love with her? THIS seems like a typical male, but Carrie seems very hard not to love, so I understand why he fell for her. One of the great things about Finn is that he struggled with doing the "right" thing, and with what the right thing was, exactly. Should he honor the contract that he signed and keep away from her even though they both love each other OR should he follow his heart and allow them both to be happy? THAT felt like the theme of the book in a nutshell, and Finn's inner thoughts show his struggle with this, as do his conversations with Carrie (although Carrie doesn't really understand the reasons for his struggle since he isn't allowed to reveal his identity as a guard to her).
As you would expect in a situation like this, something is bound to happen and the secret is bound to come out. How and to what degree and to whom – I won't tell! No spoiling here! But when the mess happens, it happens hard. And it is kind of heartbreaking for a while. But you know what? This story is fantastic and I had no idea that there would be a follow-up until THAT ENDING.
Speaking of THAT ENDING: I think I have an idea of what is coming up next. And if I'm right, I have NO CLUE how I'll handle it! (Probably just fine if the book is as fun and good as this one.) But I need the next book NOW to see if I'm right and figure it all out. Goodness gracious.
I recommend Out Of Line by Jen McLaughlin for fans of New Adult Contemporary Romance, fans of books with a college setting, fans of steamy romance, and great characterization. There is no broody alpha male here and there is no whiny damsel-in-distress here. These are two great people that are in an odd predicament that they have to work though, and this story is just a fun, easy, read that I loved a ton.
*********************************************************************
Out Of Line will appeal to fans of:

New Adult Contemporary Romance
Romance: No Triangle. Steams and Swoons.
Great Setting: West Coast Setting & College Setting
Alternating POV


Be smart, younger readers!
This book is for the older-YA and adult reading crowd!
Out Of Line
by Jen McLaughlin
is currently available for purchase.
*********************************************************************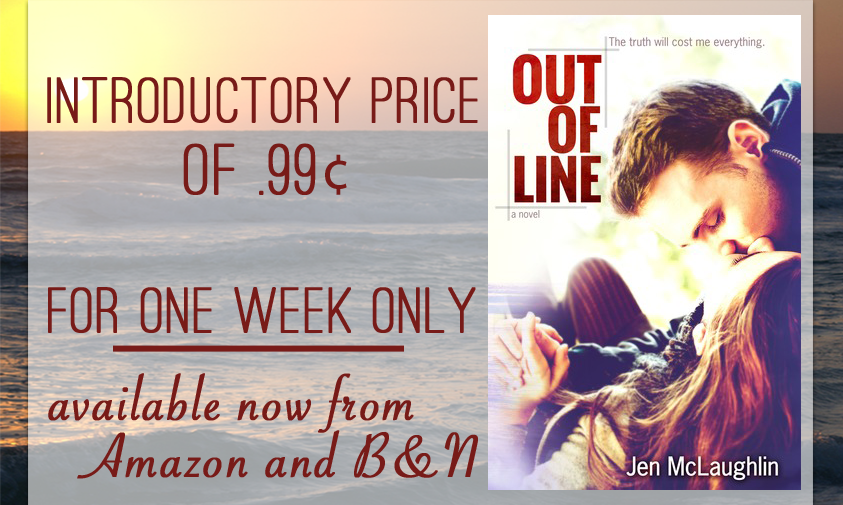 *********************************************************************
Jen McLaughlin writes steamy New Adult books for the young and young at heart. Her first
release, Out of Line, is due out September 2013. She also writes Contemporary Romance under
the pen name Diane Alberts. She is a multi-published, bestselling author and is represented by
Louise Fury from the L. Perkins Agency. Since receiving her first contract offer under the pen name Diane Alberts, she has yet to stop writing.
Though she lives in the mountains, she really wishes she was surrounded by a hot, sunny beach with crystal clear water. She lives in Northeast Pennsylvania with her four kids, a husband, a schnauzer mutt, a cat, and a Senegal parrot. In the rare moments when she's not writing, she can usually be found hunched over one knitting project or another. Her goal is too write so many well-crafted romance books that even a non-romance reader will know her name.
*********************************************************************
And now for the Giveaway!