Oh my goodness! In addition to the ReRead Challenge, Hail To the King, and the Book Blogger Organizaation Challenge — I've signed up for a few more challenges BUT IT'S OKAY and I'M REALLY EXCITED. Lots of the books I read can count for more than one of these things! (Phew.)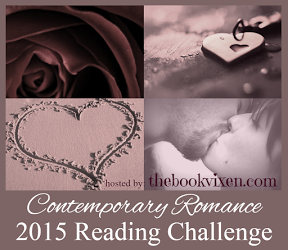 So The Book Vixen has a challenge that is ready-made for me! I've just now seen the Contemporary Romance Reading Challenge on Jess's blog and it made me laugh out loud because I read SO MANY contemporary romances! I couldn't help myself – I had to sign up. There are so many times that I read one romance after another without even reviewing them because I love them so much — I'm hoping this will give me the accountability I want and need to go ahead and review them!
Reading Challenge Details:
Runs January 1, 2015 – December 31, 2015
The goal is to read as many Contemporary Romance books as you'd like. Books that qualify for this challenge can be young adult, new adult, or adult. Books can be M/F, M/M, or F/F. Books must be a work of fiction (sorry, nonfiction does not qualify for this challenge). Romances with the following elements do not qualify for this reading challenge: paranormal, historical, time-travel, fantasy, science fiction, or mystery/suspense/thriller. See the different levels below and pick the one that works best for you. You can move up a level as often as you'd like but no moving down. Remember, the idea is to challenge yourself.
Books can be any format (print, ebook, audio).
Novellas that are 100 pages in length (give or take), as well as full-length novels, will count for this reading challenge.

Re-reads and crossovers from other reading challenges are allowed.

To join this challenge, grab the 2015 Contemporary Romance Reading Challenge button below and post this reading challenge on your blog to track your progress. Please include a link back to this sign-up post so others can join the reading challenge too. You do not have to be a book blogger to participate; you can track your progress on Goodreads, LibraryThing, BookLikes, etc., so as long as you have a dedicated shelf for the 2015 Contemporary Romance Reading Challenge and your profile is not private. The point of linking up is to have a place where people can see what you're reading.
1st Base: read 1 – 5 books
2nd Base: read 6 – 10 books
3rd Base: read 11 – 15 books
Home Run: read 16 – 20 books
Grand Slam: read 21+ books
Okay, so I'VE GOT THIS. I think I can safely say I'm going for the 3rd Base: 11-15 books level, but I think I'll end up reading more than that.
***********************************************************************
Fantasy has always been my first reading love, so it made me squeal when I saw that Alexa from Alexa Loves Books and Rachel from Hello, Chelly are hosting the Flights of Fantasy Challenge. By the time I saw this one, I had already signed up for a few challenges but I've truthfully been planning what I want to read in my mind for days now. I can't help but sign up because I'll be reading fantasy anyway. Here are the challenge details, taken from Rachel's blog:
The challenge will run from January 1-December 31, 2015.

We're welcoming all readers to join us in this challenge! In order to sign up, readers must link to their blogs or Goodreads profile in the Linky provided…

You can read as many fantasy novels as you like. No levels for this challenge!

We're going to host 2 giveaways, one at 6 months and one at the end of the year. More details when it's closer to those dates.
Please help us spread the word! Feel free to tweet about the challenge using the hashtag #flightsoffantasy, or to grab the button and link to the challenge on your blog.
Challenge yourself to read a certain # of fantasy books and share this number on your blog, in the comments below or a tweet.
On the last Sunday of each month, we'll be posting updates on how we're doing with the challenge and we'll include a Linky in case you decide to do the same. (This is optional!)
As mentioned, we will have giveaways! And if you want bonus entries into said giveaways, read any (or all!) of our favorite fantasy books listed below:

JOINT FAVES: Throne of Glass, Harry Potter, Fire and Thorns, Snow Like Ashes, The Queen of the Tearling

ALEXA'S FAVES: Eona duology, Daughter of the Forest, The Elemental Trilogy, The Hobbit, Song of the Lioness quartet

RACHEL'S FAVES: The Grisha Trilogy, Harper Hall Trilogy, The Fever series, The Winner's Curse, Graceling
Okay, here, there isn't a level to choose (YAY GUYS, this is so stressful to me!) but I guess I will choose to read 10 books, figuring that I will probably read more than that. I see several on the "faves" list that I already plan to read or reread, plus I have some on my to-read list that I want to get to. This challenge makes me very excited! (:
***********************************************************************
Sarah from What Sarah Read and Kate from Literary Kate have teamed up to bring the 365 Days of YA Challenge to us all, and it is a lovely one. I think this challenge looks super cool because there are a number of ways it can be done and there are a ton of choices for what to read. There is a big overlap between this challenge and some of the other challenges that I'm doing! ALSO I JUST THINK IT LOOKS COOL, OKAY? So I'm doing it.
CHALLENGE RULES:
Sign up for the challenge [here] and submit a link to your blog, Twitter, Instagram, Tumblr etc. that contains a "To Be Read" list that matches up with the books found on the 365 Days of YA graphic (The individual titles are listed on the Epic Reads post as well). You can also include your personal reading goals for this challenge (book a day, series a week, monthly picks etc.) — My "To Be Read" list will be on my blog's Challenge Page, located in the tabs under the header.

Keep track of what you read and at the end of each month post an update on your social media network of choice about what you read. Feel free to include review links as well.

Submit a link to your update on the appropriate monthly link-up post here on the blog

Use the #365DaysofYA for any social media posts

Only books read in 2015 will count towards this challenge

Read the books in any order you like

Choose your own reading adventure! This is YOUR challenge so make it fit what's important to you!

Have fun and make new reading friends!

Contact Kate (Twitter: @literarykate) or Sarah (Twitter: @whatsarahread) if you have any questions. You can also email us at literaryexplorations@

gmail.com

OR whatsarahread@

gmail.com

.
I need to make a tentative list on this challenge's dedicated page because my printer is broken and I am going cross-eyed flipping back and forth between computer screens and also twisting and turning my laptop around. I'm going to go low and say I want to read 15 though, but I'm betting I read more than that (especially since rereads count and I see some series that I want to reread and complete this year). I think this challenge will be a ton of fun. (:
***********************************************************************
I spend SO MUCH time listening to audiobooks. When I'm choosing books to read, I almost always look to see if an audiobook is available first because of the way my life just IS right now. It's cool – I love audios. I'm excited to be a part of this challenge because I'm always looking for great audio recommendations, new narrators to check out, and because I love sharing my love for everything-audio with anyone that will give me the time of day. Here are the details associated with this challenge:
Reading Challenge Details:
Runs January 1, 2015 – December 31, 2015. You can join at anytime.

The goal is to find a new love for audios or to outdo yourself by listening to more audios in 2015 than you did in 2014.

Books must be in audio format (CD, MP3, etc.)

ANY genres count.

Re-reads and crossovers from other reading challenges are allowed.

You do not have to be a book blogger to participate; you can track your progress on Goodreads, Shelfari, Booklikes, Facebook, LibraryThing, etc. – I've created a Goodreads Group for the challenge, feel free to join.

If you're a blogger grab the button (on the sidebar) and do a quick post about the challenge to help spread the word. If you're not a blogger you can help by posting on Facebook or Tweeting about the challenge.
By request, a new level (Marathoner) has been added this year for the hardcore listeners and the numbers for My Precious has been changed from 30+ to 30-50.
Levels:
Newbie (I'll give it a try) 1-5
Weekend Warrior (I'm getting the hang of this) 5-10
Stenographer (can listen while multi-tasking) 10-15
Socially Awkward (Don't talk to me) 15-20
Binge Listener (Why read when someone can do it for you) 20-30
My Precious (I had my earbuds surgically implanted) 30-50
Marathoner (Look Ma no hands) 50+
We've decided to go back to having quarterly updates to help keep everyone motivated and to snag new participants through out the year. There will be posts on the following dates for you guys to check in to let us know how your listening is going for 2015.
Update Schedule:
March 27th: 1st Quarter Update
June 19th: 2nd Quarter Update – Giveaway included
September 25th: 3rd Quarter Update
December 18th: 4th Quarter Update and Wrap – Giveaway included
I'm going for the Binge Listener level = 20-30, although I'm pretty sure I'll finish the year with more than fifty. We'll see how it goes! (:
Well, this brings my grand total to
SIX Challenges + the Goodreads Challenge which = SEVEN.
EIGHT Challenges, including my Goodreads Challenge.