At our house, I read out loud to my children before I take them to school in the morning. In my opinion, sitting together for a few minutes before rushing off to start the day gives them a chance to chill out after the hustle and bustle of getting up, getting dressed, and having breakfast. I realize that this does not work for everyone, but at our house…it just does. It is my favorite part of the day and I think my kiddos like it too.
To kick off this school year, I chose one of my favorite books, Gertrude Chandler Warner's The Boxcar Children. We read a little every morning and finally finished it just last week. My children wanted to be interviewed about the books we read together, and so begins our little collaborative effort: Reading Out Loud.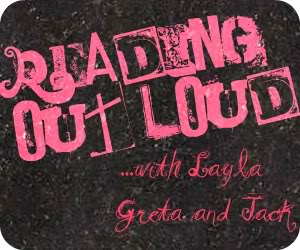 by Gertrude Chandler Warner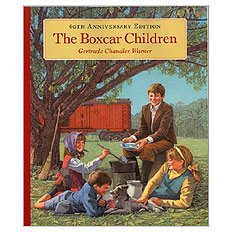 The Boxcar Children
by Gertrude Chandler Warner
Started August 31, 2011
Finished September 15, 2011
I recently finished reading The Boxcar Children out loud to the family. Here's the interview, exactly:
What's the best thing about reading together before school?
Layla

: We can have fun before school.

Greta

: We get calm time before school and we get to talk together and read, and reading is one of my favorites.

Jack

: It gives our family time to spend together.
Tell me your favorite part of The Boxcar Children.
Layla

: I like the part where they meet their grandfather because I like it when they saw their boxcar again.

Greta

: Let me think. Well, I like the part where the kids meet their grandfather. When they figure out he is their grandfather, yeah.

Jack

: My fave part is when they found the boxcar because it gave them a home.
Who is your favorite character?
Layla

: I pretty much like Violet. Wait, was she my age? (me: I think Jessie is probably more like your age.) Layla: Okay, well I like Violet and Jessie then.

Greta

: I have to say Jessie because she is nice and she does all the work around the boxcar like I have to do around the house.

Jack

: I like Watch because he's a dog and dogs are fun to play with. Also Benny because he is nice.
Do you think you'd be able to live in a boxcar in the woods
like the kids in the story?
Layla

: Yes. If I lived in a boxcar, I'd probably want to live there with some family and friends. Yeah, I'd definitely need my friends there.

Greta

: Sure. If I had to, if I had everything they had. I'd be happy to.

Jack

: Yes because it is really pretty outside.
Is the ending of the book what you expected?
Layla

: Yes.

Greta

: Really? No. I thought they'd move in with the grandfather, but I didn't know he'd move the boxcar! It made me feel very interested in the book.

Jack

: No. I thought they'd find a real house

[instead of the boxcar]

and that the grandfather wouldn't find them.
What would you tell other parents to convince them to read The Boxcar Children to their kids?
Layla

: It is a nice book with good characters and I like the shadow pictures inside.

Greta

: It is a wonderful story of how four kids stick together and make living in the forest great.

Jack

: It is a long book, which means they can read some every day so they can spend more time together.
Do you have any other comments about The Boxcar Children?
Layla

: That was a very good book, Mom!

Greta

: It's a really wonderful story. I really want you guys to read it sometime if you haven't yet.

Jack

: Nope!
Layla & Greta, age 8
Jack, age 5
Awesome guys! Thank you for the interview!
You guys, this interview made me laugh so hard. First of all, they took it WAY SERIOUSLY. They were so straight-faced and tried to come up with answers so impressive that would make all of you want to go out and read this book (which is SO awesome). Second of all, it is really tough to try and type EXACTLY the way these kids talk. They are too funny! Eventually we'll get around to a video blog. But for now, we'll perfect the art of a plain interview first. Look for another soon.