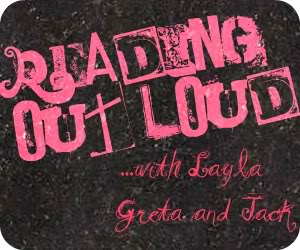 At our house, I read out loud to my children before I take them to school in the morning. In my opinion, sitting together for a few minutes before rushing off to start the day gives them a chance to chill out after the hustle and bustle of getting up, getting dressed, and having breakfast. I realize that this does not work for everyone, but at our house…it just does. It is my favorite part of the day and I think my kiddos like it too.
My children love talking about the books we read together, and so began our little collaborative effort: Reading Out Loud.
The third book of our Reading Out Loud series was Little House in the Big Woods by the amazing Laura Ingalls Wilder. When I started this book, I had no idea it would take as long as it did. Layla, Greta, and Jack were absolutely uninformed about the era in which this story is set – so they wanted to ask questions or have discussions after about every two or three sentences.
(This is not an exaggeration.)
We muddled through it, though, and I'm glad we did.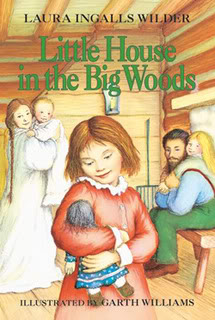 Illustrated by Garth Williams
Started September 23, 2011
Finished October 27, 2011
I recently finished reading Little House in the Big Woods out loud to the kiddos before school. Here's the interview, exactly:
Tell me about Little House in the Big Woods?
Layla

: A little girl named Laura lived in the prairie with Ma, Pa, Mary, and Carrie. It goes through a whole year of their life in the Big Woods.

Greta

: There's a girl named Laura who lives in a big forest, miles apart from the nearest neighbors. Laura goes through all sorts of stuff and has strict rules on Sundays. One day, Laura has her first visit to town and they get candy. Also, Pa tells stories.

Jack

: Laura, Mary, Pa, Ma, and Carrie lived in the woods and there was no town where they lived, so they had to kill and grow their food. Once they went into town and they liked it.
Who was your favorite character and why?
Layla

: Laura. She's just like me – cute, smart, and funny. I'm guessing she loves animals, too.

Greta

: Mary. She's most like me because she always obeys. She's also nice, quiet, and calm.

Jack

: Pa. He has guns, he hunts, and he tells good stories to the children.
How would you feel if you had no electricity, like Laura and Mary?
Layla

: It would be the worst thing in the world! I can't believe they survived without TV!

Greta

: I'd feel 50/50. I'd play more outside but I wouldn't be able to watch TV, play Nintendo DS, or use the microwave. And we'd have no night light!
Jack

: I can't imagine that! No Nintendo DS, no TV, nothing! Aaahhh!
(Clearly I need to have more of a discussion about materialism with my children.
We've had this talk numerous times, but apparently we need to have it again.)
How would you feel if you had to grow and hunt for all of your own food?
Layla:

Growing a garden is fine…but hunting is too mean to speak about!

me:

How do you think we get all of the meat you eat every day?

Layla:

You go to town and buy it in loads!

Greta

: Weird! I think hunting is dangerous. But I wouldn't mind growing my food except for being in the hot sun for way too long.

Jack

: Sweaty! It would be doing really hard work.
How would you feel if you had only one toy, like Laura and Mary?
Layla:

I'd feel so-so. If it was a stuffed animal, I'd be okay with it.

Greta

: Sad because it probably wouldn't be a stuffed animal.

Jack:

Horrible!

me:

they probably had really great imaginations and played with rocks and sticks and stuff outside all the time.

Jack:

Oh, okay! I could totally handle that!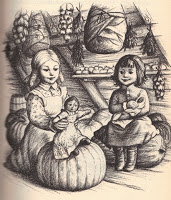 illustration by
Garth Williams
How did you feel the first time Laura and Mary went to town?
Layla:

Wow! They only went once and Laura was like 6-years-old or something. I go to town every day and have since the day I was born!

Greta

: It was very interesting. Laura felt bad because she gathered too many of the pretty smooth rocks and her pocket fell off of her dress. Also we go to town all the time, you know!

Jack

: It was nice! I wish they would have had bathing suits so they could have gone swimming in the lake.
What was your favorite part of the book?
Layla:

I had two favorite parts. One was the Christmas part because Christmas is my favorite holiday and they seemed really happy. The other part is the sugar snow and learning about making the maple syrup – I'd like to try that one day!

Greta

: I had two favorite parts too. One was Pa's story about the mean boy and the hornets. The other favorite part was Pa's other story about thinking that the tree stump was a bear and beating it with a club.

(Greta laughs hysterically)

illustration by
Garth Williams

Jack

: The Dance! I liked how they made their own candy too.
What would you tell other parents to convince them
to read Little House in the Big Woods to their kids?
Layla

: It is a great book! You can compare life now to life back then. It's historical, I guess.

Greta

: It's a great book because it tells you about life in the prairie during the pioneer days. I'd give it 5/5 stars.

Jack

: It was awesome!
How do you feel about people really living that way a long time ago?
Layla

: It's kinda cool, but that's easy for me to say.

Greta

: It's kinda sad but I was also jealous because they got to see things different than me, live in the Big Woods, and they knew how to sew.

Jack

: I didn't know people lived like that a long time ago. No electricity! How horrible!
This was Book One of a series by the book's character, Laura.
Shall we read more of these books?
Layla

: Yes yes yes yes yes! (fist pumps) It's SUCH a good book…

Greta

: Of course! The books seem so great!

Jack

: Totally!
Layla & Greta, age 8
Jack, age 6
Excellent, guys! Thank you for another great interview!