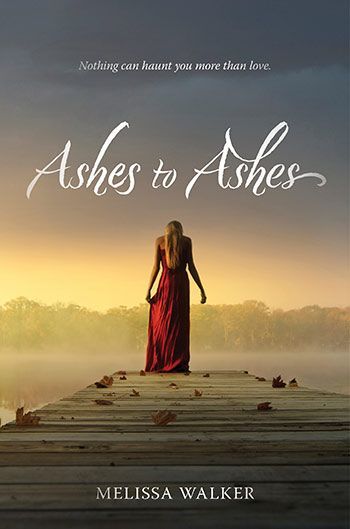 Ashes To Ashes by Melissa C. Walker
Series: Ashes #1
Published by Katherine Tegen Books
Publish Date: December 23, 2013
Source: Lauren from Love is not a triangle – Thank you!
Find it here: Goodreads / Amazon

When Callie's life is cut short by a tragic accident, she expects to find nothingness, or maybe some version of heaven.

Instead, her spirit travels to the Prism, an ethereal plane populated by the ghosts she thought were fictional. Here she meets a striking and mysterious ghost named Thatcher, who is meant to guide her as she learns to haunt and bring peace to the loved ones she left behind.

However, Callie uncovers a dark secret about the spirit world: The angry souls who always populate ghost stories are real, dangerous, and willing to do whatever it takes to stay on Earth, threatening the existence of everyone she ever cared about.

As she fights to save them, Callie will learn that while it may no longer beat, her heart can still love-and break. (excerpt from Goodreads)



Ashes To Ashes by Melissa C. Walker
My Thoughts

:

I just love Melissa C. Walker's stories. I've been excited to read Ashes to Ashes since it was gifted to me, not only because I love this author but because I was curious about how she would transition from contemporary young adult stories to paranormal.
Callie lives with her Dad in Charleston, South Carolina. She loves her Dad, but their relationship is a teensy bit strained as they were never able to make a great connection her mother died. She has an amazing best friend that she absolutely adores, and she loves her boyfriend Nick. Callie is on her way to see Nick one day when she is involved in a tragic car accident – Callie ends up in Prism, which is an in-between place between earth and eternal afterlife. Since Callie is now a ghost, she is paired with a guide, Thatcher, who will help her haunt her friends and family. This sounds kind of awful, but what it means is that she actually helps bring them comfort which helps them move toward accepting her death and moving on with their lives in a healthy way; in this way she can also move on to her own peaceful eternity in what appears to be the book's version of Heaven, called Solus.
********************************************************************************
So Callie takes to haunting her friends and father, slowly, appropriately, with the help of Thatcher…and then she befriends the wrong crowd while she's in Prism, which sets things on a bad course. She is attracted to these people because they remind her of herself, always looking to have a good time and seeming to enjoy (after)life. They teach her some haunting techniques that Thatcher has already warned her against, they show her some fun places, everything they do is fun. Callie doesn't listen to Thatcher when he advises her to stay away from these ghosts, she doesn't listen when he tells her not to do the haunting that they teach her, she doesn't listen to him on several different counts. She actually breaks quite a few of his rules, with Thatcher coming to her rescue time and time again. It seems like she's almost constantly toying with the grieving processes of the people she loves and risking her entry into Solus. When Callie was living, she was a risk-taker and rule-breaker, always pushing the limits on things to get an adrenaline rush. This was not my favorite characteristic of hers while she was living, but it was a part of who she was, so it did not come as a shock to me that she would push and bend the rules over and over while she was in Prism and place others around her at risk. Callie does not have the best track record on thinking through things. She is impulsive, but it is not in the way that I usually love about characters.
SO…her attraction to trouble didn't surprise me. Callie's impulsiveness blinds her to some of what these new "friends" of hers have planned for her, and it is Thatcher to the rescue again when these poltergeists stir up trouble that she cannot get out of alone. These particular ghosts, the poltergeists, have an interesting backstory and while they're the bad guys and I didn't particularly love them – I do have to admit that they did add much to the story and I think their placement there is needed.
Callie does end up mellowing out by the end of the book, which is twisty by the way! After everything she goes through in Prism working to help her friends and her father to accept her death, and realizing that some of her methods of doing so weren't the correct way – the process chilled her out a bit, which is SO GOOD. The Callie at the end of the book is calmer, not the same risk-taker, just different. Some of this is probably attributed to the romance, I would have to guess.
See, before Callie dies, she is crazy about her boyfriend Nick. After she dies, Nick is one of her main concerns – she is constantly wanting to check in on him, to be near him. He isn't coping well back on earth and she wants to soothe him with her presence, to haunt him into being okay. I love her care for him and her attentiveness to his well-being. Thatcher helps her, but now that Callie has moved into Prism because she isn't alive anymore, she knows that she can't be with Nick…this leaves room for a natural development of feelings for Thatcher. Thatcher feels similarly, he cannot help it, but he does try to hold his feelings back for a time. So here we have this sticky love triangle with one girl that loves and grieves for a living boy back on earth and yet is also falling hard for a ghost-boy in Prism. I always wonder about these love triangles, how they will play out in future installments – obviously someone has to be the losing guy, but there is the whole paranormal vs. living situation playing out here. Interesting to see how this one will end. (Personally, I do like both Nick and Thatcher – I do not have more feelings toward one than the other!)
Also note: this book has a fantastic friendship between Callie and her best friend. I love this. Writing great friendships is something that this author does very well.
I liked Ashes to Ashes by Melissa C. Walker. I am an instant-read fan of her books, so this makes me happy. It is fun reading a non-contemporary story written by an author that I love, so fun to see how she branches out. It's easy to see the contemporary-ness in there, but this is definitely paranormal. I absolutely love the Charleston setting, so charming to this Southern girl, and I also love the way the author places an underlying spirituality in the story without making it a book about religion. This author has a knack for being able to do this perfectly, and I adore that about her. I recommend Ashes to Ashes by Melissa C. Walker to readers that enjoy young adult stories involving ghosts and great friendships.
********************************************************************************
Ashes To Ashes will appeal to fans of:
Young Adult Paranormal – Ghosts
Romance: Love Triangle.
Great Friendship
Great Setting: Charleston
Ashes To Ashes by Melissa C. Walker
is currently available for purchase.


Have you read any of Melissa C. Walker's books?
Do you have a favorite?
I LOVE THEM. I have a few left on the backlist.