Same Beach, Next Year
by
Dorothea Benton Frank
Series:
Standalone
Published by
William Morrow
on May 16, 2017
Pages:
384
Source:
the publisher
Buy from Amazon
|
Buy from Barnes & Noble
|
Buy from Book Depository
Goodreads
New York Times bestselling author Dorothea Benton Frank returns to her magical Lowcountry of South Carolina in this bewitching story of marriage, love, family, and friendship that is infused with her warm and engaging earthy humor and generous heart.

One enchanted summer, two couples begin a friendship that will last more than twenty years and transform their lives.

A chance meeting on the Isle of Palms, one of Charleston's most stunning barrier islands, brings former sweethearts, Adam Stanley and Eve Landers together again. Their respective spouses, Eliza and Carl, fight sparks of jealousy flaring from their imagined rekindling of old flames. As Adam and Eve get caught up on their lives, their partners strike up a deep friendship—and flirt with an unexpected attraction—of their own.

Year after year, Adam, Eliza, Eve, and Carl eagerly await their reunion at Wild Dunes, a condominium complex at the island's tip end, where they grow closer with each passing day, building a friendship that will withstand financial catastrophe, family tragedy, and devastating heartbreak. The devotion and love they share will help them weather the vagaries of time and enrich their lives as circumstances change, their children grow up and leave home, and their twilight years approach.

Bursting with the intoxicating richness of Dorothea Benton Frank's beloved Lowcountry—the sultry sunshine, cool ocean breezes, icy cocktails, and starry velvet skies—Same Beach, Next Year is a dazzling celebration of the infrangible power of friendship, the enduring promise of summer, and the indelible bonds of love.
I received this book for free from the publisher in exchange for an honest review. This does not affect my opinion of the book or the content of my review.
Why I Read It:
It's still only May and I've already read some great warm-weather reads this year! I loved the cover on this book and the fact that it is set in the Lowcountry. I love books set in the Carolinas plus I've been wanting to reading something by Dorothea Benton Frank for ages now, so I made Same Beach, Next Year my first of her books.
Review:
I love that I'm going down to the beach in South Carolina for a few days later this week and I've already finished this book, because this is exactly the type of book that I'd normally throw in my bag and read on the sand or by the pool. Perfect, perfect beach read.
I love reading this story of two couples that end up meeting every year in their neighboring condos at the beach. I have always thought that would be so exciting: to have a standing vacation time with beloved friends. The story starts off when Eve spots Adam while vacationing after not seeing him for many years and the two strike up a conversation. They're both married now, with children, and they never thought they'd see each other again. They have a history from way-back-when. Long ago, they loved one another deeply. Adam invites Eve and her family over for drinks and "to catch up" later that evening, and he lets his wife know they'll be stopping by. They all hit it off and a lifetime of friendship begins from this encounter.
When we (the readers) see that Adam has invited Eve and her family over to his place for the evening, we already know that Adam and Eve have a history together. Their history is in way back in the past, but it is there. This is bound to come up at some point, and it does. Spectacularly.
Reading about these four becoming closer over the years is great fun. There are certainly some petty, insecure moments here and there things like how young or great she looks or how his golf game is better. But these four really do have a great relationship and their children grow up together as friends. They form bonds and connect deeply. For example, Eve's husband Carl is a pediatrician. When Adam's son Max has a head injury after a fall on the playground, Carl is pivotal in his quick care and possibly helps to save his life. So even when there is tension and competition over the years, family always comes first.
When I started reading this book, I had no idea how it would play out for two married couples to become the best of friends when two of the four people had a shared past. When spouses Eliza and Carl find out that Adam and Eve have way more of a past than they have disclosed, things really take off in the story in a dramatic way. The way it all unfolds is…like I was shaking my head and talking to the characters in the book out loud while I was reading. And then the couples' parents get involved and start adding their opinions and advice, and I actually chuckled here and there. Ultimately, of course, everything is resolved and there is an ending that readers will be happy with. But while I was reading, I had no idea how everything would end up, and I just loved getting lost in the story while it was all going down.
Same Beach, Next Year has a mixture of many things that I love. There is romance, drama, food, the South (specifically the Lowcountry), travel, trust, and finally figuring out how to live your own life and be yourself. I adore the way the author included the descriptions of places and food and clothes, which are all very Southern and so very "home" to me. I could tell these things are all very important to her too. I also love that she included little pieces of North Carolina in this book – specifically Raleigh and Quail Ridge Books (oh my heart!).
I feel like it is worth nothing that I particularly loved Eliza's journey throughout the story. I identified with her character in big, big ways throughout her life and throughout the entire book. She has spent her entire life devoted to her family – husband and children – in pursuit of providing for them in the best, most healthy ways. And there comes a time when she realizes that she hasn't been prioritizing her own needs and dreams at all – and that in not prioritizing herself, she has almost, sort-of encouraged others not to prioritize her needs and dreams. Eliza's life has also has been rerouted by something that occurs in her marriage. Regardless of opinions of what occurs or how it all resolves, Eliza's journey throughout this book and as a result of this big climactic point in the book really resonates with me. She really comes into her whole self and I just loved reading about her process. And all the while, this never became too heavy. I love that.
I'm so excited about this book. I have to admit that the cover is what made me finally pick up one of Dorothea Benton Frank's books, but it's the story inside that has convinced me that it took me too long to do so. I need to read more of them as soon as I can get my hands on them.
ABOUT DOROTHEA BENTON FRANK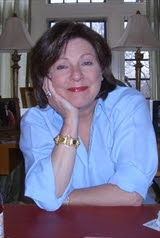 New York Times bestselling author Dorothea Benton Frank was born and raised on Sullivans Island, South Carolina. She resides in the New York area with her husband.
Find her on the web at www.dotfrank.com, or like her on Facebook, Twitter, or Instagram.
ᐧ