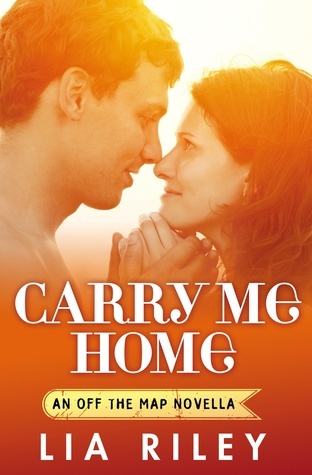 Carry Me Home by Lia Riley
Series: Off The Map #3.1
Published by Forever
Publish Date: May 5, 2015
Source: Publisher
Find it here: Goodreads / Amazon

Love doesn't have to be perfect to be true…

Years ago, Tanner Green loved Sunny Letman. She was meant to be his first kiss, first love, first everything. Then their world spun upside-down and out of control.

Free-spirited Sunny doesn't do commitment. Sure, guys are great for a night or a week, but she always leaves first. That is, until professional skateboarder and town golden boy, Tanner Green, unexpectedly walks back into her life.

Despite their broken history, a fragile and undeniably electric connection still holds them together. Now Tanner has to convince Sunny that even though love isn't always perfect, it's worth sticking around for. . . (Goodreads)

Carry Me Home by Lia Riley
My Thoughts:
This novella is fun addition to Lia Riley's
Off The Map Series
. It tells the story of one of Talia's best friends, Sunny, and one of the guys from Talia's past, Tanner. (Talia is the female lead in each of the full-length novels in this series.)

Tanner and Sunny have their own past together – they grew up together and used to be the best of friends. Tanner has always loved her, but she hurt him deeply when they were very young. He has never gotten over it nor has he gotten over her. Tanner went on to find success as a pro skateboarder; Sunny works in a natural food store and is happy living a very hippy-like, no-commitment lifestyle. After living a sort-of estranged life for a long time, Tanner comes back around and the two become re-acquainted.


********************************************************************************

I'm so, so glad this story included Tanner. Throughout the series, he was talked about so much, and it wasn't usually pleasant. Talia had lingering issues with their last interaction, therefore my impression of him was not great for most of the series. However, at the end of the series + with the addition of this novella, there is amazing character redemption for Tanner, which I love. Not only do we get a backstory for his character, but we get a perspective from him on the last interaction he had with Talia plus he gives really great information about his relationship with Pippa (Talia's deceased sister), which I wasn't expecting! I feel like all of this was helpful for me and so much fell into place after hearing Tanner tell his story.


********************************************************************************

This novella isn't super long, but I think it is worth buying and reading to go along with this series. Sunny and Tanner have good banter, there is humor, and apparently they have an ability to get themselves into sticky situations just like Talia and Bran.

I recommend Carry Me Home for fans of the Off The Map Series. I personally suggest that it be treated as an essential component to the series. I LOVED getting Tanner's side of things because character redemption is spectacular.
********************************************************************************
Carry Me Home will appeal to fans of:
New Adult Contemporary Romance
Romance: No triangle.
California, Arizona desert
Road Trips
Alternating POV's
Carry Me Home by Lia Riley
is currently available for purchase.
********************************************************************************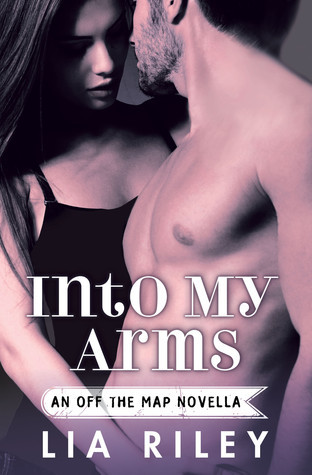 Publish Date: September 8, 2015
Beth Jacobs spends her days slogging away in a corporate "fish bowl," as the hard-working assistant for one of North America's youngest dot-com billionaires. Aleksander "Z" Zavtra is the definition of dark and dangerous with a sexy Eastern European snarl. He's also ruthless. Curt. Exacting. An infuriating man she loves to hate. While Beth hardly sees him, it's as if he's always watching her . . .
Z doesn't do romance. But he never expected to be captivated by a whip-smart, fiery assistant who just so happens to share an uncanny resemblance to the beautiful face that haunts his dreams. He craves Beth. He wants to stroke her skin, to feel her heat beneath him. And what Z wants, he gets. And for one weekend, the lines between employer and employee are blurred as Z and Beth give themselves completely to the dark pleasures they've both been dreaming about.
(Goodreads)
Into My Arms by Lia Riley
My Thoughts:
This novella is an extra to Lia Riley's
Off The Map Series
. This is the story of one of Talia's best friends, Beth, and one of Bran's friends from a long time ago, Z. (Bran is the male lead in each of the full-length novels in this series.)
Beth works for "Z" at Zavtra Tech. She loves her job and feels fortunate to have it, but she has never seen her boss before – he communicates with Beth via phone messages and the computer only. He spends most days sitting at his desk and watches her on the security camera behind her desk, completely smitten with her. When Bran finds out that he has a huge crush on Beth, he suggests that Z ask her out — but instead of asking her out, Z plans an elaborate weekend getaway for the two of them, taking Beth to the destination, and then hoping that Beth will want to stay.
********************************************************************************
This novella is a little different than the rest of the series. Darker in tone, edgier. I knew Z had a little bit of a
different
past from his scenes in the last book of the series, but I wasn't expecting Z to be quite so different. For example: Z's tendency to state or assume things instead of ask them could be seen as off-putting if you're bothered by that sort of thing. It doesn't bother Beth, however, because she finds him intriguing and has a crush on him based on their limited interaction. It also does not bother her that she has never seen Z and it doesn't bother her that he is a little socially rough around the edges. Beth is actually very different from Z and complements him nicely in that she is everything he is not, a gentle tone to his abrasive tone, and it is fun to see how the two of them initially interact.
Z's backstory is emotional and heartbreaking, and will strike a chord. He is a little on the slightly-creepy side, though, with a few of his behaviors – but I think that is the point? That he is socially lacking and in need of a human connection and love.
Taking all of that into account: this novella was a good addition because I want to know what Beth is up to since I already know about Talia and Sunny. I very much like the feeling of completion.
Where the
Carry Me Home n
ovella had extra plot secrets and character redemption, this story feels like it is tasked more with giving additional information about secondary characters, which it does. This was a fun read, and quick – one sitting. I recommend
Into My Arms
for fans of the
Off The Map Series
. It is not my favorite installment in this series, but it does bring the series full-circle for me and I'm glad that I read it.
********************************************************************************
Into My Arms will appeal to fans of:
New Adult Contemporary Romance
Romance: No triangle.
Into My Arms by Lia Riley
is currently available for purchase.
********************************************************************************
These novellas were a fun
addition to the series.
Carry Me Home was my favorite of the two!