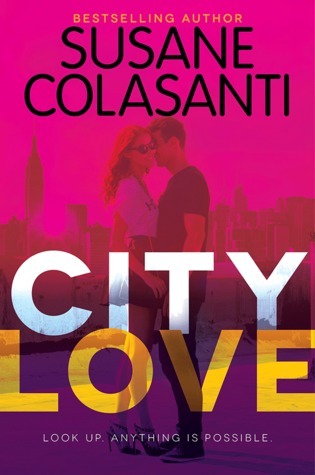 City Love by Susane Colasanti
Series: City Love #1
Published by Katherine Tegen Books
Publish Date: April 21, 2015
Source: Publisher
Find It: Goodreads / Amazon

Sadie, Darcy, and Rosanna are living together in New York City the summer before their freshman year of college begins. With no parents, no rules, and an entire city to explore, these three girls are on the verge of the best summer of their lives.

Sadie is a native New Yorker. She is hopeful, romantic, and an eternal optimist who is ready to find her soul mate. Then she meets her dream boy: cute, funny, and quirky in all the right ways. The chemistry between them is unreal. Could he be the one?

Darcy is a free spirit from SoCal with rebellious tendencies and unlimited financial resources. Moving to New York City is just another adventure for her. Darcy wants this summer to be all about boy adventures—nothing serious. But how much fun is too much?

Rosanna leaves Chicago for NYC so she can put her past behind her and reinvent herself. The only thing standing in her way is the grand total of seventy-three cents she has saved. Then she meets a guy who wants to show her the glamorous side of New York—a side that she would never get to experience on her own. If Rosanna doesn't resist, she may find herself in city love.

Told from alternating points of view, City Love captures the moments in each girl's life when everything is thrilling, amazing, and terrifying all at once . . . in a way it will never be again. (Goodreads)
City Love by Susane Colasanti
My Thoughts:
Oh I liked this one.

Sadie, Rosanna, and Darcy all have very different backgrounds and personalities but get along well as they start their summer and college careers in the city.

Even though Sadie has just moved away to college, she only moved about 1/2 mile away from where she grew up. A native New Yorker, she loves her city and wants her roommates to love it too. She knows all of the right places to see and eat, and loves that she can be their tour guide as they settle in. An urban planning intern, Sadie falls hard and fast for Austin who is another intern at her firm.

Rosanna is the middle of five children in her family and comes from Chicago. Her parents can't afford to send her to college, so she is using student loans, financial aid, and she'll also be working on top of her course load. Rosanna thinks it better to be poor and happy than rich and miserable/clueless about how the world works. Despite how she feels about money and how people should live, she ends up falling for a very wealthy boy.

Darcy is from Santa Monica and grew up in a wealthy family. The day before she moved to New York, her boyfriend broke up with her, which she wasn't expecting because she thought they were in love. Now she doesn't want anything to do with love or romance; she only wants to have as much fun as possible with as many boys as possible. Even though she is determined not to fall for anyone, there is this one boy that she can't stop thinking about…



********************************************************************************

City Love by Susane Colasanti is told in alternating points-of-view, which I absolutely loved for this particular story. Each of these three girls starts the summer with different attitudes and frames of mind, and it has an effect on they way they start out. Sadie is super positive and outgoing with a great outlook, and she radiates this big energy. Rosanna is strapped financially and intimidated by her roommates because things come so much harder for her. Darcy is heartbroken when she leaves home and her mood is not good by the time she arrives at her apartment. Even so, the girls get along really well and are able to maintain that throughout the summer – I'm so glad that friend drama is one thing that I didn't have to worry about in this book. I loved that these three were able to maintain positive relationships throughout.

I also loved the alternating POV structure because these girls' approach to their summer romances was very different. Sadie was absolutely smitten with Austin right away, as he was with her. Their relationship seemed perfect and was really fun to read about. Rosanna couldn't help the way she kept falling for Donovan, the boy that lived in a way that was 100% against everything she believes in. Sometimes Rosanna's back-and-forth almost annoyed me, but I loved Donovan's persistence in pursuing her and in showing her romance even though she had never had been on "nice" dates. Darcy's whole wild-child way of living was not really my cup of tea, so I was thrilled when she started falling for Jude even though she didn't want to.

The end is the kicker for this book. Everyone is cruising along, loving the city, falling in love, and then BAM – some big things happen…and then the book ends. I'm not entirely sure if any of this changes EVERYthing, but some things will definitely change for one or more of these three girls.

City Love is a fun read, not as much "fluff" as I thought it was going to be, and more in the way of summer romance for each of these three roommates. I'm eager to see what happens next for all of them, and how they depend on each other to get through these crazy things that have happened. This is not a perfect book – there are a few inconsistencies here and there – but nothing major. I think this is a great book for the summer reading lists. Probably the best thing about this one is the way there is so much New York in this book: practically every page lists a park or a restaurant or an attraction in or near the city. It makes me want to be there so badly.

So, yeah, I expected to like this one when I pulled it off of my shelf, but I didn't realize that I would be so very into it and I'm just excited that it's time for the series to continue soon because I didn't see that ending coming!



********************************************************************************
City Love will appeal to fans of:


Young Adult Contemporary with Romance
Alternating POV's
Setting: New York City
Strong Friendships
Cliffhanger
City Love by Susane Colasanti
is currently available for purchase.
********************************************************************************
After that ending, I'm eager to continue with Lost In Love!