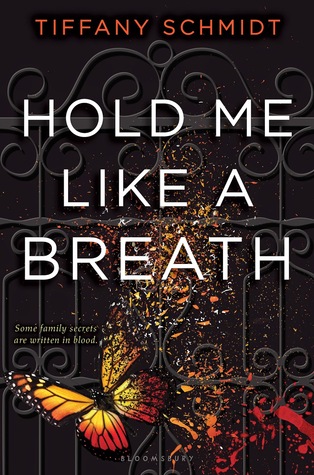 Hold Me Like A Breath by Tiffany Schmidt
Published by Bloomsbury
Publish Date: May 19, 2015
Source: Borrowed
Find it here: Goodreads / Amazon


Penelope Landlow has grown up with the knowledge that almost anything can be bought or sold—including body parts. She's the daughter of one of the three crime families that control the black market for organ transplants.
Penelope's surrounded by all the suffocating privilege and protection her family can provide, but they can't protect her from the autoimmune disorder that causes her to bruise so easily.
And in her family's line of work no one can be safe forever.All Penelope has ever wanted is freedom and independence. But when she's caught in the crossfire as rival families scramble for prominence, she learns that her wishes come with casualties, that betrayal hurts worse than bruises, that love is a risk worth taking . . . and maybe she's not as fragile as everyone thinks. (Goodreads)



Hold Me Like A Breath by Tiffany Schmidt
My Thoughts: Okay, you know what? I REALLY enjoyed Hold Me Like A Breath by Tiffany Schmidt. This book features Penny Landlow who is a frail young girl, the daughter of one of the most influential crime families out there – they deal in black-market organ transplanting, which is equal parts horrifying and intriguing. Penny has pretty much everything she wants at her disposal because money is no object, but she cannot have the one thing she wants the most and that is her freedom. A dangerous autoimmune disorder keeps Penny inside the family estate, under the watchful eye of her parents and private physician, but more than anything Penny wants to leave her family's estate, to wander around the city streets among the pedestrians, to attend a regular school with actual students, to eat at a restaurant. She cannot do these things because her family goes to extremes to keep her safe, to keep her delicate skin from bruising and bleeding. Penny rarely has a chance to interact with other young people – when she does, there is no touching, no hugging, no hand-holding or even side-hugs, none of the touching that healthy people take for granted. It is an isolating life, even living among a family that is as loving as hers.
While Penny daydreams and makes plans of leaving, there are actual big things going on in this world – there is a ton of talk about organ donation-specific legislation, which could mean big changes for the Landlows, their business practices, and their cash flow. (It's also very important to the Families to make donation a safe practice. Yeah, that's important to them too. Cough, cough, ahem.) Penny is very interested in politics and in the Family (big F, Family) business, so she pays attention even when she isn't taken very seriously. She is never considered a viable candidate to run the Family business, even when her family (little f, family) is murdered and she is the only one left alive.

BAM, BOOM, Penny goes from the fragile, overprotected girl with a very small voice to a girl that is forced out on her own without any protection nor any idea of this or that. But she rallies and by the end of the book, GOOD GRACIOUS she is amazing, and also WHO WILL RUN THE FAMILY. I went into the book thinking one thing, changed my mind a few times, and then was pleasantly surprised with how things ended.
********************************************************************************
While there is action in Hold Me Like A Breath by Tiffany Schmidt, it was the character-driven portion of the story that captured my heart. This cast is so cool, and not only because of Penny. They kept me thinking, kept me on the edge of my seat, kept me thinking some more. Nobody is safe and there is no such thing as trust – every time I found myself comfortable with someone, something, or some idea, the plot twisted and thickened and yes it worked. Some of these characters are really bad people from the beginning, and even now there are some that I still do not entirely trust yet. I love this feeling in this case. It makes me want to both reread the book to look for more clues and have the next book in my hands right away so I can have more information.

There are a few things that stand out as awesome about this book:
Penny. Her autoimmune disorder had me feeling for her, I wanted to make her life simpler and easier. At first, I wondered if I would be annoyed with her porcelain-doll-like self, the constant reminders – Don't touch Penny or she'll bruise! – but I think Penny has to be set-up to appear small and extremely easy-to-damage so her development will feel authentic and real, and it does. Penny has a private physician that sees her in a clinic that is attached to her family's estate. No one is allowed to touch her because she bruises too easily. Penny is kept from the day-to-day runnings of the Family because of her fragile tendencies. BUT Penny is mentally strong – this is proven when she is forced to survive on her own, which is coincidentally the thing that she wants more than anything, freedom. The way Penny's fragile physical self is contrasted against her strong mental self = LOVED THIS.

The other characters. The secondary cast makes me seriously giggly because of how many of them had me completely fooled. Nobody is safe. Trust no one. Also, don't get too attached to anyone because not everyone makes it to the next book. I love it when an author goes places and takes risks with characters like the ones that are taken in this book, even if it breaks my heart a little.

Crime. The actual organ transplant and donation business that these families operate is so…dark and odd. Interestingly, it's also something that I couldn't get enough of and I couldn't look away. There is enough about the business in the book to give the story weight and substance, but not too much so that I felt like I was reading a political commentary or a science textbook. It's very interesting, the business, because these families are so sneaky. (I felt the same way about the way Penny's disorder is present in the book – plenty, but not overly done. A perfect amount of science.)

Setting. I

loved the setting – Penny spends the beginning of the book wishing to be off of her family's estate and then she is forced off. She ends up in New York City, and this is an adventure for her because of all of the dangers associated with her disorder. Here she realized how convenient a private physician was, how devastating those bruises can be when they happen all-too-easily, and how she can still feel alone when surrounded by millions of people.

Retelling. The Princess and the Pea retelling part of the book was really great. I don't think I realized how wonderfully the story was retold until the end when I was able to look back on the book as a whole, but YES. The book has a very contemporary feel to it, but there is plenty of fairy-tale stuff in there.
I think I could honestly write pages and pages about this book, and I could also discuss it for a long time if you want to. This is one I want to push on people. I finished the book and immediately sent a few messages to some friends, do you plan to read this book, you need to read this book. I'm a pretty good judge of what I will like but I had no idea that it would be SO MUCH FUN to read. Hold Me Like A Breath was a little bit dark, a little bit romance-y, and a little bit twisty as far as plot goes and I cannot believe I have to wait a whole year to find out the next part of the story. Thank goodness I love to reread. I recommend Hold Me Like A Breath by Tiffany Schmidt to fans of young adult fairy-tale retellings and readers that enjoy stories with a crime thread.
********************************************************************************
Hold Me Like A Breath will appeal to fans of:
Romance: The presence of a love triangle is discussable:
I say NO, but I've seen others say yes.
Great characters
Crime stories
Plot twists
Hold Me Like A Breath by Tiffany Schmidt
will be available for purchase on May 19, 2015.
********************************************************************************

Is Hold Me Like A Breath on your to-read list?
I borrowed this book but I wish I had my own copy so I could reread.