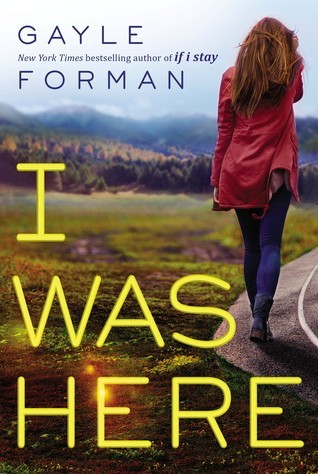 I Was Here by Gayle Forman
Published by Viking Juvenile
Publish Date: January 27, 2015
Source: Book – Library, Audiobook – Library
Find It: Goodreads / Amazon

Cody and Meg were inseparable.
Two peas in a pod.
Until . . . they weren't anymore.

When her best friend Meg drinks a bottle of industrial-strength cleaner alone in a motel room, Cody is understandably shocked and devastated. She and Meg shared everything—so how was there no warning? But when Cody travels to Meg's college town to pack up the belongings left behind, she discovers that there's a lot that Meg never told her. About her old roommates, the sort of people Cody never would have met in her dead-end small town in Washington. About Ben McAllister, the boy with a guitar and a sneer, who broke Meg's heart. And about an encrypted computer file that Cody can't open—until she does, and suddenly everything Cody thought she knew about her best friend's death gets thrown into question.

I Was Here is Gayle Forman at her finest, a taut, emotional, and ultimately redemptive story about redefining the meaning of family and finding a way to move forward even in the face of unspeakable loss. (Goodreads)
I Was Here by Gayle Forman

My Thoughts: I'm so glad that I waited until now to read this because I'm sure I wouldn't have loved it as much had I read it earlier (there was so much hype!). I grabbed I Was Here from my library both in ebook and audiobook format because both were available at the same time, and this was a great decision! I was hooked on the story right away because of the way the author wrote the opening scenes; I had to force myself to read it slowly so I would remember the details.


********************************************************************************

The beginning of I Was Here was tough, but I love Gayle Forman's decision to start this book the way that she did. Meg ends her life before the book begins, so we start out with people that knew and loved her, trying to cope and move on and pick up the pieces after her death. There is so much of this reacting and coping that I love throughout the book. Central to the story is Cody, Meg's best friend, who had no idea that Meg was considering suicide.


The synopsis (above) does a great job setting up this story. I didn't read it before I started the book, which also probably helped me love the book as much as I did. Everything that I read was fresh and new to me, and even though it isn't a popular way to read these days, I recommend going into the book this way because I think it helped me love it.


A few things that I loved about this book:


1. Cody's feelings. Cody is reeling from this loss and she lets us know it. My favorite parts of the grief that she shows are those inner thoughts that we all have at times, the ones that would seem to make us look insecure: Why didn't Meg tell me that; I was her best friend? Why did she tell her that instead of me? There were times when Cody's actions and thoughts almost bordered on whiny or a little (forgive me here) crazy. But I felt like those were her initial, unfiltered thoughts and reactions to things that would pop up about Meg that she didn't know. And oh, the guilt that she feels! Cody expresses herself to us, the readers, and I love it. Her desperation jumps out of the pages and the audiobook, a desperation to piece together the why-parts of Meg's death as well as the how-could-I-have-let-this-happen. Her search to know if there was something that she could have done to prevent Meg's death or, God forbid, was there something that she said or did that drove Meg to do it. These things just tore at my heart.


(Cody's raw characterization reminds me of Adam's [from Where She Went] raw characterization. Both were so gut-wrenching with the emotions they made me feel.)


2. The romance. The slowly-developing romance between Cody and Ben felt more subtle to me than I'm used to in YA/NA, which was fantastic. Definitely risky for the main character to have a romance with the guy that broke her recently-deceased BFF's heart, but it worked for me here. Both Ben and Cody have tropes attached to them as far as romance and love are concerned, but I didn't mind, and I also didn't mind that the romance didn't really build until later in the book. I loved that it grew from two people grieving the same thing – the emotions are real and so therefore they're also slightly volatile at times, which makes things a little bit messy. I like complicated, messy relationships when they are interesting and done well, and I think that this one was. It would have been very easy for me to cast Ben as a certain type of character – and I almost did – but I actually felt a lot for him and grew to like him more and more as the book progressed.


3. Cody's awkward relationship with her mother. Lovely development throughout the book. I loved it so much.


4. I loved that not all of the characters had the same reaction to Meg's death. I feel like this is one of the truest parts of depression, mental illness, and someone choosing to end their life – the way that everyone grieves in their own way and that there are different stages of grief. This is very subtle in each of the characters, but certainly something that I picked up on and I love that it was in there because yes, there is anger, and yes, there is sadness, and yes, there are all types of feelings when lives are lost.


********************************************************************************


I Was Here is a little bit on the dark side at times, and there were parts of the book that had me afraid for Cody because of some crazy actions and decisions, but even so – I LOVE the turnaround of this book. There are some great outcomes for these characters and their relationships. I think that the encrypted files-plot line went a little bit "out there" in terms of being truly believable, but I chose to suspend my own belief and keep going, and ultimately I loved this story. I just super-enjoyed that this book is not necessarily about the character that chose to end her life, but more about the character left picking up the pieces, and her journey through that.


I would recommend I Was Here by Gayle Forman to readers that enjoy realistic mature YA/NA contemporary fiction with issues concerning mental health and also a sweet, subtle romance. I would also highly recommend this audiobook because it is fantastic.


Audiobook Notes: The audiobook format of I Was Here by Gayle Forman is published by Listening Library and is 7 hours and 42 minutes, Unabridged. It is narrated by Jorjeana Marie who was so great in this role – I'm familiar with this narrator's work but I think that this is my favorite of her audiobooks so far. I loved the way she reads this book with the grief and frustration that Cody felt. I was so convinced by this performance that I felt pulled into it, and I just loved that about this audiobook. Truly, I think the audio enhanced this story for me. I would totally recommend the audio for this both as both a first read and a reread.


********************************************************************************
I Was Here will appeal to fans of:


New Adult Contemporary
with Issues
Romance: No triangle. Subtle, slow build.
Issues: Suicide, Depression
I Was Here by Gayle Forman
is currently available for purchase.
********************************************************************************
Of these, I've only read If I Stay and Where She Went-
I need to get on the ball and read the rest!