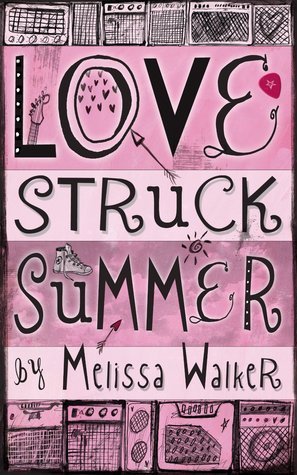 Lovestruck Summer by Melissa Walker
Published by HarperTeen
Publish Date: May 5, 2009
Source: Borrowed
Find It: Goodreads / Amazon


Sunny days, late nights and a vacation full of possibilities…

This is the story of Quinn, an indie rock girl who came out to Austin, Texas for a music internship. She also plans to spend long, lazy days in the sun at outdoor concerts–and to meet a hot musician or two. Instead, she's stuck rooming with her sorority brainwashed cousin, who now willingly goes by the name 'Party Penny.' Their personalities clash, big time. But Sebastian, a gorgeous DJ, definitely makes up for it. Sebastian has it all: looks, charm, and great taste in music. So why can't Quinn keep her mind off Penny's friend — cute, All-American Russ with the Texas twang? One thing's certain: Quinn's in for a summer she'll never forget! (Goodreads)
Lovestruck Summer by Melissa Walker
My Thoughts: Ohhh hello there, book hangover!


Lovestruck Summer is another example of why I love Melissa Walker's books so much, why I love summer stories, why I love books with music in them, and why I love that authors with ties to North Carolina like to include those little nods to my state.


So much to love for this book, and I haven't even gotten to the characters yet.


This is the story of Quinn who, on a ride to [my beloved] Carolina Beach makes an impulsive telephone call to a Texas-based record label to see if she can pleeease be an intern for the summer, and is told SURE! Then she goes and has a summer that changes her life, completely.


***********************************************************************************************


Quinn. I love her. I LOVE her. This is a girl that thinks she knows oh-so-much about herself but finds that there is so much more to learn. I feel like that Quinn is just so sure about who she is and what she wants, almost to a fault. She's got the look down: the cool indie hair, the band t-shirts, always-wearing-blue-jeans. When she gets outside of her little bubble and meets new people, and slowly she is introduced to new things. New music. New this, new that. At first, Quinn is very standoffish about embracing (or even trying) anything new or different, but being in a new place and meeting new people chip away at this until she finally relents and finds a whole new set of things to love. Most notably, Quinn thinks she hates frat boys and country music, but but but…maybe she doesn't hate them as much as she thinks. Maybe.


IT WORKS, it works so well.


And you know, this is such a real thing. My gosh, this is so real. Even in my own life, once I got out of my own little small-town bubble years ago, I found that there were other ways to be, to think, etc. Other music, other thoughts, other people to challenge me and give me new perspectives on everything. JUST LIKE QUINN, HERE. There is coming-of-age in these pages and Quinn perhaps would not have had such a great opportunity had she not taken the leap and just GONE to Texas to do this random internship at this indie music label.


Lovestruck Summer is more than just Quinn, though. There are other characters at play. There are the secondaries that are SPOT-ON, and I could hug this book for it. Quinn makes some new friends that are different than she is: sorority girls, into fashion, that sort of thing. And yet they are great friends, and well-written friendships are part of a Melissa Walker book. With these friends, Quinn learns that she cannot judge them based on their appearance, and this again is such a real thing to learn.


Let me hug this book again right quick.


The romance: The romance ties in with Quinn's coming-of-age and HOORAY for that. When Quinn arrives in Texas, she has this idea of the perfect summer fling boyfriend: one of the indie musician-types. And she finds one, except it is pretty clear from the beginning that he isn't the right one for her — only she wants him to be so badly because she can barely see outside of the box that she has created for herself. THE ENTIRE TIME, there's the Texas-cowboy-type, country-music-loving, super-swoony real thing living next door. It's clear to readers that this is the one, but it takes Quinn forever. Swoon x 10,000!


Also, I love how this book ends because (surprise!) it's realistic for this college-aged crowd.


***********************************************************************************************


Figuring herself out, figuring her heart out. Coming-of-age. Learning to feel comfortable with many labels, if she indeed wants to label herself. Making her own decisions. Being herself. It's torturous for her, at times, but this book is SO GOOD TO READ, oh my gosh.


I think you guys can tell that I really loved this book. It's such a great summer read. It would be perfectly read outside by a pool or by the beach (or at Carolina Beach, which is the place mentioned in the book) except that I read it during the middle of the night, by Kindle-light only, all in one sitting, when I simply meant to sample the first chapter. I mean, if I could have put the book down, I'd definitely have taken it outside. FOR ME, you guys, take this one outside to read if you can – it's so perfect for that.


I recommend Lovestruck Summer by Melissa Walker for fans of young adult contemporary with romance, for fans of books with music in them, and for fans of books set in Texas. This author is instant-read for me, no-summary-necessary, and I've already started the next backlist title of hers, Violet On the Runway. I'm so excited about this.


***********************************************************************************************
Lovestruck Summer will appeal to fans of:
Young Adult Contemporary with Romance
Romance: Love Triangle.
Great Friendships
Great Setting: Austin, TX
Lovestruck Summer by Melissa Walker
is currently available for purchase.
***********************************************************************************************


I LOVE Melissa Walker's books.
pictured below!