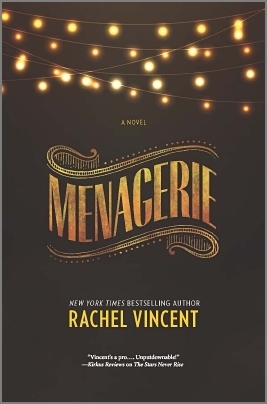 Menagerie by Rachel Vincent
Series: Menagerie #1
Published by Harlequin MIRA
Publish Date: September 29, 2015
Source: Publisher
Find it here: Goodreads / Amazon

When Delilah Marlow visits a famous traveling carnival, Metzger's Menagerie, she is an ordinary woman in a not-quite-ordinary world. But under the macabre circus black-top, she discovers a fierce, sharp-clawed creature lurking just beneath her human veneer. Captured and put on exhibition, Delilah in her black swan burlesque costume is stripped of her worldly possessions, including her own name, as she's forced to "perform" in town after town.

But there is breathtaking beauty behind the seamy and grotesque reality of the carnival. Gallagher, her handler, is as kind as he is cryptic and strong. The other "attractions"—mermaids, minotaurs, gryphons and kelpies—are strange, yes, but they share a bond forged by the brutal realities of captivity. And as Delilah struggles for her freedom, and for her fellow menagerie, she'll discover a strength and a purpose she never knew existed.

Renowned author Rachel Vincent weaves an intoxicating blend of carnival magic and startling humanity in this intricately woven and powerful tale. (Goodreads)


Menagerie by Rachel Vincent
My Thoughts: "WOW, WOW" — That is what I felt while I was reading Menagerie by Rachel Vincent, and then again when I finished. I knew early on that I had never read anything quite like this; even though it is a little on the darker side, it completely captivated me and I WANT MORE.
Delilah Marlow was given tickets to Metzger's Menagerie for her birthday. She wasn't completely thrilled about this gift, but she went anyway, not to be rude. Delilah had always felt a sense of sorrow at the way the carnival acts were caged and treated. She felt guilt at the way she and other people stared at the cages, guilt at the way the acts were just stuck in there with no way to escape, on display, so vulnerable. She could see something in their eyes, she wasn't exactly sure what, but she knew it wasn't happiness. The rest of the world feared and sometimes hated these beasts and yet viewed them with a cruel sense of awe and fascination.
As Delilah walked around viewing the acts, she witnessed the mistreatment of a young female werewolf. This caused a rage inside of her that she hadn't felt before. Before she realized what she was doing, Delilah had transformed into something otherworldly and punished the handler in front of the crowd. With this act, Delilah became one of them, she became just like the beasts in the cages – feared. Delilah was arrested and eventually found herself right back in that same carnival, caged, herself an act.
********************************************************************************
Menagerie takes place in a world very much like the one we know, but in this world there are beasts – things like Minotaurs, shifters, mermaids, just about everything we've ever read before and more. These beasts have no rights and aren't protected in any way by the government. They are studied, hunted, and placed in menageries. They are all hated and feared because of "the reaping" – a crazy-awful event that happened years ago, before the book began. People haven't forgotten the grief and pain and mourning surrounding the reaping, and because of this all of the creatures are forced to suffer still, even the nonviolent, non-threatening ones.
When Delilah is captured, it creates a public outcry because everyone thought they had most of the beasts under control. But here is Delilah, passing as a human, hiding in plain sight, and everyone becomes outraged. Remember the reaping! they yell, and she is sold to the menagerie, and stripped of all of her possessions and rights as a human. The problem is that she always thought that she was a human, so she never had any idea that she was deceiving anyone. Her story is WHOA, SO INTERESTING. It takes forever to figure out what she is, but I LOVE IT. I can't wait to see how her strength as a character is completely realized because my gracious, throughout this book she is amazing.
And Delilah's handler, Gallagher, is the most interesting character in the book. After finishing the story and figuring out everything about his backstory and loving it, loving it: I need to read this book again, now that I know! One of Gallagher's jobs is to help Delilah learn how to bring out her beast and to learn how to change at will so she can perform and bring in money. While no one out there knows what Delilah is exactly, and while the guys-in-charge are getting really frustrated that Delilah can't transform, Gallagher is super-patient with her. He helps her. He has an interest in her that is…interesting. I was so intrigued by him.
It's almost like Gallagher knew something that I, the reader, didn't.
Oh, Gallagher.
When I found out what Delilah was, I was like what what, that is incredible! And then when I found out all about Gallagher's interest in her, I was like THIS JUST BECAME EVEN MORE INCREDIBLE. Yes, there is some rough stuff in here, be warned. But Delilah is a force. She is good. She rises-up, if you will, and begins to make a difference in things at this menagerie and OH MY GOODNESS.
Strong character alert!
There is no romance here, at least not in this installment. I'm not really sure what is ahead for any of the remaining characters. What I can say is this: this author isn't afraid to make things ugly in order to right some wrongs. She isn't afraid to get rid of some characters. She isn't afraid of fighting and bloodshed. She isn't afraid of rough, ugly things. I really like that. This is a fantasy story, and it is adult fiction, so I expected these things. This book delivered and my gosh, it is amazing.
And the relationships – among all of the roughness of the menagerie, there are relationships left and right. Parent-child, sibling-sibling, friend-friend, husband-wife, and more. The author has created these fantastic, strong bonds in this dark place, and they were like little rays of sunshine, so much love and strength in that place. Love that!
I fell into this world, fully immersed, into the dark world of this menagerie. It felt fully fleshed out, fully realized, and fully imagined as I was reading and even though it made me flinch in places, I want to read it again. YOU GUYS, this book, I can't even deal with how much I liked it.
I love, love good vs. evil stories and this basically is one. This is a story that asks which side is really the good side, because it may not be exactly what you're thinking.
I'm having a royal fit for more.
I recommend
Menagerie
by Rachel Vincent to readers that enjoy adult fiction with fantasy, readers that enjoy mythology, and readers that enjoy stories that push them just a little bit. Stick with Delilah and the rest of these characters, through the violence as the story build – the reveals are so worth it! This story was stunning and exactly what I needed when I picked it up. I cannot wait for the world to get their hands on this one. You guys, you guys, read this book. I could not gush any harder over a book unless you watch my hands and face flail.
********************************************************************************
Menagerie will appeal to fans of:
Adult Fiction with Fantasy
Romance: None.
Strong female lead.
Great relationships.
Menagerie by Rachel Vincent
will be available for purchase on September 29, 2015.
********************************************************************************
THIS BOOK: a high favorite from this year.