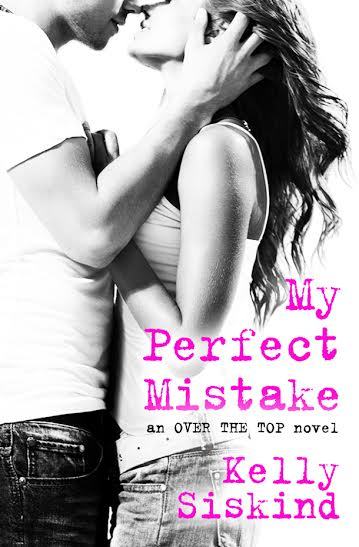 My Perfect Mistake by Kelly Siskind
Series: Over The Top #1
Published by Forever Yours
Publish Date: April 5, 2016
Source: Publisher
Find it here: Goodreads / Amazon

What happens in Aspen
is definitely not staying in Aspen. . .
A girls' trip to Aspen was exactly what Shay needed to forget about her toxic ex-boyfriend. She's got her girls, pristine slopes for skiing, and hot guys everywhere. Of course, her epic self-rediscovery goes completely to hell when a wild (and deliciously hot) skier knocks Shay on her ass . . . and war is declared.
Kolton doesn't know what it is about Shay that makes him lose it. Not just his cool—although she does have an unholy gift for that—but his restraint. When anger gives way to explosive chemistry, they're both shaken with the intensity of it. But somewhere between lust and hate, Kolton and Shay realize they could have something real . . . if they don't kill each other first. (from Goodreads)
My Thoughts: Earlier this I inhaled read Chasing Crazy by Kelly Siskind and LOVED it. Since then, I've been holding my breath for her next release and thank goodness it's finally here.


There is a hilarious scene in the beginning of the book in which Shay and her friends are riding a ski lift – Shay is about to toss one of her bras down into a tree. The very classic black bra represents her previous life with ex-boyfriend Richard aka The Dick who recently broke up with her and destroyed her heart. She wants to shed the classy, expected, black bra in favor of something like an eye-popping red one. That, she thinks, is more reflective of the old Shay. The Shay that existed before her relationship with The Dick.


When Shay flings the undergarment down, it flies off target and lands in the face of Kolton, who was already having a pretty bad day. A little while later, Shay happens to run into Kolton and these two are off to a bad (but really funny) start. Because Shay's friends have hit it off well with Kolton's friends, these two keep running into each other as well. It would appear that they don't like one another, but that's not the actual case at all – they've got a secret thing going on based on the tension that they felt when they ran into one another on the mountain. It only builds every time they see each other. It's unexpected, like a red bra. By the time they have to leave the mountain to go back to their respective sides of Canada, both Shay and Kolton find that they can't stop thinking about the other one.


Work eventually brings Kolton to Shay's part of Canada where he has the chance to "woo" her properly (Kolton's word) — I'm not joking in the slightest when I say that I couldn't put the book down until I knew for sure what exactly would go down between these two.



**********************************************************************
I think it is fairly safe to say that after loving two of Kelly Siskind's books, she is on my auto-read list. I laughed out loud and pulled so hard for Shay and Kolton that I could barely see straight. I love this type of contemporary romance: lighthearted and fun with developed characters with complex backstories and lives. This story never felt too fluffy to me but at the same time, I knew that when I picked this book up I would be smiling and chuckling my way through it.
I mentioned earlier that Shay had an ex-boyfriend, but I didn't talk about how being with him had changed who Shay was as a person. Throughout her previous relationship – which was already over before this book began – she found herself changing parts of herself like her dreams and even how she dressed just to make him happy even though she wasn't. That's why: at the beginning of this book, Shay is hell-bent on making a change. Tossing her bra is symbolic of this change, and poor Kolton just happens to be in the way. Shay has two great gal friends that are beside her throughout this story and I'm excited to see what happens with them as well as this series progresses.
Kolton was only at the ski resort because his two friends dragged him there. This is a guy that suffered a huge loss about seven years ago and as a result, he chooses responsibility over fun every time, to a fault. Kolton almost never stops thinking about what happened years ago; it impacts nearly everything he does to this day. Even though he knows that he needs to move on, it's really so much easier said than done and his grumbly attitude doesn't help much. Kolton has two friends that are also his business partners and I am equally excited about seeing what will happen with these guys as the series progresses.
I loved the various Canadian settings used and I think the secondary cast (the best friends in particular) are just tops. But I truly love what this author did here with the shed-the-black-bra/get-the-red-bra thing. All of this "bra" talk is really a small part of the opening scenes in this story, but it opens up a larger theme and that is giving yourself away/finding yourself again, and I just found it really moving. And honestly, I found this in both Shay's and Kolton's sides of the story. This wasn't heavy at all, so no worries there. These themes are well within the fun and lighthearted tale that I've talked about, but there is just so much substance here that I know for certain that this is a book for my rereads-shelf.
I'm just over the moon about the Over The Top Series. Oh how I wish the next books were already in my greedy little hands but alas I will have to wait a few months to see what is next for this group of guys and girls. I'm thrilled that Shay and Kolton will be there and with what went down in this first book, I'm DYING to know the rest of the story now.
I recommend My Perfect Mistake by Kelly Siskind for fans of contemporary romance that are high on the swoons and also great friendships.
Want to win a $20 Amazon gift card or a signed copy of CHASING CRAZY by
Kelly
Siskind (US/CA only)? Enter via the rafflecopter below!
**********************************************************************
My Perfect Mistake will appeal to fans of:


New Adult Contemporary Romance
Romance: No triangle.
Humor
Great Friendships
Alternating POV's
My Perfect Mistake by Kelly Siskind
is currently available for purchase.
**********************************************************************
A small-town girl at heart, Kelly Siskind moved from the city to open a cheese shop
husband in Northern Ontario. When she's not neck deep in cheese or out hiking, you can find
her, notepad in hand, scribbling down one of the many plot bunnies bouncing around in her
head.
She laughs at her own jokes and has been known to eat her feelings—Gummy Bears heal all.
She's also an incurable romantic, devouring romance novels into the wee hours of the morning.
**********************************************************************