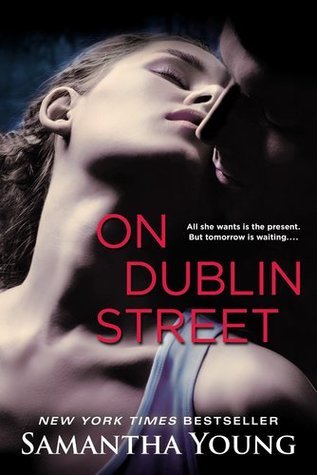 On Dublin Street by Samantha Young
Series: On Dublin Street #1
Published by NAL
Publish Date: August 31, 2012
Source: Book – Library, Audiobook – Bought
Find it here: Goodreads / Amazon

Jocelyn Butler has been hiding from her past for years. But all her secrets are about to be laid bare…

Four years ago, Jocelyn left her tragic past behind in the States and started over in Scotland, burying her grief, ignoring her demons, and forging ahead without attachments. Her solitary life is working well—until she moves into a new apartment on Dublin Street where she meets a man who shakes her carefully guarded world to its core.

Braden Carmichael is used to getting what he wants, and he's determined to get Jocelyn into his bed. Knowing how skittish she is about entering a relationship, Braden proposes an arrangement that will satisfy their intense attraction without any strings attached.

But after an intrigued Jocelyn accepts, she realizes that Braden won't be satisfied with just mind-blowing passion. The stubborn Scotsman is intent on truly knowing her… down to the very soul. (Goodreads)



On Dublin Street by Samantha Young
My Thoughts
:
I've had my eye on this book for years but I kept reaching past it for several reasons. I think more than anything else, I was judging the book by its cover. Not at all a bad cover, I just didn't expect for the story to be as robust as it was. On Dublin Street is a not only a romance; it is the story of grief, and moving beyond it. It is also the story of relationships and what it means to be family. That sounds like a lot and I know I make it sound like quite the heavy read, but I actually had a lot of fun reading this one.
********************************************************************************


Joss Butler tragically lost her family and now does everything she can to keep their memories hidden. She lives immersed in her grief and often has panic attacks. When she moves into a new apartment, she develops a wonderful friendship with her new roommate Ellie. She also builds a great romantic relationship with her roommate's brother, the charming and handsome Braden Carmichael.


I had the best time reading/listening to this book!


A few things that I loved:


1. Braden. Braden really is a super-swoony love interest. He has a take-control personality, but it isn't that over-the-top-controlling like I sometimes find in romance stories. Even as Joss continues to try and push him away and also want him (she's really like a roller coaster at times), he keeps on pursuing her and reminding her that he wants to be with her. Theirs isn't the typical start to a relationship considering it is based on an agreement, but it certainly makes for a great slow-burn.


2. Ellie. Joss lucked out with her roommate. I love Ellie and found myself kind of geekishly excited when I found myself at scenes including her portion of the story. I love Ellie's concern and support for Joss, and I also love that she is protective over her brother's heart and wants Joss to be careful with him. Ellie had is in this unique position as both Joss' roommate and Braden's sister – she could have been placed in the middle of things and had to choose sides if things would have taken a turn between Joss and Braden. It turns out that Ellie is such a great wing-man to the both of them. I love the direction Ellie's own story took, also, as far as her own romance is concerned, and I am excited to read about it in Until Fountain Bridge.


3. Relationships. The friendships and sibling/family relationships in this book are written so well. Joss and Ellie, Braden and his best friend Adam, and more. I adore Braden and Ellie's family – they made me laugh and seem genuinely to care about each other, plus I love the way they accepted Joss into their fold immediately.


4. Audiobook. Scottish accents are always super fun.


Don't get me wrong: I liked Joss too, but her issues and insecurities sometimes make her act out. Sometimes she is a little difficult. I think she made things a bit harder than they had to be every now and then, but in all fairness, I've never been in a situation like hers. She certainly has good qualities and I love the transformation and progress that she is able to make, but out of the characters, she is certainly the one that is toughest. Not too tough – just the toughest.


Overall, this was a great book and a fun audiobook. I'm starting Until Fountain Bridge right away. I'm normally hesitant to begin series that are so long because I feel overwhelmed when I'm so far behind, but I'm nothing but eager to read more from Samantha Young in this case because I enjoyed this experience so much.
I recommend
On Dublin Street
by Samantha Young to readers that enjoy contemporary romance with swoony love interests and robust plot-lines.

Audiobook Notes: The audiobook format of On Dublin Street by Samantha Young is published by Penguin Audio and is 10 hours and 48 minutes, Unabridged. It is narrated by Paula Costello, who made for a fun listening experience. She was a completely convincing Joss and I particularly loved listening to her Scottish accents for the rest of the characters. I think that this book would be great whether read in print or audiobook, but I wouldn't hesitate to recommend it as an audiobook. I'm glad that I bought it so I can relisten in the future.
********************************************************************************
On Dublin Street will appeal to fans of:
Contemporary Romance
Romance: No triangle.
Issues: Grief
Great friendships & family relationships
On Dublin Street by Samantha Young
is currently available for purchase.
********************************************************************************
The On Dublin Street Series:
Sometimes I'm intimidated by starting long existing series,
but I liked On Dublin Street enough to keep going!