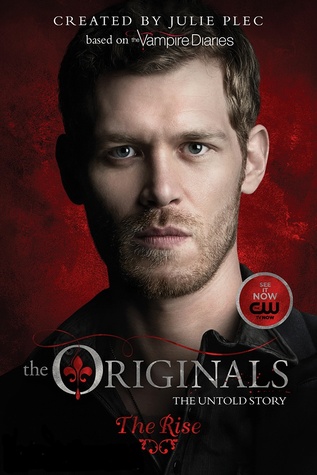 The Originals: The Rise by Julie Plec
Series: The Originals #1
Published by Harlequin HQN
Publish Date: January 27, 2015
Source: Publisher
Find it here: Goodreads / Amazon / B&N
Family is power. The Original vampire family swore it to each other a thousand years ago. They pledged to remain together always and forever. But even when you're immortal, promises are hard to keep.


Arriving in New Orleans in 1722, Original vampire siblings Klaus, Elijah and Rebekah Mikaelson believe they've escaped their dangerous past. But the city is lawless, a haven for witches and werewolves unwilling to share territory. The siblings are at their mercy…especially after Klaus meets the beautiful and mysterious Vivianne. Her impending marriage is key to ending the war between the supernatural factions—and Klaus's attraction to her could destroy the uneasy alliance. As Elijah works toward securing a piece of the city for his family, and Rebekah fights her unexpected feelings for a French captain, will Klaus's volatile desires bring their world crashing down—and tear them apart for good? (Goodreads)
Welcome to my tour stop for The Originals: The Rise created by Julie Plec!
From the creator of The Originals, the hit spin-off television show of The Vampire Diaries, come three never-before-released prequel stories featuring The Original vampire family.
This tour runs January 12th-30th and consists of reviews, special content and spotlights.
Check out the tour page for the full schedule and opportunities for giveaways at each stop.
My Thoughts: Okay, so you all know that I am normally very picky about making sure to read books before watching movies or television shows BUT when I had the opportunity to read this book based on The Originals, I just had to read it. I love the television show, but would this first book in the series live up to it? The answer is YES. Author Julie Plec has done a great job crafting a written story with these characters that I already know and love, and it was great fun to read their story on these pages.
About these Originals: Elijah is the most level-headed of the three siblings and has the tendency to try and think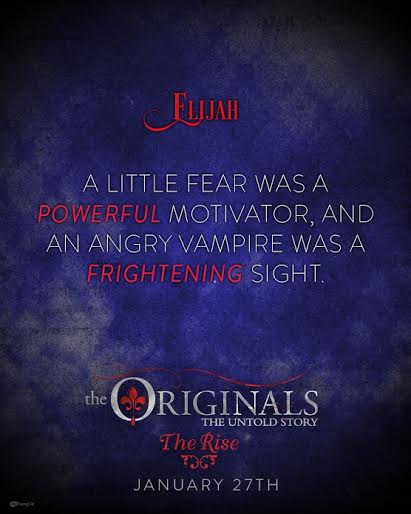 things through the most logically before acting. Klaus is far more impulsive and made me smile throughout the story — not necessarily because of his actions, but because HE'S KLAUS and therefore I almost knew what he was going to do before he did it. Rebekah at her very core wants to be loved and wants to trust people but the very nature of her vampire-self will not allow it because trusting humans and other creatures is so difficult and risky — Rebekah's emotional side often causes problems with her brothers. I just love these characters.
It is 1722 and Elijah is seeking to take care of the basic needs of the family while Klaus and Rebekah are allowing themselves to fall for people that they should not, people that could bring harm to the family. I loved Rebekah's portion of the story because I love her character. Her plan to help her brothers' causes by winning over the French army captain failed and placed her in a precarious position. I loved Elijah's portion of the story because I love his loyalty to his family and the lengths he will go to in order to keep them protected. But Klaus, Klaus. I loved Klaus' portion of the story because he is so dynamic in how emotional he is. Like Rebekah, he wants to experience love but this part of his heart is always battling with his desire to control and rule and be at the top. Klaus is, to me, like both an anti-hero and an anti-villain, and I LOVE THAT. It is very typical for these siblings for one or more of them to have a job to do or a project that he/she is working on, and the others are providing support by doing projects or jobs of their own. That is how this story is structured. Each sibling has a story-line of his or her own, but they are all connected.
The Originals: The Rise
is written with an easy pen which made it feel so entertaining and fun. It was easy for me to make the connection between this book and the television show by way of the writing style, and I think that is a very cool thing. Because I'm such a big fan of the show and because I'm so familiar with it, the book played out much like the show in my head — I heard the characters' dialogue much like the actors' voices, I pictured the characters much the way the actors look, etc. HOWEVER, I think that it is absolutely po
ssible for people that have not seen the show to pick up this book and familiarize themselves with these characters and this world. (If readers haven't watched the show, they probably will want to after reading.)
I had a fantastic time reading The Originals: The Rise by Julie Plec. Being familiar with the characters and the world made the book especially fun for me, but I think that readers that are unfamiliar with this world would have fun reading this story too. I recommend this book to readers that enjoy young adult paranormal stories, particularly stories about vampires and werewolves.
Julie Plec is the co-creator & executive producer of The Vampire Diaries & the creator of The Vampire Diaries spin-off, The Originals. Plec got her start as a writer and producer on the ABC Family series Kyle XY. She also collaborated on the CW drama
The Tomorrow People. Her screenplay adaptation The Tiger's Curse is in development at Paramount, and she will produce the feature @emma with Darko Entertainment. Past feature production credits include
Scream 2 and Scream 3.
15 prize packs including: A copy of The Originals: The Rise and a copy of
The Originals season 1 on DVD.