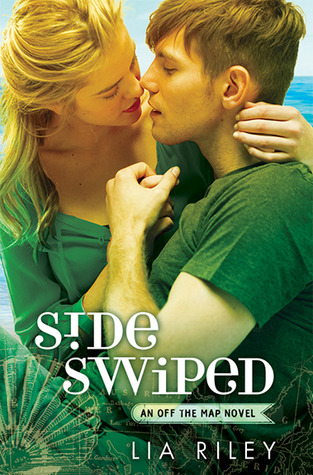 Sideswiped by Lia Riley
Series: Off The Map #2
Published by Forever
Publish Date: October 7, 2014
Source: Publisher, Audiobook – Bought
Find it here: Goodreads / Amazon

It was only meant to last the summer . . .

Talia Stolfi has seen more than her share of loss in her twenty-one years. But then fate brought her Bran Lockhart, and her dark world was suddenly and spectacularly illuminated. So if being with Bran means leaving her colorless NorCal life for rugged and wild Australia, then that's what she'll do. But as much as Talia longs to give herself over completely to a new beginning, the fears of her past are still lurking in the shadows.

Bran Lockhart knows that living without the beautiful girl who stole his heart will be torment, so he'll take whatever time with her he can. But even though she has packed up her life in California and is back in his arms for the time being, she can't stay forever. And the remaining time they have together is ticking by way too fast. Though fate seems determined to tear them apart, they won't give up without a fight—because while time may have limits, their love is infinite . . . (Goodreads)


Sideswiped by Lia Riley
My Thoughts:
Sideswiped
is the second book in Lia Riley's
Off The Map Series
and picks up soon after the first book ends. (You should read the first book, Upside Down, before you read this one because this is
not
a companion series, this series follows the same couple.) Talia is about to leave Santa Cruz, California to join Bran in Australia where she will continue her studies and they will continue their lives together as a couple.

I love the continuation of their relationship although it soon becomes clear that their time is limited: Talia's Australian visa will expire soon so a decision has to be made about her next step or risk being deported. Will she join the Peace Corps, which has been her dream for years? Or will she stay with Bran, which is a new dream? Talia tries to manage her OCD and an unhealthy relationship with her mother while she ponders over what she truly wants for her immediate future.

Fearing the loss of Talia, Bran comes up with an idea that works in their favor, that keeps everyone happy, that keeps anyone from having to give up anything. Sort of.

Bran changed his mind about his future when he fell in love with Talia. He doesn't do long-distance relationships after a past relationship nearly destroyed him, so going away to Antarctica to work with the Sea Alliance for a year is out of the question – he only wants to be by her side. He loves her too much to leave her. Bran is a little perplexed at how Talia is having a difficult time accepting his idea, with the back-and-forth she is experiencing in her thoughts. For him, the decision was super easy.


********************************************************************************

To be honest, Sideswiped began a teensy bit slowly. After a few chapters, though, I was right in there again, because I felt like I was living out the intensity of their relationship. Not necessarily that there is a high level of angry-angst here, but this is such a huge time in Bran's life and Talia's life, and the expiration of a visa is such a big deal – and the decisions they were making, almost all of them, were so big. Even with all of the intensity, I found myself chuckling again at Bran's wit and at the situations these two found themselves in – I appreciate the humor written into this book.

By the time I got to the last chapter, I was holding my breath because I wanted so many good things for Bran and Talia. And SO MANY DECISIONS had been made and they'd been through so much. Good grief. And gracious, that ending. I'm starting the next book as soon as I publish these thoughts.
Structurally, there are alternating chapters, just as with the first book, and I was delighted to see that Bran has more to say in this installment – I hope this continues into the last book. The setting continues to be STELLAR because: Australia! I felt like I was there.
With the way that I've experienced the first two installments in this series, and with my anticipation over the next book – I'm very excited to read it, but I'm almost afraid! I have no idea what's about to happen with Talia and Bran. I want the best outcome for them.
I recommend
Sideswiped
by Lia Riley to readers that enjoy New Adult Contemporary Romance and an excellent Australian setting.
Audiobook Notes
: The audiobook format of
Sideswiped
by Lia Riley is published by Hachette Audio and is 8 hours and 28 minutes, Unabridged.
It is narrated by
Brittany Uomoleale and

Tim Wright.
I enjoyed the first installment of this series on audiobook, and this second installment is more of the same — except for more of Bran's POV, which I love! I'm going to listen to the third installment of the series on audiobook as I follow along with print because I enjoyed listening so much. I recommend these audiobooks for first-time readers or those that want to reread.
********************************************************************************
Sideswiped will appeal to fans of:
New Adult Contemporary Romance
Romance: No triangle.
Great Setting: Australia
Issues: OCD
Alternating POV's
Sideswiped by Lia Riley
is currently available for purchase.
********************************************************************************
The Off The Map Series:
I'm both excited and nervous for the third novel in this series!
(Then onto the novellas.)