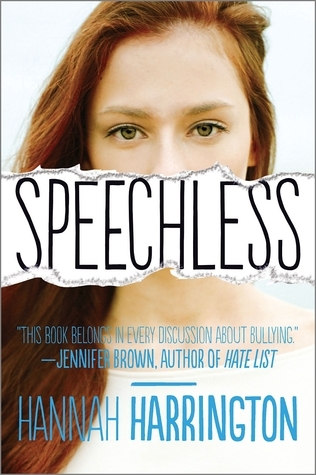 Speechless by Hannah Harrington
Published by HarlequinTeen
Publish Date: August 28, 2012
Source: Book – Publisher, Audiobook – Bought
Find It: Goodreads / Amazon

Everyone knows that Chelsea Knot can't keep a secret.
Until now. Because the last secret she shared turned her into a social outcast—and nearly got someone killed.
Now Chelsea has taken a vow of silence—to learn to keep her mouth shut, and to stop hurting anyone else. And if she thinks keeping secrets is hard, not speaking up when she's ignored, ridiculed and even attacked is worse.
But there's strength in silence, and in the new friends who are, shockingly, coming her way. People she never noticed before. A boy she might even fall for. If only her new friends can forgive what she's done. If only she can forgive herself. (Goodreads)
Speechless by Hannah Harrington
My Thoughts:
I LOVED Speechless by Hannah Harrington.
Chelsea Knot runs her mouth too much: she gossips and ends up starting rumors. She likes to be the first one to find out juicy secrets and share them; it keeps her in good graces with her best friend Kristen, who is easily the most popular girl at school.
When Chelsea literally stumbles upon a secret that nobody knows yet, she can't wait to share it. When she does, someone nearly loses his/her life because of it. It's bad enough that Chelsea told what she knew, but the fact that she was drunk, at a party, and told the entire crowd of people just made it altogether
worse
somehow. When Chelsea finds out the depth of the destruction that her mouth has caused this time, she ends up taking a vow of silence.
Chelsea is serious about her vow. She is silent at home, at school, out in public, even when she is alone. It is only when becomes totally quiet that she realizes how damaging she has truly been to others around her over the years AND how quickly her "friends" are willing to turn on her.
Chelsea also realizes what it is like to be on the other side of such bullying.
********************************************************************************

The results of Chelsea's vow of silence are pretty uncomfortable to read, but they're also pretty incredible. Since she makes her vow fairly early in the story – immediately after she realizes how disastrous her gossiping was this most recent time – she has a fairly quick start to her character development. I'M SO THANKFUL too, because she was a truly mean girl in the beginning. Her transformation is believable and really just super-great to read. I've read several "bullying" books as well as books that tackle some of the other issues that are addressed in this story, and I think that Hannah Harrington did a great job handling these issues in a way that was believable, plausible, and also weighty enough without being too heavy. The overall result is maybe a little bit on the predictable side, but the main takeaway is that this is a compelling story that I never once wanted to stop reading. It really forced me to think on the power of words.

Some of my favorite parts of this book:

1. Chelsea's character development: She's eye-rolling-awful at the beginning of the story. After she takes her vow, we find out most of what she is feeling by way of her inner thoughts, and what we learn about her is that she is a girl that mostly just wanted to fit in and be liked – something that most every student wants. It's just that Chelsea went about it in the harshest and worst of ways. This is not an excuse for her behaviors but certainly it makes more sense as to why she did some of what she did. Watching Chelsea's transformation unfold all on her own is very, very cool. She goes from a person with hardly any backbone at all (allowing BFF Kristen to dictate most all of her decisions and thoughts) to a person with strength and ferocity and a plan of her own.

2. Secondary cast. In a word: incredible. I think that the book is made great because of the friends that Chelsea found after she began her vow of silence. They are a diverse crowd that already felt solid with themselves and weren't particularly concerned with impressing the more popular crowd. They accepted Chelsea when nobody else would, even though she wasn't speaking, even when they really didn't have to. She probably learned more about self-worth and standing up for herself from these friends than she had her entire life before this incident. In fairness, I also have to admit that the popular kids (Chelsea's friends in the beginning of the book) were well written too, because they're so believably mean. They're incredibly unlikable, but as characters, they forward the story exactly like they should and I appreciated their place in the story.

3. The issues. This author does not shy away from issues because they are tough or hard or taboo. The bullying is not the only thing in this story – there are other things in here too. I don't want to spoil anything, but I love that it was fairly hard-hitting without being cringeworthy or annoying or preachy.


********************************************************************************

Listen, this is my first of Hannah Harrington's stories. I haven't read Saving June yet, but after liking this one so much, I think I'll pull that one off the shelves and read it pretty soon. I remembered that I had Speechless on my Kindle when I saw that an audiobook was available for it, so I one-clicked the audio and did a print + audio read.

Audiobook Notes: The audiobook format of Speechless by Hannah Harrington is published by Harlequin Books S.A. and is 8 hours and 7 minutes, Unabridged. It is narrated by Emily Bauer, who is such a great reader for this story. She read Chelsea's character with this attitude and tone that fit perfectly with Chelsea's "mean girl" persona. When Chelsea took her vow of silence, the narrator continued that tone via Chelsea's inner dialogue but as she took on her character growth, the narrator's tone reflected that. Chelsea's near-constant snark began to disappear and she began to sound much less superior and angsty, and she sounded just…regular. I LOVED the way that this was read. Adding the audiobook was a clear enhancement for me as I read along with the print. I would say that the audiobook would be a perfect first read or reread for someone. I would highly recommend it.

I recommend Speechless
by Hannah Harrington to readers that enjoy contemporary stories with issues, stories with a slowly building/subtle romance, and stories with great character growth.
********************************************************************************
Speechless will appeal to fans of:


Young Adult Contemporary with Issues
Romance: Slowly developing. No triangle.
Flawed characters.
Character development.
Issues: Bullying.
Speechless by Hannah Harrington
is currently available for purchase.
********************************************************************************
Books by Hannah Harrington: