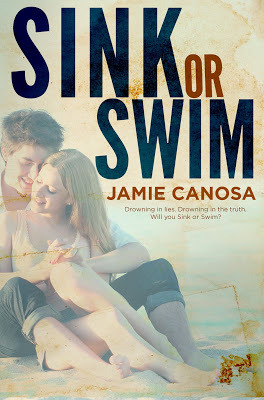 Sink or Swim by Jamie Canosa
Series: Fight or Flight #1.5
Publish Date: July 21, 2013
209 Pages
Source: Author for Review – Thank you!
Find It: Goodreads / Amazon / B&N
There are some things you just can't walk away from.
When sleeping in vacant warehouses and dark alleys becomes preferable to living at home, something is seriously wrong. But when word reaches Allie that her mother is facing a life threatening illness, she has no choice but to return to the place of nightmares. Leaving wasn't a choice, it was a necessity, and if returning hadn't been equally necessary, Allie never would have set foot back inside that hell-hole.
Dean is no stranger to hardship, but the day Allie walked out of his life, taking his heart right along with her, was hands-down the most frustrating. Six months later, she's back and Dean refuses to rest until he figures out exactly what the hell happened.
Now, Allie's drowning. Drowning in lies. Drowning in the truth. Drowning in pain, and anger, and fear. But there comes a time when every drowning person must decide whether they will . . . Sink or Swim?
-(summary from Goodreads)
Sink or Swim by Jamie Canosa
My Thoughts: Earlier this year I read and absolutely fell in love with Fight or Flight by Jamie Canosa, the story of Jay and Em and their struggles of living on the street and why/how they ended up there. I've recommended that book to SO MANY people and will continue to because I believe it should be read by more of you guys! I was super-excited to find out that Author Jamie Canosa would be writing a story following Allie, one of the characters from Fight or Flight, and I quickly expressed interested in reading Allie's story.
Allie Porter is one of the secondary characters in Fight or Flight, one of those characters that isn't there for the entire length of the story, but makes a big impact. She's a great character, and main character Em likes her and trusts her, which is a huge deal in Fight or Flight. During the story, however, Allie leaves (no spoilers here) and her presence is not only missed by the characters but by the readers as well. It's great to get this glimpse into exactly why Allie ended up in Fight or Flight and why she had to leave.
(You can read my thoughts on Fight or Flight HERE.)
***************************************************************
Allie Porter had a wonderful friend-that-turned-into-a-boyfriend, Dean Ritter. Dean lived across the street and for years, they spent time together. He always found Allie to be a little bit odd, strange, maybe even a little aloof, but he just thought that's how she was. She wasn't like other girls, and he liked that about her. And little by little, he was falling in love with her. Little did he know, she loved him back.
Dean also didn't realize that Allie was being physically abused by her father. Allie's father was a man that liked to drink and he was a mean drunk. He would hurt her in places that other people couldn't see, so that's why Dean never really recognized what Allie was going through, and she certainly didn't tell anyone because her father had threatened her. When Allie's father began to realize that his daughter's relationship with Dean was becoming more serious, he threatened to kill the both of them – Allie couldn't let that happen. She loved Dean too much. She wanted to protect him at all costs. So she packed a backpack with some stuff, got on a bus, and went to the farthest big city she could go. (This is where you meet Allie in Fight or Flight.)
This absolutely devastated Dean. Ironically, Allie left the same night that he finally told her that he loved her. Naturally, because of Allie's unusual behaviors and mannerisms, he assumed that she bailed on him because he loved her and while she was gone, he carried the burden of that the entire time. But he also never stopped loving her..
Fast forward six months…
Allie is back home, suddenly. Word made it to her on the streets that her mother is terminally ill, and she felt like she needed to come home to take care of her. She knew coming home would be dangerous for her, but she felt that sense of responsibility to her mother. Seeing Dean upon her arrival brought back all sorts of emotions – she never stopped loving him, but he never even knew that she loved him to begin with – she was too afraid to tell him, too afraid of her father hurting him or killing him. Dean felt tons of emotions as well – happiness, anger, confusion, everything. Dean was appalled at her thin stature and frail appearance, and was curious to know where she'd been and why she'd left. Obviously the two would have tons of talking to do to catch up, but immediately upon her arrival back home, Allie is thrust into the same type of situation she was in with her father, the same situation that forced her to leave.
So…Allie spent time taking care of her mother, as her father told her she would be treated as an employee. Her father continued to abuse her, more violently than before. Her time with Dean was only when she was able to sneak out for fear of her father finding out and making good on his promise from before. Eventually, though, Dean figured everything out – why she was always injured when she was younger, why she acted the way she did, why she never left her house and acted afraid that her father would arrive home any second, and why she left.
Dean tried to think of anything he could to get Allie away from her father. Eventually he decided knew that he had to risk everything in order to save her…
***************************************************************
You guys, after loving the first book in this series so much, I was beyond thrilled to get into Allie's head for a little while. I was thrilled to find out why she ended up on the streets along with Jay and Em (from Fight or Flight) and what on earth would make her go back to the home she despised. Allie's story was not a pleasant one, but her ending was a happy one, and that was a joy to read.
I liked Allie Porter as a character. She was a tough, tough gal. For her to stay and take care of her mother even when she was suffering so much – I'm not sure that was the smartest thing to do? I'm not sure that I would want that for someone in real life, but in this story, I just loved her compassion for her mother even though her mother wasn't kind to her earlier in life. But WAY more than that, I loved Dean Ritter – the boy across the street that loved Allie in the way she needed to be loved for years and years and eventually figured everything out. Dean was the hero and wouldn't settle for less than Allie being okay, even though it took awhile and could've cost him everything. Dean had a fantastic family, our secondary characters, that loved and accepted Allie when hers wouldn't, a family that reminded me of the family from this book, and who doesn't love those types of families?
Ultimately, this is a really great novel(la?). The length is fantastic for the price because, honestly, it felt pretty much like a full-length book. It's a tough story in the beginning but the ending is a fantastic HEA, for those that are worried about the content. I am thrilled about this second installment in this series that I love so much. And I am sitting on GO!!! for the next book in this series, Now or Never, and the release date just can't get here fast enough for me.
I recommend Sink or Swim for fans of New Adult Contemporary with Issues and HEA's. There is some romance that is present but it isn't the overriding story line of this story. It just is there, hovering in the background, waiting for the right moment to surface.
Here's an excerpt from the story!
This excerpt takes place after Allie comes back home from being away from six months. Dean arrives at Allie's house and, realizing how thin and unhealthy she looks, wants to take her to breakfast.
Abrupt knocking reminded her of what had woken her in the first place.
"I'm not going anywhere, Allie, so you might as well open the damn door."
Dean. Dammit.
What the hell was he thinking? If he woke her father up . . . Crap! Allie scrambled off the couch and threw open the door.
"What are you doing?"
"Waiting for you to get off your ass and open the damn—" He stopped short and just stared at her. Her in her old board shorts and cami she'd worn to bed last night. Shit. "What the fuck? Get dressed."
"What do you mean 'get dressed'?"
"I mean . . . get your bony ass body into some damn clothes, right now so I can get you something to eat." Oh boy, bossy Dean was back full force and damn if it wasn't still hot.
"I don't need—"
"Don't give me that crap. And don't you dare try and tell me you don't need to eat. Look at you, Al. What the hell happened to you?"
"Nothing. And I don't—"
"Get. Dressed." Not a request. "Or you're going like that. Actually, I kind of like that idea."
Dammit, she couldn't keep standing there, arguing with him. They were definitely going to wake up her father. "Give me ten minutes."
"You've got five," he sniped as she shut the door in his face.
***************************************************************
Jamie Canosa is a full time author of YA literature, which she absolutely loves. When she's not writing or spending time with her family, she can usually be found with her nose in a book. She currently resides in Ravena, NY with her wonderful husband and three crazy kids . . . plus the dog, the bird and the rabbit.
***************************************************************
And now for the Giveaway!
is offering
a signed print copy and an ebook copy of
This means this contest is for
US and International entries
, friends!
Good Luck!