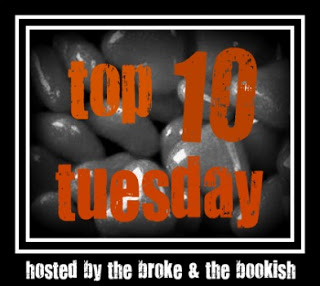 Click HERE to check out Top Ten Tuesday
at The Broke and the Bookish
Top Ten Tips For New Bloggers
What's up, fellow Blogging Community?
I'm here to share some stuff that is GOOD.
And I'm also totally speaking to myself.
I always need a good reminder!
1.

Bloggers, find a way to COMMENT.
Whether you visit a few blogs every day or two and leave some meaningful comments OR spend a chunk of time on one day visiting a bunch, it is just plain ole' NICE to pay back the people that hang out on your blog whenever you get the chance. Not only is it a great way to build relationships with other bloggers/readers, but it is a great way to let them know that you may be spending time reading their stuff too. Are you going to visit every blog that comes to yours? Realistically, no. But you do need to make an effort to go around and comment…particularly for the ones that are faithful to your blog and read all of your stuff and leave meaningful thoughts on lots of your work. Please consider doing this if you don't!! Bloggers LOVE comments. I mean, YOU DO, right? So share that love with others.


ps) Also, notice I said the word "meaningful" – I said it for a reason!
2.

Bloggers, please BLOG FOR YOURSELF.
Do what YOU love to do! If you want to do short reviews, do them. If you want to do novel-length reviews (like mine) do them, and be unapologetic about it! If you want to do video blog reviews, do them. If you want to do all written reviews, do that. My point is this: you started blogging for YOURSELF. So blog for yourself. When you start giving other people control of your blog – meaning, asking what they want to see – THEY WILL TELL YOU WHAT THEY WANT. And then they will tell you what they want again. And again. Let's not cause ourselves unnecessary stress! Let's do what we want to do so we don't get burned out on blogging. Blog for yourself and yourself only.


ps) I can promise you this: if you do what YOU love,
there are people out there who want to be a part of it.
And they will follow your blog and love it.
3.

Bloggers, don't be afraid to PROMOTE YOUR WORK!
You spend a ton of time reading those books, making those blog posts, and all the stuff that goes along with it. If you do events, that takes time. If you do memes, that takes time. Maybe you have a job and/or a family. Maybe you go to school or spend a lot of time exercising. The point is that you have a life outside of your blog. Everything you do on your blog takes time, and chances are PRETTY GOOD that you're not getting paid for it – so don't be afraid to show it off. Don't be afraid to post it up on Twitter or Facebook or wherever else you see fit. How else is the world supposed to know you read and reviewed something awesome and fantastic? I know I won't unless you're either in my feed already or you put it up on Twitter. And trust me, if you're doing something awesome, I want to know! So promote it. AND…


4.

Bloggers, please PROMOTE OTHER BLOGGERS WORK TOO!
If you see something that is particularly great or funny or if you think someone else will love it, SHARE IT! Post it up there for the rest of us to see! Y'all that's called Paying It Forward. It's good karma and when people see you doing that for them, they'll likely do it for you. Besides, IT'S JUST NICE. Look for those share buttons on that blog and USE THEM. That is all. The world will think highly of you for it, and you'll make blogging friends. It's just good stuff, people. So do it.


ps) Make sure you have share buttons on YOUR blog
so people can share your stuff!
5.

Bloggers, please turn off the CAPTCHA.
My eyes are old…maybe older than yours! I have a hard time seeing those teeny-tiny letters and symbols sometimes. Not only that, but it gets annoying when I'm leaving five comments in a row on your blog because I will totally do that (some of y'all know it's true). I know some of you think that you'll get spammed if you turn captcha off, but mine is off and I haven't had that problem – ever. So, please consider getting rid of that junk. Thank you!
PS) You may even get more comments on your blog if you do!
6.

Bloggers, for the love of everything good and holy
AVOID TWITTER DRAMA.
Don't get involved in ANY disputes or drama that you see on Twitter. JUST DON'T. Don't ask "What's going on?" Don't add your opinions. If it looks like it might be a snarky comment, just stay away. Let the people who are being dramatic do their thing. You can NEVER be involved in it and come out looking better. So just DON'T. Seriously.


7.

Bloggers, don't get caught up in the ARC/GALLEY HYPE.
Yes, there are ARC's floating around out there. There are e-galleys too! And they are available to some book bloggers and there are ways to get them and promote them, etc. But if other people have them and you don't yet, don't worry about it. Guess where there are tons of books that EVERYONE can use? THE LIBRARY! Guess who started out doing blog post about library books on her blog? THIS GIRL! AND most every other blogger. AND most of us STILL use library books and do blog posts about them even when we get ARCs or galleys. Everyone starts out using library books or books that they own. So don't feel bad if you want ARC's or galleys and don't have them. It's HONESTLY not a big deal, and there are a ton of ways to get them.


*Some of the bigger blog owners out there say that if you are in it for the ARCs or galleys, you shouldn't be blogging – or things similar to that. But I think it is okay to have a curiosity about the ARC/galley thing. Just don't get involved in the ARC-getting MACHINE. It's nasty and not fun and makes you look very, very bad. It actually makes us ALL look bad as bloggers. There are bazillion books out there, y'all. We don't technically NEED ARCs. But it's OKAY to get excited about them and want to grab some for review. Don't let anyone make you feel bad for that.*
ps) There are GREAT bloggers out there who choose
not to review ARCs or galleys, you guys
.
And they function very well without them and have AWESOME blogs.
8. Bloggers, please consider not being MEME-HEAVY.
If you are going to have a review blog, please make sure you are doing some reviews! I love the memes…sometimes. The ones about books, that is. They can be great FILLERS for when we don't have a review or when we can't read seven books per week. (For example, I'm using today as a non-review day!) But when you review one or two books per month and the rest of your month is all memes and events, perhaps you need to re-evaluate the reason you are book blogging… This will likely not attract and KEEP many followers – at least not ones that tend to build relationships. With memes, sometimes less is more! Unfortunately, I have "un-followed" blogs before for being too meme-heavy.


Some bloggers take the approach of faithfully doing one or two memes weekly. Me, personally, I'll just use one for whatever day I need filler: I tend to like that variety. But still, my blog is very largely reviews and very few memes!
9. Bloggers, use the FOLLOW ME buttons wisely.
If you post "follow me" buttons for Twitter, etc. then MY assumption is that you want to interact. If I follow you because I like your content and your tweets, and then I tweet you and you don't respond – I find that weird and unacceptable. Maybe that's harsh, but I'm just being honest. To me, you aren't making yourself easily accessible even though you're advertising that you are. If you're asking people to follow you, be easy to follow. And interact. I can't stress that enough.


10. Bloggers, if you need to: TAKE A BREAK!
It's okay to step back and take a break for a while! If blogging starts to feel like work, something isn't right. If blogging starts to feel like a chore, you need a break! If you're not reading things that you want to because your review stack is too high, TAKE A BREAK. Don't let yourself get burned out if this is something you love to do. A hobby should be a HOBBY. Don't take it too seriously. We all need vacations from everything, y'all. Don't be afraid of that. However…


…if you're one of my favorite blogs, don't go away forever!! Just a little break, okay?
***

Bloggers, be INTERACTIVE!

***
Find a voice, and use it! Book blogging is more than writing reviews and posting them on a blog – it really boils down to being a part of a community. And it's AWESOME, you guys. It really is. So find a way to edge yourself in there that you feel comfortable with, and start interacting! Don't be shy; people WILL respond! Some of my best blogging buddies are ones that I spend time with on Twitter or email or other ways. I really sincerely wish that I lived closer to these people and knew them in my REAL LIFE.


I would honestly rather be spending time talking to my blogging friends about books or other things than people I know in real life that I find less interesting. Why? Because I share something in common with you guys that is super important to me, and from there conversations can go many, many places and relationships can form. I ADORE my blogging buddies. Sincerely. This community is THE BEST. I feel very comfortable and at home being a part of it! There's NOTHING like knowing other readers and bloggers well enough to be able to recommend books to them easily or being able to read a book and immediately think of a name or two who would LOVE it too. And then being able to shoot them an email, a comment, or tweet telling them so because you have a relationship with them because you've interacted enough. It's awesome.


What Advice Did I Leave Out?
Do You Have Any Advice For Me?
Talk to me about it!!