Today kicks of YA Contemporary Month here at my little blog
and I couldn't be more happy, excited, and dance-y to start the month out with
Author John Corey Whaley
.

(Read my thoughts on Where Things Come Back HERE.)
***********************************************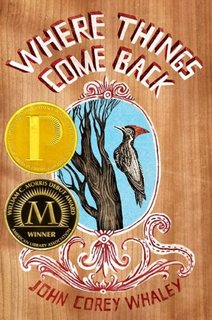 John Corey Whaley wrote Where Things Come Back, which is the winner of the 2012 Printz Award and the winner of the 2012 William C. Morris YA Debut Award.
Congratulations! Way to go, Corey Whaley!
***********************************************
A while ago, I read and loved Where Things Come Back. So much.
AND
It's YA Contemporary Month here at Into the Hall of Books.



I figured the best way to celebrate was to throw the two together, right? YES.
So…I grabbed a couple of my blogging buddies and managed to get this fabulous author to sit down and do a fabulous interview. Supplying the questions along with yours truly is the spectacular Ginger from GReads! and our favorite nerd Lisa from Lisa is Busy Nerding.

Here's the deal:
There are three of us asking the questions. We submitted our questions to Corey Whaley ahead of time. These are WAY FUN QUESTIONS with WAY FUN ANSWERS, so you want to check this out.

He has no idea which of us asked which question. And really, it doesn't matter, because they're all super fun and awesome.

There is talk of movies, music, zombies, and hipster culture. A superhero or two may also make an appearance.

Video interview time!
THANK YOU so much Corey Whaley!
This is so much fun!
This takes me back to the Awkward Author days.
I miss those…
ALSO:
This author is super interactive!
He wants to hear from you – so tweet him!
Tell him hello! @corey_whaley
And visit his super cool website to find out
what the paperback of Where Things Come Back
will look like: johncoreywhaley.com
There is a really cool-looking tree on that website, you guys.
******************************
GIVEAWAY
!
Because I love Where Things Come Back so much,
I'm giving away my extra copy!
(International)