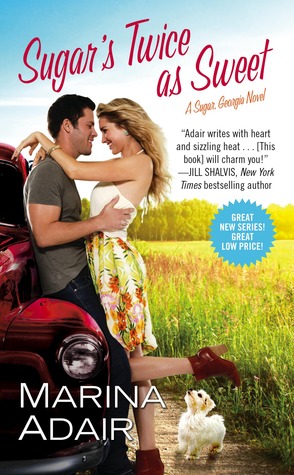 Sugar's Twice As Sweet by Marina Adair
Series: Sugar, Georgia #1
Published by Forever
Publish Date: November 25, 2014
384 Pages
Source: Book – Publisher, Audiobook – Bought
Find it here: Goodreads / Amazon / B&N


He's trouble she doesn't need . . .

Thanks to a cheating fiancé, Josephina Harrington's perfect life just crashed and burned. Moving in with her overbearing parents is definitely not an option. No, she needs to prove she can make it on her own. And she will-by turning her great-aunt's old plantation house into a destination getaway. She's just not expecting her contractor to be so hands-on-and so totally irresistible.

. . . but everything she wants
Bad-boy golf champion Brett McGraw figured his hometown of Sugar, Georgia was the perfect place to lay low and get his life back up to par. The leggy blonde with a pint-sized pup is the kind of sweet 'n sassy trouble he never saw coming. She doesn't know a nut from a bolt and before long, he's renovating her house . . . as she steals his heart. Can he convince Josephina that his woman
izing ways are in the past and he's ready for forever?
(Goodreads)
Sugar's Twice As Sweet
by Marina Adair
SO! It shouldn't have come as a shock to anyone that I jumped all over a 1) brand new series by 2) an author that I already love. I'm so glad I did because it paid off for me and now I get to follow another set of couples wading out life in a small town full of gossip and old, meddling ladies. My heart melts over stories like these.
This is one of those cases where the book summary and cover were enough to make me excited to read this book, but I was even more excited about this story once I got into it and realized what kind of story it is. In Sugar's Twice As Sweet, I found:
– great sibling relationships
– a group of meddling townspeople
Brett McGraw is a famous golfer that has quietly come home to Sugar, Georgia for awhile because of a public image nightmare. Josephina Harrington has come to Sugar after a humiliating break-up because she has inherited her aunt's old plantation house, which was a perfectly-timed excuse to not move back in with her parents after the break-up. Naturally, Brett and Josephina run into each other early-on under hilarious circumstances, and naturally the two will end up crossing paths pretty much constantly until they develop what we could argue as attraction vs. crush, depending on whether you ask Brett or Josephina and what type of mood she is in that day. The best thing about the feelings between Brett and Josephina is: these two are old childhood friends. They don't realize it right away, but once they do, their crush elevates to friends-to-lovers status. This change in relationship status isn't instant; in fact, it isn't even fast. It's slow enough to provide plenty of swoon in the way of Brett's old-fashioned Southern-gentleman ways PLUS plenty of well-timed humorous moments.
Brett and Joie have this ongoing bickering-type-discussion over what type of relationship they have or should have. Here is what is neat and fun about this story. One of them wants to rush things and one wants to take it slow. It's basically driving them both crazy — they both want one another — but there are more important, pressing matters. Like protecting a golfing career that could be in trouble…and renovating a building into something a town doesn't really want. They each have plenty to prove not only to one another, but to the town of Sugar, and in Brett's case, to the world. (Enter the meddling, opinionated Southern ladies of the town and there is part of your comic relief!)
Let's not forget that Brett is Sugar's resident single sweetheart and here comes Joie, stealing his heart…
Brett has two brothers. HERE HERE HERE is where I'm thinking the series will expand, and it makes me so happy because I really liked these two guys. I'm thrilled that I could catch this series at the beginning so I can read each story as it is released. I loved Sugar's Twice As Sweet because it has so many of the things I love in fun romances, and it was light and fun. Here's another one for my rereads shelf. Give me a Southern setting with a Southern gentleman and some sass any day! I'm still working on Ms. Adair's other series, mentioned above, but I'm very excited about this one. It's sweet and funny and Southern and I had a great time reading it. I'm already looking forward to the next book in this series, scheduled for release in Spring 2015.
Built in Southern-Sassy = I love it.

*taken from advanced e-copy – final copy may reflect changes
Audiobook Notes:
The audiobook format of Sugar's Twice As Sweet
by
Marina Adair
is published by Hachette Audio
and is 11 hours and 26 minutes, Unabridged. It is narrated by Chelsea Hatfield
who is new to me and has a great voice for narrating audiobooks. She did not sound whiny or annoying at all while she was reading this book, which can happen sometimes with the female love interests in romances. This made me very happy! Ms. Hatfield's voice was clear and she read the book with ease – in fact, I was so wrapped up in the story that I kept forgetting that someone was reading it to me. This is a great thing. I would easily recommend this audiobook as a first-read or a re-read for this title, and I hope that this narrator continues with this series.
***********************************************************************
Sugar's Twice As Sweet will appeal to fans of:
Contemporary Romance
Romance: No triangle.
Setting: Small-town Georgia, United States
Humor
Quirky characters
Sibling relationships
First book in this series!
Sugar's Twice As Sweet by Marina Adair
is currently available for purchase.
***********************************************************************
Have you read this book or considered it?


I love Marina Adair's fun and quirky romances!