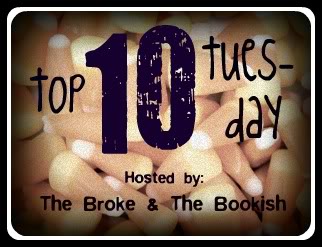 Click HERE to check out Top Ten Tuesday
at The Broke and the Bookish.
Ten Books I Want To Re-Read
Okay so re-reading is my FAVORITE. I will re-read a bazillion books in my lifetime. Picking ten is fun, but only a drop in the bucket.
I've read these series starters but never made it further
SO I want to restart the series:
I didn't love these the first time I read them;
perhaps I'll like them more on a re-read:
I love these books so much so OF COURSE I want to re-read them:
Favorites that I'll always re-read:
American Gods by Nail Gaimain – I always am sort of re-reading this one. It's ongoing.
Obsidian by Jennifer Armentrout – Now that this series is complete, I can re-read this and finish the rest.
I've been reading & re-reading holiday books since October started, you guys. I'm almost finished with my holiday re-reads. I think these are my last two. I work on making my holiday reading list longer every year, so my Christmas re-reads list will be longer next year! Exciting!
*****************************************************
Re-Reads are THE BEST. What are you re-reading?