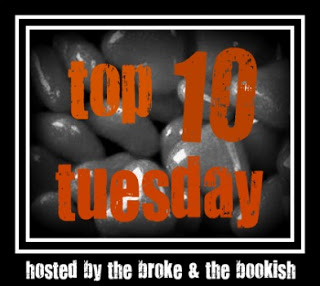 Click HERE to check out Top Ten Tuesday
at The Broke and the Bookish
Ten(ish) Bookish People I Want To Meet
(I want to meet tons of bookish people! Hard topic!)
1. The person that started Goodreads.
Hey, person that started Goodreads!!
What a great idea! I use Goodreads all the time.
I love your PHONE APP – it helps TONS at the library.
HOWEVER, I have a few ideas I'd love to run by you…
For example: HOW ABOUT A RE-READ OPTION??? HUH???
So, Goodreads inventor person, let's meet for coffee, shall we?
2. The person that invented the Kindle.
All e-readers, really.
I just want to shake your hand. Or hug your neck. Or buy you dinner.
Cause you're kind of awesome and you changed my life.
3 & 4. The people that started Audible and Overdrive for audiobooks.
I love you, I love you, I love you.
I LOVE YOU.
5. My favorite audiobook readers.
Jim Dale, Nick Podehl, Kristine Hvam.
Dear wonderful reader-people,
I would like for you to read me a story.
In person. Where I can watch you.
Sincerely, ME.
6. Patrick Rothfuss.
Don't even get me started on WHY.
Just because, people. Just because.
(see one of his books HERE)
7.
Erin Morgenstern
.
Erin, Your book is beautiful.
Celia and Marco are amazing.
I just want to say THANK YOU for an incredible story.
In person, perhaps. One day. That'd be SO COOL.
(see her book HERE)
8.
David Levithan
.
I'm not sure if I want to meet you because of your books
or because of @LoversDiction.
Either way, I will be seeing you in November.
I nearly pass out every time I think about it.
For example, I'm about to pass out as I write this.
*deep breaths*
(see one of his books HERE)
9.
The people that started NetGalley
.
It may be shallow to say this,
but y'all, I love NetGalley.
It makes book blogging fun for me.
To do things the way that I choose to do them
(which isn't the route everyone goes and THAT IS OKAY)
everyone has to start somewhere.
They made it possible once
I got to the place where they could help me.
Thank you, NetGalley.
10. MY BLOGGING/READER FRIENDS.
It's those of you that interact with me daily or almost daily,
that talk with me somehow about books, music, movies, superheroes –
you go a little extra, above and beyond,
you take the extra step to get to know me, the person
– y'all are the ones that are my top ten.
But there are more than ten of you. So I just can't list you out. I'm sorry!
YOU KNOW WHO YOU ARE. YOU DO!
**************************************************
Who do YOU want to meet??