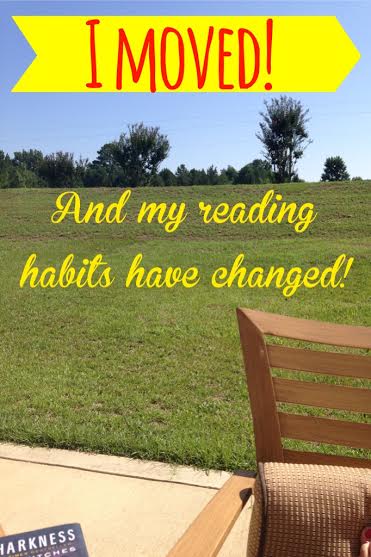 Image: Asheley @ Into the Hall of Books
Wow! My blog has been silent lately. And it stinks!
Some of you know that I have had a big move from one part of North Carolina to another and while it has been adventure, it came at a bit of a wonky time. I had just announced and begun my Contemporary Month Event and was SO EXCITED about it. I had read a ton of books and planned to give a ton away to clear my shelves for what I thought was an upcoming move…
…except the move came a little quicker than I was expecting and MAN OH MAN, it was fast. Also: I've spent a lot longer adjusting (and helping my family adjust) than I had anticipated. No biggie.
************************************************
I can't help but notice a few changes in my reading habits since the flurry of finding a house, packing, moving, unpacking, and adjusting. Throughout the upheaval of my normal routine, there were very few constants – thankfully, one was reading. However! The way that I read changed up a bit and I am both excited and surprised about how things have turned out.
Here are a couple of the ways my reading routine has changed lately:
1.
Before: I pretty much never read series books back-to-back.
I always read books in between.
Now: I am devouring series books back-to-back.
I can't believe this! There are a couple of series that I am currently flying through right now (this one and this one). I'm finding myself starting the next book in the series as soon as I can after finishing the book before it. I actually never thought this would happen because I was quite happy enjoying series over a long periods of time — but I'm okay with this change!
2.
Before: I had major Series Finale Fear. I would read up until the last book and then almost never read the final book for a myriad of reasons.
Now: I don't feel afraid of series endings anymore.
In the past, I postponed reading finales because: I didn't want bookish relationships with characters to end, I didn't want stories that I loved so dearly to end, I was scared of what would happen with characters that I was invested in, I was nervous about the outcomes of love triangles, etc etc etc. While I still feel these things, it is more an excited and anticipated fear than a bookishly-stressful fear.
(Either is okay. EITHER IS OKAY.)
For those that are pretty familiar with my reading habits, HOW IS THIS EVEN POSSIBLE? How how how? If I am honest with myself, I am sure that I will see that emotional fear pop up again, but I am enjoying the freedom from it right now.
************************************************
In reality, I believe that moving quickly through series like I am doing now and have done for the past two or three months has made changes to my reading routine inevitable. ALSO, to be fair, the major series that I have felt the fear over
are completed and I've read all of the finales! So I do not need to stress over those endings any longer.
I'm not sure if these changes are here to stay. It's okay if they are. But it is okay if they are not too. Only time will tell. In the meantime, I have a ton of series finales to catch up on. A TON.
************************************************
Have your reading habits ever changed
out of necessity?
Also: Contemporary Month will be back! I still have to clear my shelves and want to share my thoughts on a ton of great contemporary. I need to get a little more settled in before I restart my event, but I will indeed pick it back up. Doggone it.