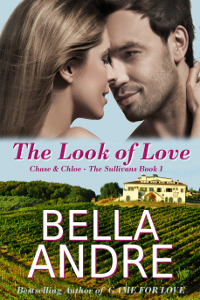 The Look of Love by Bella Andre
Publish Date: January 1, 2011
379 Pages
Source: Book – Kindle purchase,
Chloe Peterson is having a bad night. A really bad night. The large bruise on her cheek can attest to that. And when her car skids off the side of a wet country road straight into a ditch, she's convinced even the gorgeous guy who rescues her in the middle of the rain storm must be too good to be true. Or is he?
As a successful photographer who frequently travels around the world, Chase Sullivan has his pick of beautiful women, and whenever he's home in San Francisco, one of his seven siblings is usually up for causing a little fun trouble. Chase thinks his life is great just as it is—until the night he finds Chloe and her totaled car on the side of the road in Napa Valley. Not only has he never met anyone so lovely, both inside and out, but he quickly realizes she has much bigger problems than her damaged car. Soon, he is willing to move mountains to love—and protect—her, but will she let him?
Chloe vows never to make the mistake of trusting a man again. Only, with every loving look Chase gives her—and every sinfully sweet caress—as the attraction between them sparks and sizzles, she can't help but wonder if she's met the only exception. And although Chase didn't realize his life was going to change forever in an instant, amazingly, he isn't the least bit interested in fighting that change. Instead, he's gearing up for a different fight altogether…for Chloe's heart.
The Look of Love by Bella Andre
My Thoughts: While this is my first full-length novel by Bella Andre, this isn't my first time reading her work. I have picked up one or two of her short stories/novellas before when they were available on Amazon and thought they were super-fun. I liked them and I've been having fun with this adult contemporary romance kick that I've been on, so I figured HEY WHY NOT?? Then, you guys, I saw that the audiobook was on sale on Audible and I grabbed it and BOY WAS IT ON.
**********************************************************
The first thing you need to know is this
:
Chase Sullivan and Chloe Peterson are pretty much
instantly attracted to one another.
Chase happens to drive by Chloe after she has had a car accident and he stops to help her. She's cold and wet, and she has a bruised face. Chase doesn't ask a lot of questions but he does end up taking Chloe back to his brother's winery to stay the night since she's fled home and has nowhere to go.


There is definitely chemistry between the two of them and it only increases once they arrive at the winery. There are glances that linger for a second too long and little cutesy questions/comments and even a scene where one of them walks in on the other while bathing/showering. Each of these little things – and all of the other little things – only adds to the attraction until it becomes more than attraction for one of them.
The second thing you need to know is this
:
Chloe isn't really looking for a relationship –
she's built her walls thick and high.
Chase is definitely interested in Chloe – there was the instant attraction, sure. But the more he is around her, he really starts to like her. She has a gentle spirit and a kind heart, and he genuinely has a great time when he's just hanging around with her and talking to her. Not only that, but…
Chase is a photographer by trade. And Chloe is a talented seamstress with a love for design and making clothing. Chase is on location at his brother's winery doing a photo shoot when part of the staff becomes really sick and is unable to work. Chloe steps in, easily filling the role of pulling together outfits with her great eye for fashion and tailoring them to fit the models. Chase sees how well she gets along with his crew and how much they all fall for her – her laugh and smile are infectious. He realizes that he doesn't want her to leave the winery just as Chloe begins to realize that she can't really stay because it isn't actually her home and it isn't her family.
In the meantime, Chase begins talking to Chloe about having a relationship and dating and all of that, but Chloe just isn't having any of that. He's all for it, but she shuts him out over and over. She is basically interested in a fling.
EVEN SO, THEY BOTH HAVE FEELINGS THAT ARE INCREASING. I love it when that happens.
The third thing you need to know is this:
There are EIGHT Sullivan siblings.
They're all SO GREAT.
This is one of those series in which each siblings gets his/her own book and story, and I'm pretty sure the other siblings will pop up in each of the books – or at least I hope so. We get the chance to meet the other brothers and sisters in
The Look of Love
, and they're all very different and very likable. Such a diverse and loud and lovely family. I'm eager to read the whole series. The sibling we get to know most (besides Chase) is Marcus. Marcus is the main study of the next book in the series,
From This Moment On
.
**********************************************************
The Look of Love by Bella Andre was so much fun to listen to and read. I loved the story of Chase and Chloe, and while it took me a little bit to warm up to Chloe – it took me no time at all to fall in love with Chase.
Chloe has had a little bit of a rough time in the recent past but I have to give her a high-five for finally getting the courage to get away from a bad circumstance. It stinks that she had a car accident on a rainy, wet night but if that were not so, she wouldn't have crossed paths with the hunk that is Chase Sullivan – and she never would've been thrust into his big, crazy bunch of a family. Chloe has these walls up around her to protect herself from getting hurt again – I can certainly understand this – but it was frustrating to Chase when he only wanted to protect her and love her. She just wouldn't let him! There was a definite tug-of-war between the two of them with regard to Chloe's heart and affections, albeit a very kind and fun and friendly one. I enjoyed reading the scenes as she worked with Chase during his photo shoots – she was in her element, doing something that made her happy, and that in turn made me happy. I wish that she would have had a better self-
Paperback Cover!
esteem early-on in the story – but I understand why she thought the things she did given the relationship she had just left – and it was really great to see her develop into someone that had more confidence as the story progressed.
Chase was a dreamboat from the beginning, but I think that was the intention! He helped her at the scene of the car accident, like a knight-in-shining-armor (to us, the readers) but she held him at arm's length, of course. And she was very guarded to him for quite a while even though he was always kind to her. Chase is described as handsome and successful, and these things coupled with his demeanor in the book basically made it impossible not to like him. I'm hoping that he (and Chloe) show up in all of the books from now on…
The Look of Love is a really fun adult contemporary love story. It is romantic and passionate and there are some steamy moments – before I was finished with this book I had already gotten the next couple with the accompanying audiobooks. I think I've found yet another adult contemporary romance series that I'm going to enjoy.
Audiobook Notes:
The audiobook format of The Look of Love by Bella Andre
is published by Oak Press, LLC
and is 6 hours, 58 minutes, Unabridged. It is narrated by Eva Kaminsky, who is new-to-me. In looking at this series on Audible, it appears that Eva Kaminsky voices all of this series so far, which is fun because I enjoyed the way she read this book. She read it in a very slow (but not too slow) and sultry voice, which I found fitting for this type of book. I would certainly recommend this series to readers that are looking to try out audiobooks in the adult contemporary romance group, and I think that it would work well as a re-read OR a first read-through.
I recommend The Look of Love to fans of Adult Contemporary Romance, fans of books with sibling relationships, and fans of swoons and steams. I'll be carrying on with this series, for sure. This book was as fun as it could be. I loved it.
**********************************************************
The Look of Love will appeal to fans of:
Adult Contemporary Romance/ChickLit
Romance: Instant Attraction. No Triangle.
Steamy!
Great Setting.
Sibling Relationships
The Look of Love
by Bella Andre
is currently available for purchase.
**************************************************************
Have you read any of Bella Andre's books?
Just curious: Did you read them in order?


I HAVE to go in order,
even though they can actually be read in any order.
I'm just weird like that.