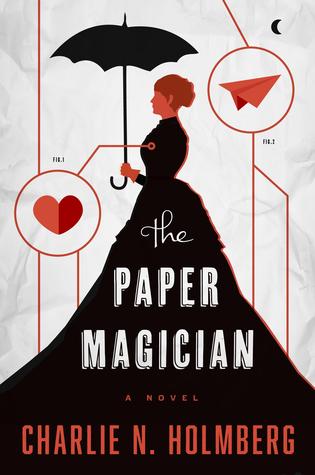 The Paper Magician by Charlie N. Holmberg
Series: The Paper Magician Trilogy #1
Published by 47North
Publish Date: September 1, 2014
224 Pages
Source: Book – Publisher, Audiobook – Bought
Find it here: Goodreads / Amazon / B&N
Ceony Twill arrives at the cottage of Magician Emery Thane with a broken heart. Having graduated at the top of her class from the Tagis Praff School for the Magically Inclined, Ceony is assigned an apprenticeship in paper magic despite her dreams of bespelling metal. And once she's bonded to paper, that will be her only magic…forever.
Yet the spells Ceony learns under the strange yet kind Thane turn out to be more marvelous than she could have ever imagined—animating paper creatures, bringing stories to life via ghostly images, even reading fortunes. But as she discovers these wonders, Ceony also learns of the extraordinary dangers of forbidden magic.
An Excisioner—a practitioner of dark, flesh magic—invades the cottage and rips Thane's heart from his chest. To save her teacher's life, Ceony must face the evil magician and embark on an unbelievable adventure that will take her into the chambers of Thane's still-beating heart—and reveal the very soul of the man. (Goodreads)
My Thoughts: I have wanted to read this book since I first saw the cover in an email from Amazon. The cover has continued to jump out at me each time I have seen it, so when I saw the chance to read and review this book on NetGalley, along with the second book in this series, I took it. Truthfully, I now have mixed feelings about this decision because there are things that I loved about the book and things that I wish that I loved after my first read.
Ceony Twill is a smart girl – she's finished Tagis Praff School for the Magically Inclined in half of the time it normally takes students. Now that she is done, she is hoping that her dream of becoming a Smelter will become reality. She has wanted to work with metal for such a long time! But alas, Ceony learns that she is to become a Folder and work with paper, which she feels is far less noble and important and awesome. This choice was made for Ceony, you see, because there are but a few remaining magicians left in that field. SO…she is apprenticed to Mg. Emery Thane, bound to paper, and that is that.

When you are bound to a material, you are bound to only that material. You can't bind to paper and work magic with, say, metal. Ceony is stuck with paper. The end.

The beginning of this story is really very cool. I loved the PAPER-ness of everything. The MAGIC of the paper. There is so much magic built into the story where it concerns Folding, and I was entranced by it. Mg. Thane teaches Ceony that she can fold something, for example, and breathe onto it…and it will come to life. This proves useful many times. Ceony can also do cool things like write something on paper, read it, and whatever she wrote will COME TO BE. This also proves useful. There are paper animals and flowers and flying things and even a paper person. Everything PAPER is very, very cool. I was so happy when it was all about the magic and the Folding.

Then there was a villain, and she did something awful to Mg. Thane. Lira is an Excisioner, one that practices a darker type of magic called flesh magic. She actually reaches into Mg. Thane's chest and takes his heart out. Then she escapes — with Thane's heart — and Thane is near death. This is where things became a little wonky for me.

At this point, Ceony takes it upon herself to save her teacher, which is really awesome. I love a strong female lead, particularly a quirky one that tends to also make mistakes and thus tends to be real. I also love a good quest or adventure in a story. Ceony is certainly on a quest to save Mg. Thane by finding Lira and recapturing his heart. It's just that her quest was really, really strange and I had a hard time keeping up with it despite the fact that I was reading this book on my Kindle plus I purchased the audiobook to listen to as well. There were a series of flashbacks used to tell the middle portion of this story and I have to be honest when I say that even though I reread and re-listened to much of that part of the book, I cannot remember what that part of the story was trying to tell me.

I do remember the parts at the end, and they were very exciting.
So, to me, this book had a very strong beginning and also a strong end, with a middle that did not seem to match up. There is a romance, too. Ceony starts to have a crush on Mg. Thane, who is a little bit older than she is, and it is part of the driving force to find Lira the villain and recapture his heart. The romance is not something that I am fully invested in or committed to at this point, because it did not feel fully developed to me. It was light but it was there. There was no triangle.
Ultimately, The Paper Magician is a good story based on a premise that I think is very cool. I loved the concept of the magic of paper, of metal, of glass, and even of flesh. The middle of this book lagged a little bit for me, but I attribute that to the fact that sometimes I get a little bored with flashbacks – other readers may not mind this as much. I recommend The Paper Magician to readers that enjoy YA Fantasy that incorporates magic and light romance.
Audiobook Notes:
The audiobook format of The Paper Magician
by
Charlie N. Holmberg
is published by Brilliance Audio
and is 7 hours and 25 minutes, Unabridged. It is narrated by Amy McFadden
who I JUST LOVE and have listened to quite a bit. In fact, it was an easy decision for me to purchase this audiobook when I came to a portion of the print book that I found a little bit slow. McFadden's narration is exciting and full of whatever emotion is necessary for the scene she is reading, and I just love that about her work. I can always count on her for an entertaining audiobook experience, you guys. Always. The fact that she reads this audiobook meant that I purchased the next one right away for the second book in this series before I began it. I wholeheartedly recommend this audiobook for interested readers as a first read or a reread. It was an excellent choice to acquire Ms. McFadden to read this book. She is a favorite of mine.
***********************************************************************
The Paper Magician will appeal to fans of:
YA Fantasy with Magic and Romance
Setting: London
The Paper Magician by Charlie N. Holmberg
is currently available for purchase.
***********************************************************************
Have you seen this book around or considered it?
Doesn't the paper magic sound cool?
How do you like that cover?