The Prayer Box by Lisa Wingate
Published by Tyndale House Publishers
Publish Date: August 16, 2013
400 Pages
Source: Publisher for Review
Find it here: Goodreads / Amazon / B&N


When Iola Anne Poole, an old-timer on Hatteras Island, passes away in her bed at ninety-one, the struggling young mother in her rental cottage, Tandi Jo Reese, finds herself charged with the task of cleaning out Iola's rambling Victorian house.Running from a messy, dangerous past, Tandi never expects to find more than a temporary hiding place within Iola's walls, but everything changes with the discovery of eighty-one carefully decorated prayer boxes, one for each year, spanning from Iola's youth to her last days. Hidden in the boxes is the story of a lifetime, written on random bits of paper–the hopes and wishes, fears and thoughts of an unassuming but complex woman passing through the seasons of an extraordinary, unsung life filled with journeys of faith, observations on love, and one final lesson that could change everything for Tandi.



The Prayer Box by Lisa Wingate


My Thoughts: One of the reasons that I chose to read The Prayer Box by Lisa Wingate is because of the Outer Banks, NC setting – if you spend much time on this blog, many of you may know that I love a Southern setting, particularly if it is a coastal North Carolina one. Also, I tend to judge them sometimes a little bit harder than others – setting is one of my favorites elements of a good story, but if you're going to talk about a place like coastal NC, it has to be done with care because it's home. When I started reading The Prayer Box, I was so immediately swept up in the Outer Banks, it felt like home – which is exactly what I wanted – but then I quickly got comfortable and almost, almost forgot about the setting as I became immersed in the actual story.


Tandi Jo Reese has fled home with her husband, bringing her children and a few belongings and telling no one. She came to the only place she thought she would be safe and the farthest place she thought she could go, Hattaras Island, NC. In the Outer Banks, life is different – people tend to be away from the fast pace of life on the mainland – Tandi hopes she can blend in carefully, keep a low profile, not reveal to much of her past, and make a home for herself and the kids here on the island. She is able to rent a small bungalow property in front of a huge Victorian mansion owned by a fiesty 91-year-old lady, enrolls the kids in school, and quietly begins her life again. Things aren't easy – there is barely any money, jobs aren't easy to find, the kids are unhappy, Tandi is lonely. When Tandi realizes she hasn't seen any activity in the huge mansion lately, she decides to check on the elderly lady that lives there. She finds that the lady has peacefully passed away in her sleep.


Tandi learns that Ms. Iola Anne Poole gave her property to the church located on the property adjacent to her home (meaning the church now owns the bungalow rental she lives in as well), and it isn't long before the church contacts Tandi with an offer: if Tandi can go through the house – clean it up, get the food out, go thru some of Ms. Iola's things – they will exchange her work for rent money and pay her a little bit on the side. With no money left, Tandi has no choice but to take the job and sets about the task. The church makes sure she has plenty of money for cleaning products and things such as that, but the job proves much larger than Tandi thought. However, Tandi learns so much about Ms. Iola Anne Poole while she's working in her home and soon begins to almost enjoy the enormous task and the small blessings that result from it. For example, the church gives Tandi the non-perishable food that she is able to save – this helps her tremendously – and Tandi continues to clean out the rest of the place. Everything changes, though, when she finds a closet filled with dozens of small boxes.


Each of the boxes is decorated in a different pattern, and on the inside Ms. Iola has written notes to her father but it doesn't appear that she has ever mailed them. Intrigued, Tandi counts back and finds the oldest box, which dates back to when Ms. Iola would've been about ten years old, and begins reading these notes. As Tandi reads the notes, moving from box to box, she finds out that she has some things in common with Ms. Iola Anne – and this makes her feel comfort, knowing she isn't alone – and she also begins to find out about this person that she never had the time to get to know before she died.


People about the island all have their own stories and opinions about the older lady, but for the most part she was well-received. They all agree that in her later years, she liked to stay in her home. People thought her reclusive, but Tandi learns that she spent her time praying for the people of the island – the people in need, the delivery people she met as the came to her door, the people she read about in the newspaper – and using what she had, which was plenty, to help anyone that needed it. Always anonymous about her help, people usually did not know where their help came from – but she tended to write to her father about these acts.


As Tandi continued to spend time going thru the boxes, she learns about love, forgiveness, loss, grace, hope, all of these things. While she is going through her own change of heart, her relationship with her own family is changing. Tandi also is able to use some of the skills she learned as a child working with her father to find a job in town, which is much-needed.


There is a particularly touching part of the book (in my opinion) in which Tandi is feeling low because of…life in general: money issues and her children being rebellious and feeling lonely, things like that. She realizes that the only place that she finds peace and comfort is within the walls of the deceased Ms. Iola's house, reading her letters. After reading a letter that was touching to her, Tandi realized that even though she feels like her situation is pretty tough, since arriving on the island she hasn't had to work hard for anything – everything has been given to her – a job, a place to life, food for her children – and things begin to shift for Tandi at this point. There is a change in her life and heart (and that character growth that we all love so much).


There are plenty of characters in this book besides Tandi and her children. The island is filled with colorful people – all very different, all living there for different reasons – which is very true to what you find in real life. They are written well and for the most part, they are likeable. One character in particular, Sandy, owns a seashell shop that is the focus of the prequel novella, The Sea Glass Sisters. I particularly love how Ms. Iola Anne feels like an actual character through her letters even though she isn't actually present in the story – the author does a great job of bringing her to life through her letters, through this communication with Tandi, and in Tandi's inner thoughts. I loved getting to know this older lady in this way.


Ultimately, The Prayer Box is a feel-good read that is a lesson in so many things – love, hope, faith, and kindness. It is about unending grace and also forgiveness. It is also about diligent prayer because, yes, there are inspirational themes in this book without being preachy. It is about learning that sometimes what you have is a blessing and is being given to you, and often you just need to change your perspective and open your eyes to see it that way. I recommend The Prayer Box to readers that enjoy Southern settings, books with inspirational themes, comfort reads, and adult/women's fiction.


I received a copy of this book from Tyndale House Publishing to read and review on this blog in exchange for my honest opinion. I was not compensated in any way for my thoughts, which were my own. Thank you Tyndale!



*******************************************************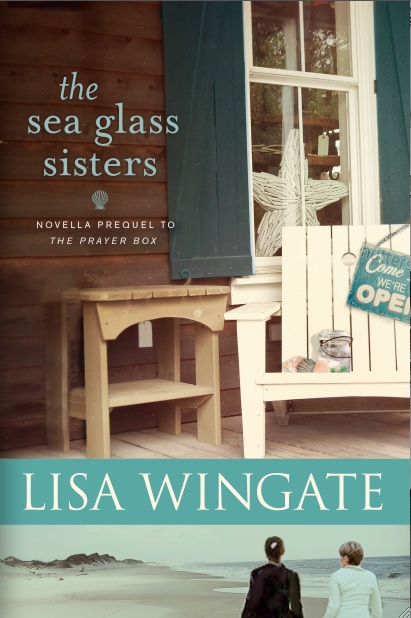 The Sea Glass Sisters
by Lisa Wingate
Published by Tyndale House Publishers
Publish Date: July 15, 2013
approx 86 Pages
Source: Publisher for Review via NetGalley
Find it here:
Goodreads
/
Amazon
/
B&N
Elizabeth Gallagher has been balancing on the ragged edge for a while now. Then a rough case on the boards of her 911 operator's job collides with a family conflict at home, and Elizabeth finds herself finally coming apart at the seams. A four-state road trip–trapped in a car with her mother–is the last thing she needs. Their destination may be beautiful Hatteras Island, but the reason for going is anything by pleasant. After one disastrous hurricane, and with a second one working its way up the coast, it's time to convince Aunt Sandy to abandon her little seaside store on North Carolina's Outer Banks and return to the family fold in Michigan. But when the storm sweeps through, the three women will discover that sisterhood and the sea can change hearts, lives, and futures . . . often in the most unpredictable of ways.
The Sea Glass Sisters by Lisa Wingate
My Thoughts: The Sea Glass Sisters is a charming novella that precedes The Prayer Box by telling the story of one of the little local shops that is open on the Outer Banks not very far from the home of Ms. Iola Anne Poole.
Sandy's Seashell Shop is owned and operated by a woman named, of course, Sandy (and her husband), after they vacationed along the Outer Banks many years ago and bought the shop on a whim. After spending a chunk of money dipping into their savings to make repairs to the shop after repeated storms and a rather damaging hurricane in the recent past, Sandy is thinking of selling her portion of the family farm back in Michigan (much to the dismay of the rest of the family). This novella is a short and quick story of how Sandy's sister and her daughter drive down from Michigan to talk some sense into her – in other words, they want her to sale her shop and move back home to Michigan. After all, Sandy isn't getting any younger and it is getting tougher and tougher to ride out the hurricanes and storms that beat up the sandbar that Sandy calls home.
Once Sandy's sister and niece arrive unannounced, however, they can see exactly how much love Sandy has for her store and her island. For so many years of owning the shop (many!), it is the first time anyone in the family has bothered to make the trip there and OH YEAH, there's a huge hurricane churning that will arrive within a day or two. So the two arrive amid a flurry of activity and evacuation and, honestly, they couldn't have chosen a worse time to visit the Outer Banks for such a serious discussion. Immediately, the two begin helping Sandy board up her store windows and make other hurricane preparations not only to her store, but to her home. It's hard work, but the two learn a lot about life on the Outer Banks (this made me happy).
With the impending hurricane, the family discussion argument that is bound to happen over selling the store, and the huge issues that Sandy's niece Elizabeth are harboring, this novella is really quite excellent. I have to admit that in reading the novella first and then reading the synopsis for The Prayer Box, I had no idea how the two would tie together until I began reading The Prayer Box – then it was pretty obvious to me that they are very connected. I recommend The Sea Glass Sisters to readers that enjoy novellas, great settings, and those that plan to read The Prayer Box – it isn't necessary to read this before reading the novel, but it is very charming and I enjoyed it very much.
I received an electronic copy of this book from Tyndale House Publishing via NetGalley to read and review on this blog in exchange for my honest opinion. I was not compensated in any way for my thoughts, which were my own. Thank you Tyndale and NetGalley!
*******************************************************
The Prayer Box & The Sea Glass Sisters will appeal to fans of:
Adult/Women's Fiction
Fantastic Setting: Outer Banks/Hattaras Island, NC
Great Characters
Novellas
The Prayer Box & The Sea Glass Sisters
are currently available for purchase.
*******************************************************

Author Lisa Wingate
has generously offered
a copy of
The Prayer Box
to one winner!