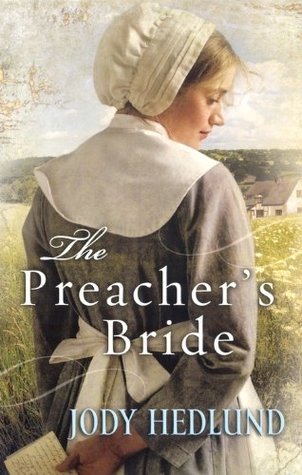 The Preacher's Bride by Jody Hedlund
Series: Hearts of Faith #1
Published by Bethany House
Publish Date: October 1, 2010
387 Pages
Source: Book – Bought, Audiobook – Bought
Find it here: Goodreads / Amazon / B&N

In 1650s England, a young Puritan maiden is on a mission to save the baby of her newly widowed preacher–whether her assistance is wanted or not. Always ready to help those in need, Elizabeth ignores John's protests of her aid. She's even willing to risk her lone marriage prospect to help the little family.
Yet Elizabeth's new role as nanny takes a dangerous turn when John's boldness from the pulpit makes him a target of political and religious leaders. As the preacher's enemies become desperate to silence him, they draw Elizabeth into a deadly web of deception. Finding herself in more danger than she ever bargained for, she's more determined than ever to save the child–and man–she's come to love. (from Goodreads)



The Preacher's Bride by Jody Hedlund

My Thoughts: I read and listened to The Preacher's Bride by Jody Hedlund when I was still very early in my historical-fiction reading. (I'm still very new to historical fiction.) I have to be honest and admit that I had forgotten so much about this time period in England, but it took practically no time at all before I was historically re-acclimated, so to speak, and I found swept up by the plot of this story.


Young, engaged Elizabeth finds herself housekeeper to the newly-widowed Preacher John Costin – she has been placed in charge of his home and caring for his young children, including his tiny newborn. Elizabeth is passionate in the things she believes in and in her causes, including the devotion to Costin's children – she grows to be fond of them and then to love them very much. Despite being a woman in keeping of her faith, Elizabeth knew that keeping this job in the Costin household would require breaking some of the rules and standards of the Puritan community in order to keep the newborn Thomas alive (for example, the only wet nurse she could find to supply Thomas' needs was one that was not in good social standing, and having her nurse Thomas was heavily looked down upon by the church). Elizabeth's belief that she was doing the right thing in keeping the job as an engaged woman in the widower's household soon gave way to gossip. Elizabeth did not like the gossip and she did not like defying the ways of the "church" but she knew in her heart what was right and she stuck to what she felt she had to do: she remained faithful to God, she did her best in her job with Preacher Costin, and she took care of the children – especially the sickly newborn. Doing these things was a risk to her own upcoming marriage – because Elizabeth was a "plain" girl, she knew that it was possible she would not find another to marry her should this engagement fall through.


As the book begins, Pastor John Costin is a man that has just lost his wife – we see him as a person that is devastated. When Elizabeth comes into his home and takes care of his children, slowly and effectively bringing some happiness into his house again, we see him begin to perk up and focus on his job as a preacher. What makes this character interesting is the fact that there are people out there that do not like him, that are willing to harm him for his beliefs, yet he continues to risk everything to spread the news that he is preaching to people. (It is also really interesting that Elizabeth – not being married to him, just being the housekeeper and children's caretaker – is willing to continue to stay with him, working with his family, knowing the risks of being associated with him. She is not safe and is asked several times by her own family to leave the job to preserve her own life. She refuses.)


Those risks are realized as dangerous things begin to happen – to Elizabeth, to other people close to the family, and to the entire family – including the children. There are some well-written moments scattered around in the story in which I found myself holding my breath and waiting, waiting to see the outcome. Not everyone was as bold and brave as Elizabeth, and unfortunately not everyone made it through this story. These scenes were suspenseful and had me both turning the pages and listening with wide eyes at the same time.

Regarding the romance in the story: over time, Costin begins to trust Elizabeth with his home, his family, and his heart. The love that builds between them is very sweet and quite passionate, actually. This romance is not "sexy" but it is clear that these two feel an attraction for one another. While the love between the two is slowly, slowly, slowly brewing, there are several other plot lines occurring: the matrons of the community want to take the baby away from the preacher so he can be "properly" raised, a mysterious man keeps coming to the house to see Costin and eventually becomes violent and issues threats to Elizabeth and some other characters, and Elizabeth's loyalty to the preacher ends up costing her dearly in her own personal life.


Ultimately, I really found myself loving this book and audiobook. I was completely taken in by this story. I began the book with the assumption that it would be a light read but found quickly that I had misjudged it – this is a very well-researched, very well-planned, excellent story. It held my attention easily and tightly, and I even re-read a few parts with wide eyes and a pounding heart. This is my first experience with Jody Hedlund but I now have another of her one of her books on my Kindle, I have purchased another audiobook, and I currently have an additional book by this author in my library bag.


Audiobook Notes: The audiobook format of The Preacher's Bride by Jody Hedlund is published by Oasis Audio and is 10 hours, 30 minutes, Unabridged. It is narrated by Mimi Black – this appears to be the only fiction work this reader has made at the point of this blog post. She has a nice, clear voice that is perfect for this book because it is important to pay attention to the details since there are several things going on at one time. This narrator made it easy to fall into the story and stay there. I would not hesitate to recommend this audiobook to others for a first-read or re-read. I'm excited that I bought it so I can listen again in the future.



I would recommend The Preacher's Bride by Jody Hedlund to fans of historical fiction/inspirational fiction with romance. I loved this book and by reading it, I found a new author to enjoy. When I bought this book, it was free for my Kindle, and I'm thrilled I one-clicked! SEE, THIS IS WHAT HAPPENS WHEN YOU GIVE THE FREE/SALE BOOKS A CHANCE! Sometimes you win in a great big way.



**********************************************************************
The Preacher's Bride will appeal to fans of:


Historical Fiction/Inspirational Fiction with Romance
Romance: Slowly Developing. No triangle.
Great Setting
Great Secondary Cast
Family Relationships
The Preacher's Bride

by Jody Hedlund


is currently available for purchase.
**********************************************************************
Does THE PREACHER'S BRIDE look
like something you would be interested in reading?


I LOVED adding this author to my reading list.

She is very highly recommended!