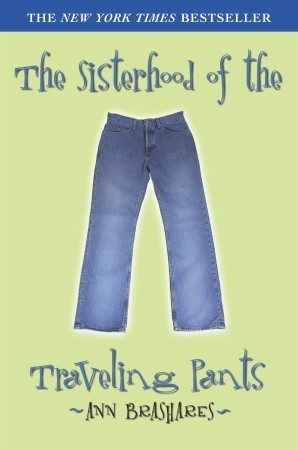 The Sisterhood of the Traveling Pants
by Ann Brashares
Series: Sisterhood #1
Published by Delacorte Press
Publish Date: September 11, 2001
294 Pages
Source: Book – Bought, Audiobook – Library
Find it here: Goodreads / Amazon / B&N


Carmen got the jeans at a thrift shop. They didn't look all that great: they were worn, dirty, and speckled with bleach. On the night before she and her friends part for the summer, Carmen decides to toss them. But Tibby says they're great. She'd love to have them. Lena and Bridget also think they're fabulous. Lena decides that they should all try them on. Whoever they fit best will get them. Nobody knows why, but the pants fit everyone perfectly. Even Carmen (who never thinks she looks good in anything) thinks she looks good in the pants. Over a few bags of cheese puffs, they decide to form a sisterhood and take the vow of the Sisterhood of the Traveling Pants . . . the next morning, they say good-bye. And then the journey of the pants — and the most memorable summer of their lives — begins.



The Sisterhood of the Traveling Pants by Ann Brashares


My Thoughts: I'm not sure what made me pull this book off of my shelf and decide to read it/listen to it. Probably because of the #serieschallenge (see my sidebar for more information or click HERE). I know there is a movie that goes along with this book but of course, I'm the last person in the world that hasn't seen it just as I'm the last person that hasn't read these books. No better time the now, right?


You know what? This book is cute, it really is. And it did a pretty good job holding my attention. This is the story of friendship and the love that four friends had for each other, how deep it ran, and how it lasted and even grew while the friends were apart for a few months.


At the beginning of the story the girls find a pair of jeans that miraculously – with all of their differing body shapes and sizes – they all fit into and actually, they look great in. What's more, when they wear the jeans, they feel great. (WHEN DOES THAT HAPPEN IN REAL LIFE?) Such a neat, albeit fantastical, premise for a story. Okay, I'm hooked, I thought. So the friends decide that since they each will be spending the summer apart they will pass around the jeans by mail and let the jeans travel with them, sort of like a thing sharing their experiences with them, a bond that holds them together. This sort of began to sound cheesy a little bit to me as I was listening to the story and reading along, but I stuck with it. The four friends made a list out of the rules associated with the jeans, and they were pretty strict: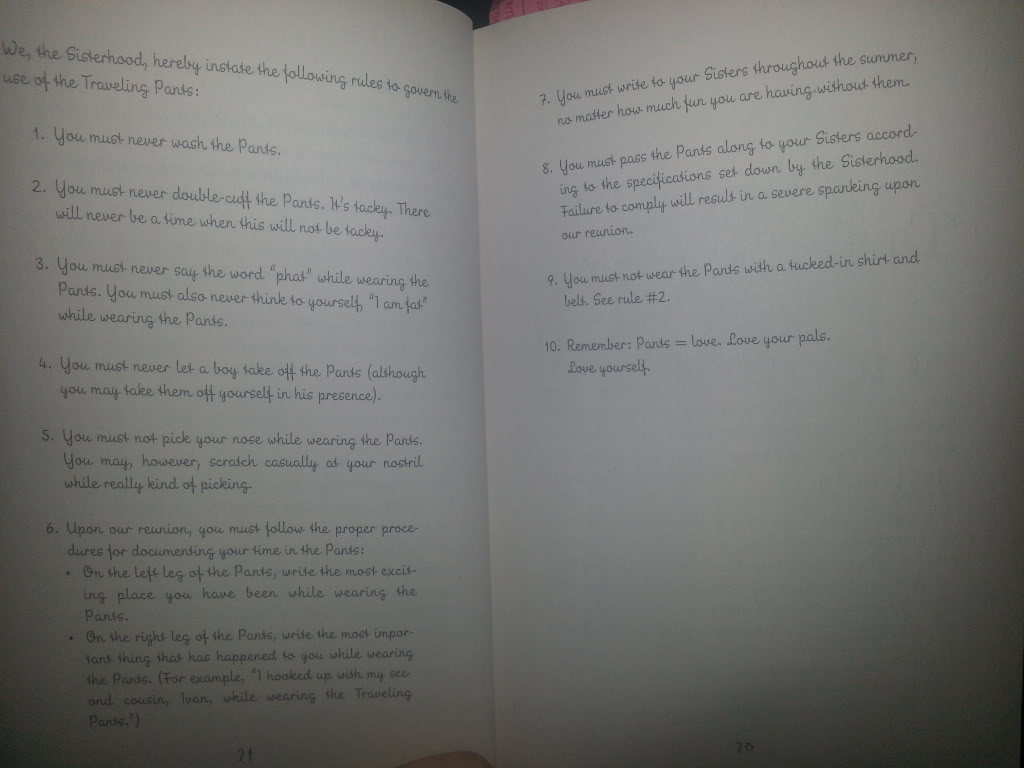 I snapped this photo of the rules from my paperback copy.
The Rules:
We, the Sisterhood, hereby instate the following rules to govern the use of the Traveling Pants:
1. You must never wash the Pants.
2. You must never double-cuff the Pants. It's tacky. There will never be a time when this will not be tacky.
3. You must never say the word "phat" while wearing the Pants. You must also never think to yourself, "I am fat" while wearing the Pants.
4. You must never let a boy take off the Pants (although you may take them off yourself in his presence).
5. You must not pick your nose while wearing the Pants. You may, however, scratch casually at your nostril while really kind of picking.
6. Upon our reunion, you must follow the proper procedures for documenting your time in the Pants:
On the left leg of the Pants, write the most exciting place you have been while wearing the Pants.

On the right leg of the Pants, write the most imprtant thing that has happened to you while wearing the Pants. (For example, "I hooked up with my second cousing, Ivan, while wearing the Traveling Pants.")
7. You must write to your Sisters throughout the summer, no matter how much fun you are having without them.
8. You must pass the Pants along to your sisters according to the specifications set down by the Sisterhood. Failure to comply will result in a severe spanking upon our reunion.
9. You must not wear the Pants with a tucked in shirt and belt. See rule #2.
10. Remember: Pants = love. Love your pals. Love yourself.


So off each girl goes for the summer, to do their own summer things.
Lena – the lovely Lena – travels to Greece with her sister to spend the summer with her grandparents in Greece. Lena has a severe language barrier in that she cannot communicate well with her grandparents, but learns that communication transcends language. I think, honestly, Lena's story in Greece may have been my favorite. (Besides the amazing family relationship in this story, there is a fantastic setting that is easily visualized as well as a boy and Lena's love of art.)
Carmen – the curvaceous beauty – goes to spend some time with her father and his new family. Carmen's story is filled with emotion as she realizes that her father's new family is really an actual family. She thought that she would be spending a ton of time with her dad, alone…but he has a wedding to plan and a whole new family and other kids to spend time with as well. Carmen doesn't feel as special as she wanted to and as a result – well, she becomes pouty and broody. It takes her a while to realize that her father loves her and wants her to be a part of his new family. This is a great story line even though Carmen annoyed me a little bit. BUT I can see where this would be fantastic for a younger person to read, perhaps a younger person going through a similar situation.
Bridget –

the athlete – goes off to soccer camp to hone her skills on the field. She is excellent at the game and shows it all the time, often getting put in her place by the coaching staff and other players that are also excellent. Bridget also has her sights on a boy, a boy that is older than she is and not in a position to have a relationship with her. As a result, Bridget has the potential to have her heart broken in a big way.

Tibby – sweet Tibby is sort of mad at life as she is the only one of the four to be stuck at home with a summer job. I can't say that I blame her here, as this would have been my lot in life as a young person – being stuck at home – but I think that overall, Tibby's summer is the most life-changing as she befriends a younger girl, Bailey, that teaches her some very valuable lessons about life.
The story is told from each girl's perspective in a way that blended in very well as each girl did not get her own chapter every time it was her turn to tell her part of her story – the story just flowed from character to character. The author did a great job spending equal time with each girl. I got an excellent feel for what each girl was doing, going through, and feeling throughout the summer. And you know what? They all had their differing issues, things that they were going through – but they also had that pair of jeans to be there for them when the other three friends couldn't. In the beginning, I thought this concept sort of laughable but as the summer began to take a toll on all of them – and they were all alone (i.e., without each other) – I could see that they sort of/in a way substituted the jeans for each other. The jeans were like a security blanket and it was kind of endearing.
It's funny, how laughable or serious or remarkable things happened to the girls when they were wearing the jeans. And they each stuck to the rules just like they said they would because they took the Traveling Pants so seriously. And, as promised, after a few days, they would pass the jeans along to the next girl, complete with a letter. The further I got into the book, the more incredible it sounded – to have a group of friends and a summer "project" like that, even as cheesy as it might be. This is not something that my friends and I would've ever thought to do when we were younger, but then again, we were together every summer.
One final thing I loved about this book? The book doesn't really have chapter headings. Rather, the chapters are broken apart by pages with quotes by famous people or song lyrics.
In your eyes I am complete. – Peter Gabriel (left)
What you do speaks so loudly that I cannot hear what you say.
– Ralph Waldo Emerson (right)
Audiobook Notes:
The audiobook format of The Sisterhood of the Traveling Pants by Ann Brashares
is published by Listening Library, who publishes tons of amazing YA and childrens' audiobook titles. It is 6
hours, 39 minutes, Unabridged. It is narrated by Angela Goethals, who has also narrated the rest of this series as well as titles for Robin LaFevers, Jodi Picoult, and Colleen Hoover. Ms. Goethals did a great job voicing each of these girls and their emotions, be they happy or sad or exciting or anything in between, and I will be listening to her voice more of this series as I listen and follow along in print.
I recommend The Sisterhood of the Traveling Pants by Ann Brashares for fans of great friendships and great characters. I think that even though this book is technically a young adult, it can certainly be enjoyed by any age. I think that even though I'm way late to the "Traveling Pants" train, this is a strong start to a series that I'm glad to have now started. Either you have read the book and you know what happens with each girl or you haven't read the book and I won't spoil it for you, but the book turned out to be really quite wonderful. It was actually like a warm fuzzy, if that makes any sense? A comfort read. I'm glad that I have the first three books on my shelf because I'll be continuing with this series and making sure that my girls read these soon as well. And doggone it, I'm going to watch that movie as soon as possible because the book was just a delight.

**************************************************************
The Sisterhood of the Traveling Pants will appeal to fans of:
YA Contemporary with some Issues,
Romance: Mostly crushes. No triangles.
The Sisterhood of the Traveling Pants by Ann Brashares
is currently available for purchase.
**************************************************************