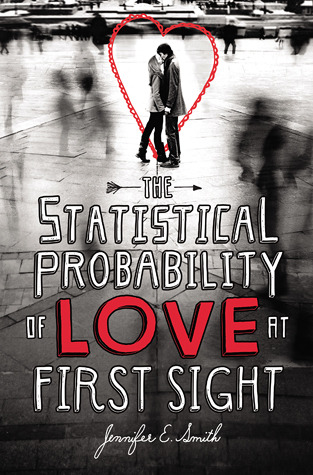 The Statistical Probability of Love
at First Sight by Jennifer E. Smith
Publish Date: January 2, 2012
236 Pages
Source: Bought it!
Find It: Goodreads / Amazon / B&N


Who would have guessed that four minutes could change everything?

Today should be one of the worst days of seventeen-year-old Hadley Sullivan's life. Having missed her flight, she's stuck at JFK airport and late to her father's second wedding, which is taking place in London and involves a soon-to-be stepmother Hadley's never even met. Then she meets the perfect boy in the airport's cramped waiting area. His name is Oliver, he's British, and he's sitting in her row.

A long night on the plane passes in the blink of an eye, and Hadley and Oliver lose track of each other in the airport chaos upon arrival. Can fate intervene to bring them together once more?

Quirks of timing play out in this romantic and cinematic novel about family connections, second chances, and first loves. Set over a twenty-four-hour-period, Hadley and Oliver's story will make you believe that true love finds you when you're least expecting it. -(from Goodreads)



The Statistical Probability of Love at First Sight
by Jennifer E. Smith


My Thoughts: Y'all I've been feeling the pressure to read The Statistical Probability of Love at First Sight by Jennifer E. Smith pretty much since it was published. Everyone in the world practically loves it – or at least, those that I can remember. And HELLO to one of the absolute cutest covers I've seen ever in my life. If there is a book that yells out to me from across the store or the library based on covers, this has to be it. So why haven't I read it yet? You guys, you know me, when everyone hypes up a book so much, I get all nervous and shaky and my shoulders sag a little and I turn in on myself. So I didn't read this one and I didn't read this one and didn't, and the longer I waited – the easier it became to not read it. (Kind of like with this one, which is totally not related but still the situations are similar. HELP.)


So I went to the beach for the day on Saturday and I wanted something to read. I was talking to my good friend, I asked about this book, and the response was plain and simple which is basically all I ever get: "I liked it." Well, heck. Coming from this person, that's good enough for me. "Today," I thought, "I shall read The Statistical Probability of Love at First Sight!" (I had my finger pointed in the air and everything, all smart-like.)



This is what it looked like, sort of, to read at the beach.
So lucky to live by the coast in Eastern NC. Beautiful.
Didn't finish the book there, but I finished it at home.
*********************************************************************
Okay, so main character Hadley is in the airport and just barely misses her flight to London by a mere four minutes. Aah, hate when that happens! She then meets Oliver, who is super charming and probably pretty easy on the eyes too because his name is Oliver and, well, that's just how it looks in my imagination. Lo and behold, they're on the same flight (the later one, of course) and BOY OH BOY, it's a long one. It's just long enough for the two of them to talk and nap together and laugh and talk and nap some more and crush so hard on each other that these really great feelings develop between them. In the meantime, I'm just having a royal fit with my heart swelling over all of the cute that's coming off of the Kindle pages. (I mean, I flew the other day and this didn't happen to me, but whatever whatever.)
Upon arrival to London, the two have to separate because they each have different events to attend, and you'd think Hadley was the saddest puppy around – because she kind of is. What has happened is that this girl has gone and fallen for Oliver while on this flight. Now, until this point, I'd been enjoying this story and thinking it was pretty cute but AT THIS POINT – at this point, y'all – all the feelings actually come out and this is when the "Asheley" comes into play. You know, the one that gets all emotionally invested and everything. Suddenly I felt like I was on a quest to get Hadley and Oliver together so I could do that thing where I reach thru the Kindle and squish their heads together to get that passionate kiss that means they'll be together forever because they're madly in love. I know you guys think I'm joking, but I was fully invested (shock, shock to those that know me).
61% done with The Statistical Probability of Love at First Sight, by Jennifer E. Smith http://t.co/jPTXKHEOBm
— Asheley Tart (@BookwormAsheley) June 18, 2013
@ReadingGals FALLING SO HARD SO VERY HARD OH MY GOODNESS I CAN'T HANDLE IT MY HEARTTTTTTTTT
— Asheley Tart (@BookwormAsheley) June 18, 2013
*********************************************************************
The Statistical Probability of Love at First Sight by Jennifer E. Smith is one of those books that has been reviewed over and over, so it won't really do me any good to sit here and review it again. I just want to talk about how I liked it. It's a cute book, and catchy (aka "Hip" according to my friend) and I loved that I finally gave it a go. I loved the story and I totally fell hard for the quick feelings and the instant-attraction that that make Hadley and Oliver feel like they want to explore and possibly turn whatever they feel into a relationship. I believe in my heart of hearts that love-at-first-sight does happen – I need to believe that this does happen – and I believe that this time, it was written well. So well, in fact, that the claim that this is reminiscent of a John Hughes movie or that it would've been a great John Hughes movie is one that I agree with – AND THAT IS SAYING A LOT COMING FROM THIS GIRL. (Love you, John Hughes. xo)
So basically, I don't want to actually review this book. Y'all can head on over to Goodreads for that. What I do want to do is talk about a few of the quotes that grabbed me by the collar and held tight, then squeezed my heart until I could barely breathe, not letting go until the end of the book. (I know, I just know, that I'm not the only obsessive and compulsive highlighter on the Kindle, yes? Someone please verify.)
Ahem:
1. "He's like a song she can't get out of her head. Hard as she tries, the melody of their meeting runs through her mind on an endless loop, each time as surprisingly sweet as the last, like a lullaby, like a hymn, and she doesn't think she could ever get tired of hearing it." — Oh my gosh. Y'ALL, seriously. ARE YOU KIDDING ME?
2. "Watching him, Hadley feels a surge of affection so strong that she nearly calls out." — I'm holding my breath at this point. TRUTH. Hadley, CALL OUT TO HIM. Do it!!!
3. He looks at her and smiles. "You're sort of dangerous, you know?"
She stares at him. "Me?"
"Yeah," he says, sitting back. "I'm way too honest with you." — THIS. Aaannnddd, my heart is gone gone going gone. This one is my favorite, my so-very-much favorite.
4. "You say you can be honest with me?" Hadley asks after a moment, addressing Oliver's rounded shoulders, and he twists to look at her. "Fine. Then talk to me. Be honest." — Y'all know I love it when people talk. (It was a flaw HERE.)
5. As he turns to cross the garden, Hadley's stomach churns. She closes her eyes against the flood of words that never reached her, all those things left unsaid. — STINGING EYES AND TEARS. Words left unsaid. DON'T LEAVE WORDS UNSAID!!!!!
I know that I've probably quoted too much, but that isn't all that I've highlighted. I've retold the story in my Kindle – a shorter version – with my own highlights. I almost made it what I wanted, needed it to be. But I'm weird like that. I think that these quotes – the ones I've featured and the ones still in my Kindle are better, to me, than the actual elements of the story – plotting, characterization, all of that. The story is good, but the feeling I got from it is better. I liked it a lot. I liked the idea that one can find a person in an airport, of all places, take a long flight, and end up falling in love. I believe in love at first sight, so to me it doesn't seem like too crazy a notion.
I wanted to discuss this book after I was finished because I felt the need to GET ALL OF THESE FEELINGS OUT. For me, that usually means I have to pound the keys and do a list of things I love/may not really love about a book in an email to someone, and sometimes it goes back and forth. Not this time. This time I just went back to my friend and said "I loooved it. I highlighted so much."
I recommend The Statistical Probability of Love at First Sight by Jennifer E. Smith to fans of YA Contemporary Romance, people that really like love, and people that think John Hughes movies are cool because I think this book has a Huges vibe to it along with the rest of the masses. Also, the cover is super swell and I also think I might want to visit London now. Because I read this book. Or maybe I just want to go on a long plane ride with someone like Oliver? Y'all help me.
*********************************************************************
The Statistical Probability of Love at First Sight
will appeal to fans of:

Young Adult Contemporary Romance
Romance: Instant attraction. No triangle.
Books with Travel
Great Setting: London
The Statistical Probability of Love at First Sight
by Jennifer E. Smith
is currently available for purchase.
*********************************************************************
Have you read this book with this
long title and perfectly charming cover?
Did you fall in love with it too?