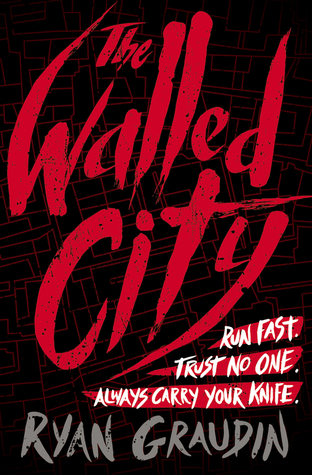 The Walled City by Ryan Graudin
Published by Little, Brown BYR
Publish Date: November 4, 2014
432 Pages
Source: Book – Publisher
Find It: Goodreads / Amazon / B&N

730. That's how many days I've been trapped.

18. That's how many days I have left to find a way out.

DAI, trying to escape a haunting past, traffics drugs for the most ruthless kingpin in the Walled City. But in order to find the key to his freedom, he needs help from someone with the power to be invisible….

JIN hides under the radar, afraid the wild street gangs will discover her biggest secret: Jin passes as a boy to stay safe. Still, every chance she gets, she searches for her lost sister….

MEI YEE has been trapped in a brothel for the past two years, dreaming of getting out while watching the girls who try fail one by one. She's about to give up, when one day she sees an unexpected face at her window…..

In this innovative and adrenaline-fueled novel, they all come together in a desperate attempt to escape a lawless labyrinth before the clock runs out. (Goodreads)


The Walled City by Ryan Graudin

My Thoughts: The Walled City by Ryan Graudin is the story of three people that are in Hak Nam Walled City for three different reasons. Hak Nam is not the type of place you want to be; it's filthy and oversaturated with gang activity, sex trafficking, petty crime, drugs, murder, things like that. Dai, Jin Ling, and Mei Yee are all residents of the city and end up working together for a common goal.
Dai is doing dangerous work with dangerous people, but he has very good reasons for this. Dai's intentions are to become pardoned for some past transgressions but he has been given an end-date, which is very quickly approaching. He needs a partner for his newest assignment. This is how he comes to work with Jin Ling.
Jin Ling is a young girl living on the streets of Hak Nam, but she disguises herself as a boy. She is small and very quick, which is how she is able to be get by with swiping things here and there in order to get by. Nobody knows that she is a girl. When Dai sees how fast she runs, he asks for her help with his job and she of course is cautious given the danger in it. HOWEVER, she sees this as a chance to gain access into some of the local brothels, since Dai's boss lives and works out of them. She accepts his job offer in hopes of searching for her sister, who was sold into sex slavery by their father.
Mei Yee was sold years ago and is now forced to work in one of the brothels. One day, she begins to talk to Dai as he stands outside of her window-these secret conversations become something she can look forward to while she is inside of the brothel. Dai enlists her help in his mission as well and this is when things begin to get interesting.
From this point, things are action-packed and the book is unputdownable. Remember that Dai is on a mission to be pardoned – he's been given a job to complete by a certain date and time. If he can't complete his job, he loses his chance to return to his old life. But there's more to it than that, you see.
***********************************************
When I started reading The Walled City by Ryan Graudin, I thought to myself that it was kind of shocking that I hadn't heard more about it…then I thought to myself a few times that WOW, I'm really liking this book!…then I had a little conversation with a friend about the story. By this point, I was 20%-ish through the story. I was on a BOOK HIGH. Then I had to put the book down and do stuff, like life things. Cook, clean a little bit, take a shower, stuff like that. When I picked the book back up, it was like I started riding a book wave and never stopped. I COULD NOT put this book down. It wasn't only that I had to know what would happen next, it was that my heart was beating fast over twists and turns! I would think I was safe to breathe for a second and then WHOOP! here comes another one!
The Walled City is like a dark adventure story mixed with survival story elements. It isn't fun to read about sex trafficking and violence and that sort of thing, but this story was so compelling that I found myself engrossed in finding out how everything would come together. I think that part of this is because of how the three characters worked together but not all of them were aware of one other. When it is finally revealed to each of them how they are all connected – aaahhh, I loved that! ALSO there is this really wonderful, very slow build-up of a romance between one of the female characters and Dai, and the author is able to keep it so very subtle that it doesn't overtake the action-driven plot of the story. PLUS the other female? She is an actual friend to Dai, thus being an actual example that a guy and a girl can be friendly and not in a relationship. High-fives to the author for not including a triangle in this book because even though I don't mind them, this book is fantastic without that extra drama.
These characters are really great. It's something special that they are all connected, and I love the way that it takes them a little while to realize it. I love that we are able to connect and have emotional responses to the fact that these characters are so close to one another and have no idea for a while – I think that it makes the little reveals and the big reveals along the way all the better. I think this also makes the unexpected twists and turns along the way much more gasp-worthy.
I mean, wow, this book was such a fun story for me. YES, this is a bit of a darker tale with some of the most apparent themes it has. But HEY it also has these really awesome themes of survival and learning to trust other people. There are themes of overcoming insurmountable obstacles when the future looks absolutely bleak and there are themes of a brighter tomorrow. I like what this author did here. I can't believe that there was an actual walled city like Hak Nam Walled City – the Author's Note in the end of the book astounded me. If you like an action-driven plot and if you like your stories totally engrossing, this one just may be the one for you. I caution you: block out a good chunk of time to read it because once things take off, MAN they take off and don't stop until the end.
*When you read this book, read the Author's Note first! I think knowing the background about the actual real-life inspiration for Hak Nam Walled City will enrich your reading and make the genre/category a bit clearer.
**********************************************************
The Walled City will appeal to fans of:


YA Adventure, Survival
Romance: Slowly Developing. No Triangle.
Alternating POV's.
Sibling relationships.
Standalone.
The Walled City by Ryan Graudin
will be available for purchase on November 4, 2014.
**********************************************************