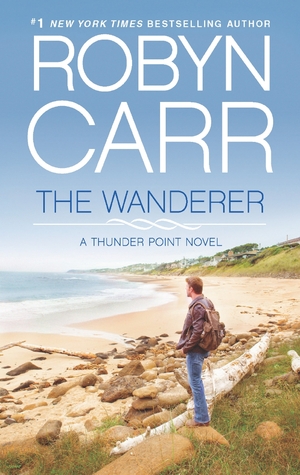 The Wanderer by Robyn Carr
Series: Thunder Point #1
Published by Harlequin
Publish Date: March 26, 2013
384 Pages
Source: Library, then Bought right away.
Find it here: Goodreads / Amazon / B&N


Nestled on the Oregon coast is a small town of rocky beaches and rugged charm. Locals love the land's unspoiled beauty. Developers see it as a potential gold mine. When newcomer Hank Cooper learns he's been left an old friend's entire beachfront property, he finds himself with a community's destiny in his hands.

Cooper has never been a man to settle in one place, and Thunder Point was supposed to be just another quick stop. But Cooper finds himself getting involved with the town. And with Sarah Dupre, a woman as complicated as she is beautiful.

With the whole town watching for his next move, Cooper has to choose between his old life and a place full of new possibilities. A place that just might be home. -(excerpt from Goodreads)



The Wanderer by Robyn Carr
My Thoughts: I love that I started reading adult contemporary romance because in many ways, it was exactly what I was looking for in books – I just didn't realize it. I've been wandering around the romance section – in real life and virtually – sampling authors, and I'm overwhelmingly pleased by most of what I've read so far. I've gotten great recommendations from reading friends and this is one of the best. I cannot wait to continue with this series, you guys. I absolutely adored this book.



**********************************************************
The first thing you need to know is this
:
Hank Cooper has come to Thunder Point to see about his friend
Ben's stuff. Ben recently died…suspiciously.
Single hunk Hank Cooper is new to Thunder Point, arriving to town to see about his good friend Ben's property and affairs after his untimely death. It seems that Ben suddenly and suspiciously died. Ben owned a really nice piece of property on the Oregon coast that he was kind enough to share with both locals and the local wildlife. He had a run-down shack that was a popular hangout. And he had some money. But Ben was far too young to die in the manner in which he did, and Hank is curious about his death. So he parks his camper on Ben's property and decides to stay awhile. Besides, Ben apparently left everything to him anyway – Ben's shack was in such shoddy condition – it'll need some work before Hank can sell it and be on his way.
Hank meets the local deputy, Mac, and begins to learn information about the area, about the people in town, about Ben's death. Slowly he and Mac begin to build a rapport that becomes a friendship. Hank learns that Mac is a single father with several young children and that he and the kids live with their old, single aunt. His single-mother-also-best-friend Gina lives close-by and the two help one another out almost every day. Hmm.
The second thing you need to know is this
:
Hank sees a young guy walking a dog on his beach.
The guy is being bullied. Hank sort of gets involved.
The guy walking the dog is Landon Dupre, part of the local football team – a rising star actually. The guys bullying him are his teammates and they aren't too happy about Landon being better than they are, getting more playing time, etc. Shouldn't teammates be supporting one another instead of bullying one another? Landon is walking his dog by Ben's place (which is now Hank's place) and the two begin to talk. Hank talks to Landon about how he used to be bullied, how he should stand up for himself, who those boys are, etc. The two form a rapport and Hank learns that Landon lives alone with his older, divorced sister. He
decides that he wants to see Landon play football for himself.
At the next game, Hank watches Landon and is highly impressed. He sees all of the people that he is beginning to form friendships with – Mac and his family, Gina and her crew, some other people in town – and it is nice to be able to say hello here and there.
You know, Thunder Point is kind of a nice place…
The third thing you need to know is this:
Hank needs to decide what to do with Ben's old place.
Does he keep it – and maybe stay with it? – or get rid of it and move on?
There is a HUGE market for real estate along that stretch of coast where Ben's place is sitting and Hank is looking at making a fortune if he wants to sell it. And to be honest, the entire town is looking to benefit if a resort buys the area and moves in. The entire local economy could use a boost – restaurants, shops, everything. But Thunder Point would lose the very charm it holds, and that is what the locals want to keep.
There are some in the town that are trying to get Hank to sell – they see dollar signs! And Hank honestly is a bit of a nomad, never really staying in one place for too long. But the longer Hank stays, the more he finds to love about Thunder Point.
**********************************************************
When I first started The Wanderer by Robyn Carr, it seemed like it was info dump for the first few chapters. It seemed like I would get settled with the author writing about a character for a few pages and then OH! she'd move onto the next character and do the same thing. This happened for a few chapters before I felt like I was digging in and hanging on – the thing is, Robyn Carr was laying the groundwork for this book and, I think, this series as a whole.
See, there is a lot going on in this book. Don't get me wrong – it isn't too much. But there is an entire small town to get acquainted with – so Ms. Carr takes the time to make sure we know who each key player is. We get to know Mac, also known as 'Deputy Yummy Pants' by the locals. (He is yummy, actually.) We get to know his neighbor Gina, who is also his best friend. We get to know their relationship – or lack thereof – and how it has frustrated them both but neither one has had the gumption to say anything to the other one. We get to know how the entire town knows how they feel, but they're too stubborn to do anything about being honest with each other (OH MY GOSH, I LOVED IT). And while all of this is going on, all of their children are friends. Their relationship is made out of friendship and teamwork and it is LOVELY and wonderful and yummy to read about. You know what else? It isn't even the central focus of this book, you guys. But you know how I love those friends-to-lovers relationships, so I just HAD to mention it first. I have a feeling I will be reading about Mac and Gina very shortly in an upcoming book so YAY FOR THAT.
We also get to read about football star Landon Dupre and his older sister, helicopter pilot Susan – the tough-as-nails-but-also-a-lady that performs Coast Guard rescues. These two siblings have had a tough past couple of years but lean on each other for everything. They are all they have – well, and they have a dog. This dog is how they meet Hank – Hank comes into their lives unexpectedly and kind of like a storm – first, as a friend to Landon. Landon needs someone like Hank in his life, but Susan is very standoffish about this man she doesn't know suddenly befriending her brother. The thing is, see, Susan has been hurt deeply by a man recently, and she's putting all of her negative emotion about men onto Hank as well. So while Hank is being kind to her, she's being super hard on him. She's so mean – it's kind of humorous at times, but there's also this really great tension that's so great to read. When Susan finally cuts him some slack and backs off a little bit, WOW the chemistry is definitely there. I loved Hank and Susan, and Susan and Landon, and Landon and Hank. That dynamic that acted-like-a-family-but-wasn't-really was so much fun to read. And the further into the book I got, the better it got.
And there were other characters as well – super secondary characters. Some are almost like comedy relief, those people in your town that you kind of laugh at when you're not around them because they're so ridiculous? Yep, they're here in this book. Because every town has them. You know who else is in here? Those mean people, the ones that act like they are better than everyone else in town – because every town has those people too.
And interspersed with all of the regular goings-on of Thunder Point – the day-to-day stuff – there is the underlying mystery of what happened to Ben, who had already died before the book began. After all, he's the reason Hank came to Thunder Point to begin with. The book isn't really a mystery book, thank goodness (because I don't like those) but as little clues pop up, and the events surrounding his mysterious death are revealed, the entire town is surprised.
You guys, I get so excited when I begin a series that I love as much as I loved this one. I was a little bit nervous in the beginning because I thought it was going to be too complex to enjoy but I was wrong. Rather, the first few chapters are really laying groundwork for who each of these characters are as people. With this book under my belt, I feel like I know this town, I know these people, I am a resident of this area, and I think that speaks volumes for Robyn Carr and the beginning of this series. I cannot wait to continue with these books.
I recommend The Wanderer by Robyn Carr for fans of adult contemporary romance with great family relationships, including sibling relationships, a fantastic setting, and some super swoony times. Finding this series was like Christmas. I'm not even kidding.
**********************************************************
The Wanderer will appeal to fans of:
Adult Contemporary Romance/ChickLit
Romance: Slowly Developing. No Triangle.
Great Characterization, including Secondaries
Family/Sibling Relationships
Fantastic Small Town Setting
Football
The Wanderer
by Robyn Carr
is currently available for purchase.
**************************************************************
Have you read any of the THUNDER POINT series?
Or anything else by this author?
I'll be reading them all. For sure.