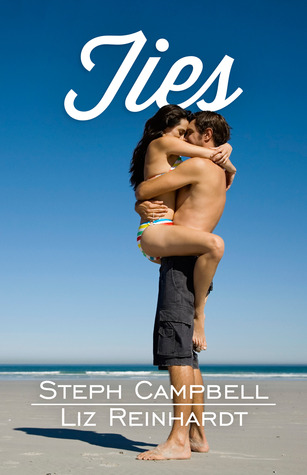 Ties by Steph Campbell & Liz Reinhardt
When a shiny new convertible arrives for her twenty-first birthday, Hattie Beckett has had enough of her absent dad trying to buy a place in her life. It's time for him to face her–or get out of her life forever.
She tosses some clothes in a bag, looks up her father's last known address, and sets her GPS for Silver Stand, California.
When she arrives at a beach-bum paradise that's totally foreign to her New England upbringing and finds nothing but an empty lot where her dad maybe once lived, her immediate instinct is to pack up her car and head right back to Connecticut.
But she also finds… Deo. The half-brother she never knew she had. He and his hippy-dippy mom insist that Hattie stick around—at least for the summer. And with all of her friends spending the summer abroad, what else does she have to do?
Her ideas about family are blown wide open as Deo and Marigold pull her in with their charm and love. But there's still a huge question mark where her dad is concerned, and that question mark definitely looms over her ideas about love and relationships.
When Hattie meets Ryan, the college dropout turned competitive sailor, her perspective flips with her heart. Like it or not, Hattie is falling fast and hard for Ryan… even if it's the last thing that she expected – and the last thing her newly found brother wants for her.
*********************************************************************
My Thoughts: This is not my first book by the duo writing-team Steph Campbell and Liz Reinhardt. I have found that I enjoy their books because they're beach-y and fun, and they take me away while I'm reading. Isn't that what we all want? Some of us, YES.
Ties is part of the Length series – which I am enjoying as I am reading through the series slowly – but while it is part of the series, it is meant to be a standalone. So you all can get this one and read it first if you want to! Or last. Or at any point during the series. I wasn't sure how that would work when I started the book but I have to admit that it is a really neat thing and I love it, and I love being able to pass this information along to you guys.
Okay, so moving on…we have Hattie Beckett. Hattie is the daughter of a single mother and has attended all girls' academies throughout her life. She's used to being the shoulder that the other girls cry on and has just one serious boyfriend in all of her life. Why? Because while she really liked the guy – he played guitar, was gorgeous, spoke multiple languages, etc – he just didn't have his act together. He was constantly late for dates, making lame excuses, and never returning calls – things like that. Hattie can't deal with things like that – she prefers order or nothing at all. I'm sure that part of this stems from her mother being completely the opposite – she fell in love with a man that obviously didn't love her back – he never was there for her, never showed up. Hattie's father never acknowledged the two of them except when he lavished extravagant gifts on Hattie for her events like her birthday. Hattie seriously wishes he would just leave her alone.
Daddy dearest really outdoes himself when Hattie ends up with a brand new car for her 21st birthday, which enrages her. While most people would be jumping for joy at the super-cute baby blue Beetle, Hattie wastes almost no time hopping in that car and driving across the country to to track down for her father and dump the car back in his lap. She wants to tell him to his face to leave her alone. When she arrives at her destination – miles and miles away from home, what she finds instead throws her for a loop.
Hattie doesn't find her father; no shock there! Instead, she finds a family. A family she never knew she had. A family that opens their arms and welcomes her in just as she is, without hesitation and with instant love. When Hattie decides to stay with them for a while, she kind of falls in love with them. Hard. I mean, HELLO! she has a brother? A grandfather? How could she have lived her life without knowing this? And they are SO GREAT.
What Hattie also finds is a boy, but this is something that she wasn't looking for. See, Hattie doesn't have time for a no-nonsense relationship in her life. Romance is something that you can't depend on, she thinks, so she doesn't want it. And that's that.
*********************************************************************
Ties by Campbell and Reinhardt is a fun and easy read that was perfect for this warm part of the year that isn't quite summer still but isn't yet fall either. It's beach-y and warm and there is sand and an ocean. There is a girl that is on a quest to find herself and ends up finding so much more, which is delightful to read. And there is a boy that is trying to shake his bad-boy past and doing a pretty great job of it. I can see where this is a great standalone, but there is certainly plenty of the Lengths series in this book for fans of the previous books that have been released – characters that you have grown to know and love make plenty of appearances. I am particularly partial to Deo Beckett from the first book, as he ends up being Hattie's brother, and his wife Whit.
Hattie is one of those girls that has a chip on her shoulder when we meet her – she's sailing through life on her own terms – so fiercely independent! It's obvious that her father's non-existent presence in her life has left a void that causes a bit of…an attitude? a drive for success? ambition? But at times, this is also something that causes Hattie to need to relax a little bit. She drives across the country and ends up meeting these incredible people that love her instantly and even a great guy that could/would/might love her, but she is a master at holding almost all of these people at a distance. And for what? Read on, readers. Read on for some growth in Hattie's character.
Ryan Byrne is the boy. Now, Ryan appeared in earlier books, but I have to admit that I like him more in this book! Ryan is working to shed his bad-boy image (this is something that I always love about a male character). He has a steady job but also a steady passion/hobby, which is racing boats. He's love to be able to race boats for a living – being on the water, being in control even for a second of something that could totally swallow him whole – and this is something that he's working toward. It's one day when Ryan is working on his own boat that he meets Hattie for the first time, and that poor boy is a goner. Instant attraction (but not instant love).
Hattie makes Ryan work so hard for everything – taking her for something as small as a smoothie, taking her out for dinner, taking her out to watch the sun set over the ocean – everything. It isn't long before Hattie's "new" brother finds out exactly who Ryan is (based on his past – not realizing that "bad boy" Ryan is long-gone) and things get a little interesting.
There are a ton of things in to love in Ties, you guys:
I loved the setting, of course – a small town West Coast beach setting.

I loved the alternating points-of-view between Hattie and Ryan – these two are complete opposites to it is wonderful to see the differences in perspectives in almost everything – careers, love, everything. Plus it is nice to see each perspective as events in the story unfold. I love this type of story structure, particularly in stories like this one. It worked.

This is part of a series but it is also a standalone – works both ways! Plus the recurring characters that I love. Win, win, win! This means anyone can read this one and it isn't spoiled or difficult to follow.

Bad-boy turned good! Holla if you hear me.

Character growth in the main character, Hattie. If you hang in there with her, you win. So does she.

FAMILY RELATIONSHIPS. SIBLING RELATIONSHIPS. We love those, right? YES.

(I think Ryan Byrne may have been the shining star in this story! Loved him.)
I recommend Ties by Steph Campbell and Liz Reinhardt to readers that enjoy New Adult Contemporary Romance, books with great settings (hello, ocean), summer-y/beach reads, fun characters, and one of my personal favorites: great sibling/family relationsips. I've said it already more than once, even though I've labeled this as a "#4" in this series up at the top of this post, ANYONE can read this one because it is a standalone within the scope of this series, and you will not be spoiled or lost. The Lengths series is one that I have enjoyed as far as I've read and I am continuing to enjoy and I will read as long as these gals decide to carry it.
*********************************************************************
I'm excited to share an excerpt from the book for you today!
This is an excerpt from Hattie's point-of-view, not long after she is meeting and learning about her new family.
"I can't believe that old asshole is puttin on this whole song and dance for you," Deo laughs, pulling up at Grandpa's house. "He's a cranky, decaying, mannerless bastard trying to play like a cuddly old grandpa bear. You know this is because you're a girl, right?" There's more than a hint of affection in his voice.
"I thought you and Grandpa got along," I say as we crunch up the gravel driveway.
Deo looks at me, mouth hanging open, hand splayed over his heart. "Get along? Me and that old fart?" He rumples my hair like I'm six and grins. "I want to be him when I grow up."
"You have weird goals," I mutter.
"Not everyone can be a brainiac scientific mathemagician like you are, sis." He holds the door open for me.
"Um, I think you mean 'mathematician.'" I walk into the small home and breathe deep, loving the mingling scents of pipe tobacco and lemon Pledge.
"I said what I meant. You have gone beyond the simple human study of math with your crazy skills. You've moved into supernatural math dorkiness. Hence, mathemagician."
"Sometimes I think we really should get that DNA test after all. How is it possible you're my brother?" I attempt a frown, but frowning at Deo is like trying to lick your own elbow.
"Oh, I've got magic. Just a different kind. Whit knows all about it." He waggles his eyebrows at Whit, who's checking a dish of something that smells cheesy and homey in the oven.
She blushes and shakes her head. "Hattie, have I told you lately how much I appreciate your attempts to take his ego down a peg? Don't be sad if it never works. This boy's head is–"
"You're here!" Grandpa interrupts just in the nick of time. While I embrace him in a warm hug, Deo goes over and nuzzles Whit's neck and teases her about her cooking attempts. I guess she wasn't much for cooking before she met him, and he's ridiculously proud of how her cooking skills are coming along under his tutelage. Master chef tutelage if you ask him, of course.
*********************************************************************
Ties will appeal to fans of:

New Adult Contemporary Romance
Romance: No Triangle.
Great Setting: West Coast, Small-Town Beach Setting.
Alternating POV
Great Family/Sibling Relationships
Standalone within a Series!

Ties
by Steph Campbell & Liz Reinhardt
is currently available for purchase.
*********************************************************************
Steph Campbell grew up in Southern California, but now calls Southwest Louisiana home. She has one husband, four children and a serious nail polish obsession.
*********************************************************************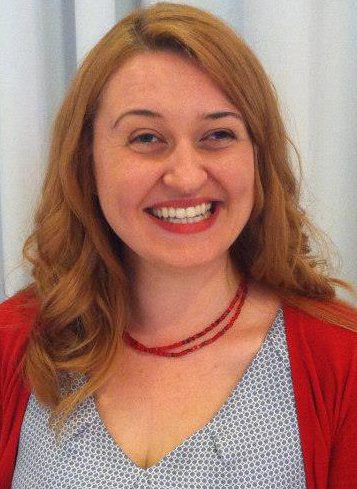 Liz Reinhardt was born and raised in the idyllic beauty of northwest NJ. A move to the subtropics of coastal Georgia with her daughter and husband left her with a newly realized taste for the beach and a bloated sunscreen budget. Right alongside these new loves is her old, steadfast affection and longing for bagels and the fast-talking foul mouths of her youth.

She loves Raisinettes, even if they aren't really candy, the Oxford comma, movies that are hilarious or feature zombies, any and all books, but especially romance (the smarter and hotter, the better), the sound of her daughter's incessantly wise and entertaining chatter, and watching her husband work on cars in the driveway.

She is the author of the Brenna Blixen series (Double Clutch, Junk Miles, Slow Twitch), the Youngblood series (Fall Guy, Perfectly Unmatched), and co-writes with the awesome Steph Campbell in the Lengths series (
Lengths
,
Depths
,
Limits
,
Ties
,Riptides).
*********************************************************************
Has anyone read any of the books in the Lengths series?
They're so much fun!
Don't forget this is a standalone!
And it's 99 cents right for ereaders
What are you waiting for??