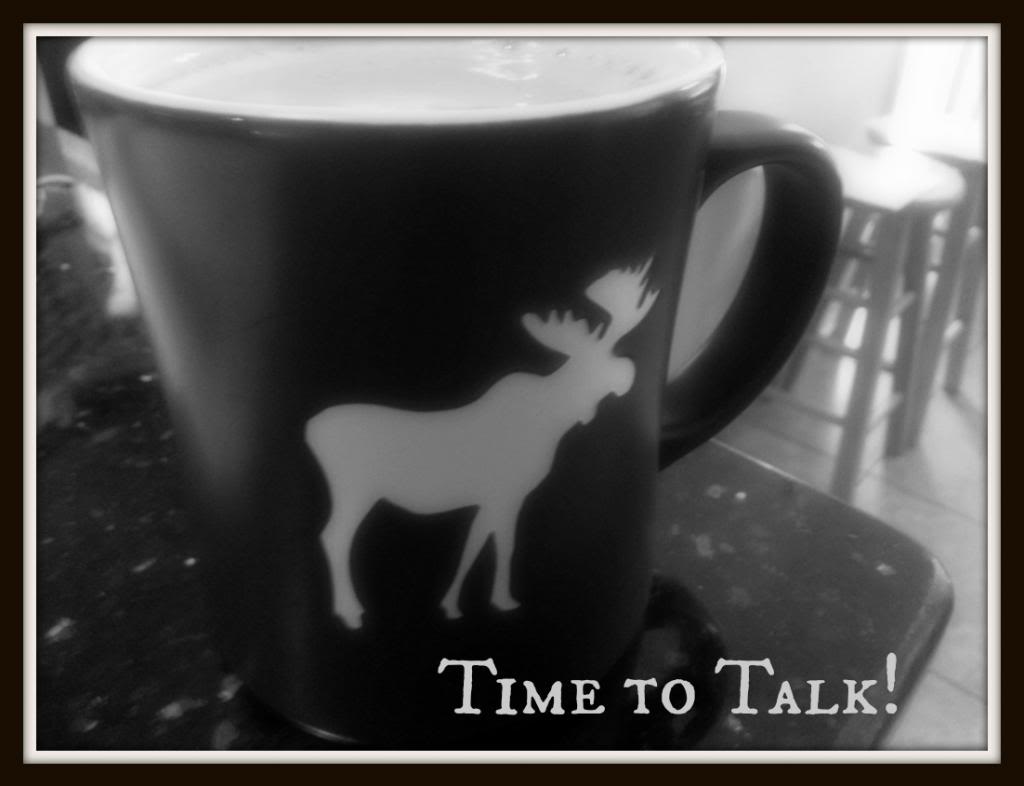 This is the coffee mug I'm actually using
RIGHT NOW while I write this!
I have just come out of this really odd season. It was part slump, part reader/blogger insecurity, and part weird roller coaster ride. I was so excited to come out of a big, huge summer break and try to blog regularly again…but then just a couple of weeks ago there was:
then a couple of wonky book experiences
and then I also had a teensy bit of blogger insecurity.
It was like a snowball of icky feelings.
(If you blog, you've had a sheepish time or two or twenty over something. Maybe it was low comments for a season? Maybe you didn't get an ARC or digital approval for something that everyone else got? Maybe you are green with envy over not getting to go to great book events? How about when you hated/loved that book that everyone else loved/hated? WE'VE ALL BEEN THERE. Even non-bloggers sometimes experience some of these feelings when they rate books on Goodreads or don't agree with the majority about a book.)
Obviously, my blog sat pretty quiet for a long time, so it is taking a while to let people know that I'm still here. PLUS I've read a thousand-hundred-million books and I want to write about them all, and this makes it even harder for me to write about them because I don't know where to start! So I will sit at a screen and before long it's been like three hours and I have nothing. But then I do put something up and I wondered where everyone was? Where are all of the comments on my blog, the ones that are supposed to be starting the bookish discussions? WHERE WHERE WHERE?
SO I REALLY STARTED PAYING ATTENTION.
*****************************************************
1. Comments. Okay, so not everyone comments anymore! That's the obvious part, but what was LESS obvious to me is that the readers are still there. Maybe they're reading on a phone where commenting isn't easy (this happens quite often, actually) or they really just don't have anything in particular to say – this doesn't mean they don't want to see what I have to say. Commenting (and responding to comments) comes and goes in waves-we just have to learn to ride it and try not to be affected.
It's sometimes hard to realize this behind the COMMENTS! COMMENTS! COMMENTS! mentality we impose onto ourselves. Comments are so incredibly awesome, but what is more awesome is the ability to put our thoughts out there and engage people. To take it a step further and create relationships with other readers so you can discuss books however you choose-that is even better.
2. Are people reading? When I wrote this discussion post, I got a ton of responses. There were a few comments but most of what I got was OFF of the blog. I got text messages, emails, tweets, and direct messages – people wanting to discuss or comment on my thoughts. BUT BUT it was when Megan from Reading Books Like A Boss linked to my blog in this post from her blog that I think my little "Nobody reads my blog!" session finally went away.
I started noticing how often people responded to different types of my content outside of the comment box. It doesn't always happen, but it counts! I started my blog because I wanted to TALK. It counts!
*****************************************************
I'm out of my little insecurity-slump.
SO WHAT NOW?
1. I gravitate toward favorite blogs. Here are two current favorites:
what sarah read – Sarah's blog is so exciting to me because she gets so excited about so many things! Like Sarah, I go through periods of fangirling and ALLCAPS and !!! when I find something I love – it happens in waves on the blog and all the time off of the blog. I feel like when I am reading her blog posts or tweets, I can imagine her reading the words and I love that. Sarah actually makes me want to flail at almost everything. I'm not even kidding.
The Fictional Reader – Jolien's blog is thrilling to me because I want to read almost every book she writes about. When I first found her blog only a few days ago, it was during a Top Ten Tuesday post when she was talking about series that she wants to start and I was like "YES I WANT TO READ ALL THESE TOO!" and then I glanced around at her blog and was so excited that we seem to have similar reading tastes. When I sit down to read blogs, I get really excited to see what her newest thoughts are and that excitement helps feed my love for blogging. IT REALLY DOES. (Part of this discussion was inspired by a conversation I had with Jolien just this morning, in fact.)
2. I've also been playing around with my blog. I'm no tech-expert but I've added some things, I've taken away some things, I've moved some things around. I'm hoping for a "real" design soon. I'm also trying to go back through my posts and FIX THINGS which takes a long time but I really love it.
*****************************************************
1. We all have little moments of insecurity and little slumps. No matter how large our blogs are or how small, we have them. ALSO non-blogging readers have them too!
2. Comments are not an indicator of worth. Readers are out there. Engaging is my best way to discuss books and bookish thoughts, and I need to keep doing this if I want to keep discussing.
3. Making improvements and changes to my blog and social sites is one way of engaging, but I can certainly comment on other blogs as much as possible since they DO still make people feel good.
4. New blogs have helped to keep my blogging life fun! A fresh voice brings new energy and excitement to my little space within this community and I JUST LOVE THAT, which is why I wanted to share that with you guys.
*****************************************************
What have you done to help with your blogging or reading slumps or bouts of insecurities? I know that I'm not the only one out there that has them from time to time!
Have you found any new blogs lately that make you excited?
Share them with me!