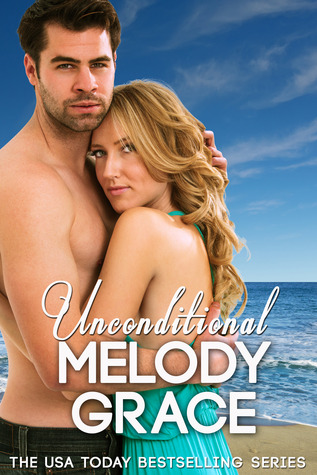 Series: Beachwood Bay #3
Publish Date: March 18, 2014
Source: Author for Review – Thank you!
Find It: Goodreads / Amazon / B&N
"I've spent my whole life chasing perfection: perfect looks, perfect man, perfect home. But in one brutal moment, I realized it was all just a beautiful lie…"
Carina MacKenzie is fleeing from her past. Picking up the wreckage of her shattered dreams, she seeks comfort in the only place she's ever felt safe: Beachwood Bay.
Garrett Sawyer isn't looking to be anyone's savior. Scarred by old betrayals, he's sworn never to put his heart on the line again — especially not for a damaged, high-maintenance girl like Carina. But passion knows no logic, and soon, their reckless chemistry is making him forget his bitter vows.
Two damaged hearts. The hope of true love. As their passion blazes out of control, Carina and Garrett struggle to escape their legacies of hurt. But can you ever outrun the past? And when everything is on the line, can they trust enough to build a love that's unconditional?
(from Goodreads)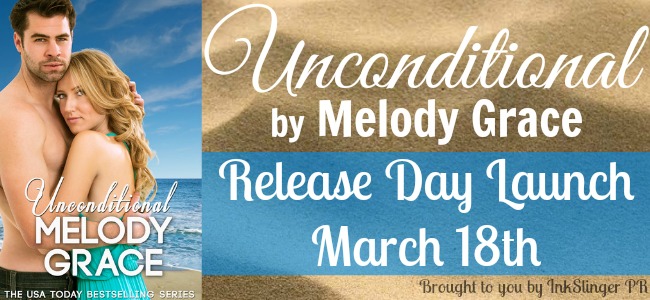 Unconditional by Melody Grace
My Thoughts:
The Beachwood Bay Series by Melody Grace is one of my favorite New Adult series – I always find myself excited when I find out there is another book close to publication date and then I get excitedly anxious as that date arrives. I'm so, so excited that the Release Day for Unconditional is here, you guys! This series just gotten better and better as it has grown.
Unconditional begins in a scene between Carina MacKenzie and her fiance Alexander – it is not the best of times for Carina, truth be known. Carina has everything she could dream of having – the nice home, the nice car, expensive clothes, friends that share her lifestyle – but she knows that when she marries Alexander she will be in a loveless marriage. Not only that, but Alexander has a couple of habits that are not okay. The opening scene has Carina hosting a dinner party for some of Alexander's business associates with a fake smile – perfectly – even as Alexander entertains his guests with jokes at Carina's expense. She sits there in her beautiful home, surrounded by people living the life she has always wanted, and she begins to second-guess what she wants for her future. Immediately after the party, Alexander leaves for his office in the city – he often spends his weekends at his office (strange, right?) – and Carina decides SHE'S HAD ENOUGH. She packs a couple of bags and BOOM! She's gone. Where does she go? Carina goes back to the family's old beach house in Beachwood Bay, North Carolina.
Carina arrives in the middle of the night to find that THERE'S SOMEONE LIVING IN THE HOUSE. And OH MY GOSH – eww eww eww – it's none other than Garrett Sawyer! Garrett Sawyer, the drinks-too-much, has-the-looks-of-a-mythical-god, ladies' man. Having nowhere else to go, Garrett is kind enough to let her stay in her own beach house and Carina settles in for the night. After a few run-ins around the house and in the bathroom with too much skin (yikes!) and a heart rate that begins to increase the more she is around Garrett, Carina realizes that maybe, maybe, MAYBE he isn't really all that bad. After she quits talking so rudely to him, begins to treat him like a real person, and actually starts listening to him, Carina realizes that WOW – Garrett isn't really stupid and he actually has some really smart things to say…things that help her begin to put the pieces of her life back together when she has no idea how to begin again.
AND AND AND…Garrett has a devastating past of his own that Carina may be able to help him with if he will open up and let her…
*********************************************************************
As Garrett and Carina go from UGH to hmmm-what's-going-on-here to actual friends, there is the most delicious of slow-burn tension between them. This is something that I'm used to with Melody Grace and her writing and MAN I LOVE IT. Unconditional is the story of Carina MacKenzie finding herself again after thinking she lost what she never had to begin with AND it is the story of Garrett Sawyer opening his heart after he closed it and locked it up because he felt like he didn't deserve anything good in his life after something awful happened.
I would be lying if I said that this story is way different than the others in this series – the characters aren't exactly the same, no. They do move along similar tracks or maybe they run along in the same crowds – perhaps they're similar because some of them are related and because they're all connected in some way. It doesn't actually matter, to be honest. I absolutely love stories like this and if Melody Grace wants to write ten more along the same vein, I will read them all. She knows how to write the oozy tension that begins with two people that want to act like they can't stand each other but we, the readers, know that really isn't the case at all. I read Unconditional with the death-grip on my ereader because I thought if these two didn't hurry up and kiss and then kiss again and then kiss some more, I'd flat-out break my Kindle. (This is how I have read the other books in this series too.)
As always, I love the setting of Beachwood Bay, the small town by the North Carolina shore. It isn't a big tourist-y town – rather, it's a small town that people live in year-round but manages to gather a few seasonal visitors and attracts some college kids from neighboring towns. Beachwood Bay isn't a real place (as far as I know, and I'm right here) but I LOVE IT. It feels real, right down to the beach house and Jimmy's bar, which is a fixture throughout the series. I also love the way the author continues to weave in the characters we've met in the previous books and they remain a nice, big chunk of the story STILL. You do not have to have read the previous books to read this one or to fall in love with these characters, but if you already know and love them like I do, you will be smiling ear-to-ear to see that they are still here, still well, and still happy.


All-in-all, Unconditional is a winner. A WINNER. I love this series to pieces. It's a re-read series for me and I'd love to see audiobooks of the entire series one of these days so I can listen to them over and over. I recommend Unconditional and the entire Beachwood Bay Series to fans of New Adult Romance with an enthusiastic two-thumbs up and two high-fives. In my opininon, books like this one are so much fun. SO MUCH FUN.
*********************************************************************
A noise comes. A shadow rears up in the dark. I scream.
Panic claws my chest and I scream again, reaching blindly for something to fight him off. Squatters and junkies and all kinds of dangerous men fill my mind as my hand closes around something solid on the hall table and I swing with everything I've got.
"Goddamn!" The figure reels back, stumbling against the wall.
"Get away from me!" I cry, shaking. My heart is racing so fast I think it might beat right out of my chest. I grip the object in my hand tighter. "Don't touch me!"
"I'm not trying to touch you!" The man roars, angry. "I just want to know what you're doing breaking into my goddamn house!"
The light flips on. I reel back, blinded by the sudden glare, but as the daze clears and my eyes flick back into focus, I see the man in front of me for the first time.
He's half-naked, that's the first thing I notice. Jesus, his body is like nothing I've ever seen before: tanned bronze and chiselled like a Greek god, but not like the guys I've dated, all waxed and pumped from hours at a fancy gym. This guy is real, raw, all muscle and power, with web of dark tattoos snaking over the bicep of his right arm. I feel a flush roll through me, hot with prickling awareness, but I can't look away as I take in his tight, sculpted six-pack abs, and the trail of dark hair leading down to the waistband of his navy briefs…
"Don't mind me, darlin'." his voice comes. "Any time you're done looking…"
I snap my eyes up to his face, blushing. Then I look at him for real and it all clicks into place.
"Oh," My heart clenches in my chest as I recognize him for the first time. "It's you."
Unshaven face. Messy mahogany bed-head hair. And a pair of stormy ocean-blue eyes scowling at me like I'm the last person on earth he wants to see.
And I can say, the feeling is entirely mutual.
"It's me." Garrett Sawyer agrees in a low, Southern drawl. He strides over and snatches the vase from my hand, setting it down on the table with a thud. "Now, you want to tell me what the hell you're doing creeping around my house at three in the goddamn morning?"
*********************************************************************
Unconditional will appeal to fans of:

New Adult Contemporary Romance
Romance: Slow-Burn. No Triangle.
Coastal Setting. (North Carolina!)
Sibling Relationships
Great Secondary Characters
Alternating POV
Companion Series

Be smart, younger readers!
This book is for the older-YA and adult reading crowd!
Unconditional
by Melody Grace
is currently available for purchase.
*********************************************************************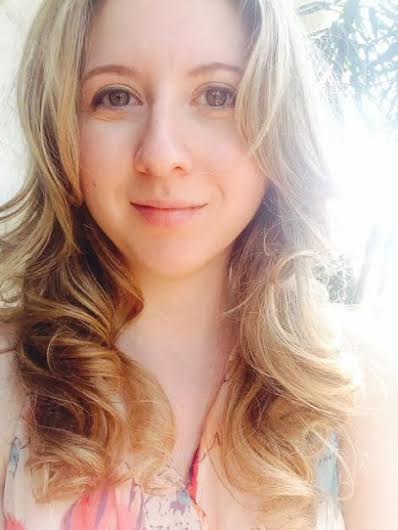 Melody Grace is the USA Today bestselling author of UNBROKEN and UNTOUCHED. A small-town girl turned SoCal beach-lover, she spent years with her nose in a book before deciding it was time to write them for herself. She loves bad boys, good books, and pistachio-flavored ice-cream.
*********************************************************************