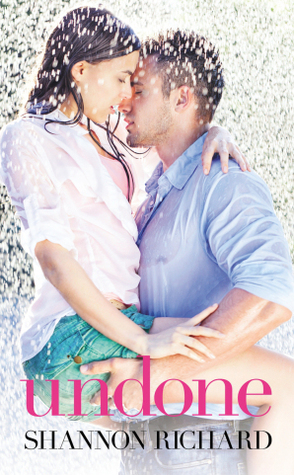 Undone by Shannon Richard
Series: Country Roads #1
Published by Forever Yours
Publish Date: July 2, 2013
368 Pages
Source: Publisher
Find it here: Goodreads / Amazon / B&N
Things Paige Morrison will never understand about Mirabelle, Florida:

Why wearing red shoes makes a girl a harlot
Why a shop would ever sell something called "buck urine"
Why everywhere she goes, she runs into sexy-and infuriating-Brendan King

After losing her job, her apartment, and her boyfriend, Paige has no choice but to leave Philadelphia and move in with her retired parents. For an artsy outsider like Paige, finding her place in the tightly knit town isn't easy-until she meets Brendan, the hot mechanic who's interested in much more than Paige's car. In no time at all, Brendan helps Paige find a new job, new friends, and a happiness she wasn't sure she'd ever feel again. With Brendan by her side, Paige finally feels like she can call Mirabelle home. But when a new bombshell drops, will the couple survive, or will their love come undone? (Goodreads)
Undone by Shannon Richard
My Thoughts: THIS IS ONE OF MY FAVORITE SERIES EVER EVER EVER.
I've read this series before but I've never talked about it on my blog. FOR SHAME! I inhaled these books, devoured them, and it was when I was in a particularly stressful time of my life earlier this year so really these stories couldn't have come at a better time for me. They have some of my favorite features and I CAN'T WAIT to share with you why I love them so much. I'll start with Undone since I've just reread it again.
A few things about Undone by Shannon Richard:
1. Setting. This is a companion series set in a small town: Mirabelle, Florida. The beaches are beautiful but the people are few, and this means that everybody knows everybody else's business. Small-town romances are some of my favorites, and this series is TOPS.
2. Undone features Paige Morrison and Brendan King.
Paige has recently relocated to Mirabelle from Philadelphia after a big breakup. The book begins three months into her new life in the small town and Paige is still looking for a job. She arrives at her eleventh interview and is quickly turned down. Why does this keep happening? On the way home from the interview, her jeep breaks down. With no cellphone service, she has to walk for twenty minutes down the road in her high heels to the nearest store to use their phone. She's so frustrated with her recent luck but OH HOW THINGS ARE ABOUT TO CHANGE! Her call connects her to King's Auto and Brendan King. Here is where the story becomes fabulous. — Paige is an artist with a loud and colorful style; she sticks out like a sore thumb in little ole' Mirabelle. Her jeep is orange and she has a loud mouth. She's just trying to find her place here.

Brendan arrives on the scene with a tow truck and a smirk. He knows about Paige – he's seen her around town with her bright, flashy clothes. He's heard about her opinionated conversations here and there. He was looking for a chance to introduce himself and WELL HERE IT IS. Brendan runs King's Auto with his grandfather, see, and when Paige ends up having a few problems with her jeep…THERE'S HIS "IN." — Brendan has ignored the gossip about the new girl in town. He's no stranger to gossip himself with the mother he had. He has a Southern accent, a sure smile, and a 5 o'clock shadow. He may be good looking, but he doesn't make the best first impression on Paige! (This negative first impression only last for a super short while.)
3. Romance. There is instant attraction, but it isn't instant love. Brendan and Paige annoy the heck out of each other for a little bit while trying to play off their attraction to one another. When friends and family begin to meddle (YAY for small towns!) in a super-friendly way, the sparks begin to fly on their own and hello slow-burn romance! I LOVE IT, I LOVE IT, I LOVE IT.
The romance between Brendan and Paige is super swoony because it is real and pure, and they take it slow. Brendan respects Paige and her wishes, which makes me respect him. I fell for him because of his treatment of Paige, and I fell for the two as a couple because of how well they work together.
4. Sibling/Family/Friend Relationships. In abundance! These are all healthy relationships and are present throughout the series. This is important because those that appear to be secondary characters in Undone become major players in successive books. Liking them is very important!
6. Humor. Present in conversation and situation, and also in the personalities of a couple of the characters. Two characters in particular – the town gossip and Paige's next door neighbor – are particularly humorous while also being pretty awful. They're terrible but I can't help but laugh at them.
6. HEA. You know I love them!
Undone
by Shannon Richard is a favorite for me. This series is one that I search for when I want something that makes me smile and chuckle and swoon and smile at the end of each book. I absolutely adore Mirabelle, Florida and this group of friends. I love that with each successive book, I grow to know more and more about the characters. I want to know these characters in real life! Brendan and Paige are a great couple to start the series with because they provide a good, solid, slow-burn, swoonworthy romance. I recommend it wholeheartedly to my romance-reading friends, to the ones that love companion series that are set in really great small towns, with really great slow-burn romances, respectful love interests, great relationships, and maybe a little humor as well.
***********************************************************************
Undone will appeal to fans of:
Fantastic Setting: Mirabelle, Florida
Romance: Slowly-building. No triangle.
Great Relationships.
HEA
Companion Series
Undone by Shannon Richard
is currently available for purchase.
***********************************************************************
Also in the Country Roads Series:
Have you considered starting this series?
Because if you like any of the things I've listed above,
you probably should!