Series: Beachwood Bay #1.5
Publish Date: September 13, 2013
It's the last night of summer in Beachwood Bay, but for Brit and Hunter, it's only the beginning …
She is: rebellious, wounded, free.
He is: handsome, searching, enchanted.
One night. Two restless hearts. But what happens when morning comes?
A tantalizing new novella from the internationally best-selling Melody Grace.
*Untamed Hearts is set 3 years before the events of Unafraid. It can be read before, after, or as a stand-alone novel.*
**Contains adult material, 17+**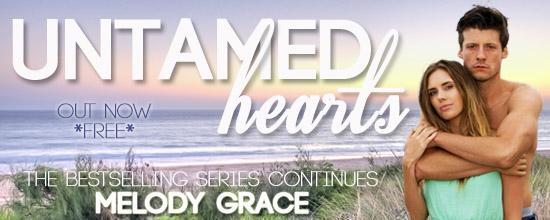 **********************************************************
I've already read and loved Unafraid!
You can read my thoughts HERE.
Untamed Hearts is a Prequel, but can be read before or after Unafraid.
I read it after!
*********************************************************************
Untamed Hearts by Melody Grace
My Thoughts: You guys know how much I love FUN series, right? YES. Fun companion series? YES. Books set in the South, specifically North Carolina? YES. I know you do because I tell you all the time.
Untamed Hearts is a short prequel to the second book in the series and takes place three years before Unafraid. It tells the story of the brief time Brittany Ray and Hunter Covington spent together before he went off to college, leaving town for good (or so Brit thought).
The story opens with Hunter at one of his parents' dinner parties on the last night of summer at the beach. He is miserable, both because he knows that he'll be leaving to go back to Charleston the next day and because he hates these parties. Hunter doesn't want this life – he doesn't want to be going to Yale to major in Business and minor in Economics so he can join his father's company and make lots of money. He really wants to make his own choices in life, and if he had it his way, he'd take over his grandfather's ranch one day. To Hunter, that ranch represents freedom and doing a job he is passionate about. He loves the ranch and loves spending time with his grandfather there – his grandfather was never one to believe in money and all that came with it, and Hunter feels much the same way. So…needless to say, he's bored out of his mind at his parents' party, schmoozing all of his parent's friends. Making small talk, networking, fake smiles. Hunter hates all of that.
When by sheer coincidence, they run out of butter in the house (and are unable to keep the fabulous pastries coming for their guests), Hunter is super-quick to volunteer to run out and grab some. Smart move, Hunter! On the way, he happens to mosey on by the place where the lovely Brittany Ray works. And Hunter can't resist taking a peek at her thru the window.
Brittany Ray is a hard-working sixteen-year-old. She's burned-out on life already after growing up with an absentee father and an addict for a mother. At least she has her brothers to count on, but even they can't stop the rumors and gossip around town about Brit being the town "trailer trash" and even worse. Brit has talent and loves fashion, but she doesn't believe in fairy tales and dreams. Life is just too hard.
Brit finishes up at work and heads off to the last party of the summer down at the beach when she ends up seeing Hunter Covington. A string of interesting events leads to a walk on the beach. Brit can't believe a guy like Hunter is giving her the time of day – guys like Hunter don't notice her! But they end up having a great time and a great night, actually.
That night changes both Brit and Hunter, and neither of them forget it.
Okay, so I've read Unafraid already, as I've already told you – so some of the information in Untamed Hearts I already knew! But that's okay! What Untamed Hearts does is give details about the time leading up to the time Brit and Hunter spend together and details about the time that they actually spend together. And you know what? I liked it.
I love the world Melody Grace has created in this series – I love these characters. I love Brit and Hunter (and I love Emerson and Juliet from the previous books too!). Untamed Hearts does not give huge, huge insight into the characters personalities, but I think it is enough to make you curious if you don't know Brit and Hunter and I like that. Already knowing them, however, I loved having the extra information about this time in their lives that is so important to them – and this moment is important to them.
Untamed Hearts is great because it can be read before or after Unafraid. It can be read as a standalone or it can accompany Unafraid. It's totally up to the reader to decide how she/he wants to do it. I love that. This isn't one of those novellas that carries vital information but is super-expensive and not easily accessible – Author Melody Grace has been gracious enough to offer it for free to readers on Smashwords. Honestly, with this prequel being free and also Untouched being free on Amazon, I think readers that love the new adult category have plenty of reason to give this series a try.
I recommend Untamed Hearts for fans of New Adult Contemporary Romance, fans of a great setting, and readers that enjoy novella prequels. I love this series and will keep reading it as long as Melody Grace continues to write it!
*********************************************************************
Untamed Hearts will appeal to fans of:

New Adult Contemporary Romance
Coastal Setting.
Alternating POV
Novellas/Prequels Be smart, younger readers!
This book is for the older-YA and adult reading crowd!
Untamed Hearts
by Melody Grace
is currently available for purchase.
**Available for FREE on Smashwords using the link
underneath the banner above!**
*********************************************************************
Melody Grace is the USA Today bestselling author of UNBROKEN and UNTOUCHED. A small-town girl turned SoCal beach-lover, she spent years with her nose in a book before deciding it was time to write them for herself. She loves bad boys, good books, and pistachio-flavored ice-cream.