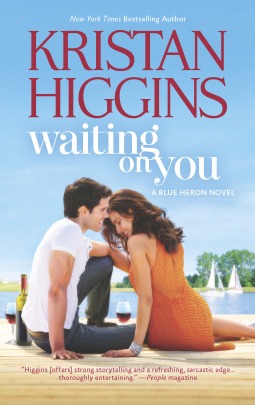 Waiting On You by Kristan Higgins
Series: Blue Heron #3
Published by Harlequin
Publish Date: March 25, 2014
464 Pages
Source: Publisher
Find it here: Goodreads / Amazon / B&N


Does being nobody's fool mean that you're nobody's love?

Colleen O'Rourke is in love with love… just not when it comes to herself. Most nights, she can be found behind the bar at the Manningsport, New York, tavern she owns with her twin brother, doling out romantic advice to the lovelorn, mixing martinis and staying more or less happily single. See, ten years ago, Lucas Campbell, her first love, broke her heart… an experience Colleen doesn't want to have again, thanks. Since then, she's been happy with a fling here and there, some elite-level flirting and playing matchmaker to her friends.

But a family emergency has brought Lucas back to town, handsome as ever and still the only man who's ever been able to crack her defenses. Seems like maybe they've got some unfinished business waiting for them—but to find out, Colleen has to let her guard down, or risk losing a second chance with the only man she's ever loved. (from Goodreads)



Waiting On You by Kristan Higgins


My Thoughts: BY NOW, I already know that I'm more than likely going to laugh and sigh and hug the books in this series when I read them. I already know that I will love whatever is coming next. Isn't that an awesome feeling? I think so. I waited anxiously for Waiting On You and was SO, SO EXCITED to be able to crack it open and read it – so much so that I planned to put aside whatever else I had open and immerse myself in the joy of this delightful little town and the lives of the quirky people that live there. BUT! Right after I received this book, I BECAME SO SICK, y'all – I literally put the book on the bed beside of me and slept all day with it just sitting there for a couple of days, unable to open it up. Finally, I was able to pick it up and read a little bit at a time (instead of devouring it like I had the previous two books in the series). OH HAPPY DAY.


I'm not sure if that has been a better thing or not – reading it slowly or quickly. This story was a teensy bit different than the previous two but at the same time, it was exactly what I've come to expect and know and love – SO…for this reason, reading slowly was a kind of torture, but a sweet one.



**************************************************************
Waiting On You is Colleen's story – Colleen O'Rourke – twin sister to Conner, half-owner of the local pub/bar/hangout, and the town's resident go-to for matchmaking. Colleen is the quintessential bridesmaid but never the bride – she alone is responsible for the coming-together of a bazillion local couples and even has several babies named in her honor. Colleen throws off this "Oh, I'm not interested in love, but let's get you hooked up with…" vibe but way deep down, she's really longing for a connection with someone other than her beloved dog. Colleen wants to be loved too, but she would never admit it. See, she's been loved before – she even loved the guy back – but he broke her heart, and she cannot doesn't want to go through that again.
Colleen is working on setting up a good friend with one of the local hotties, Bryce, when IN STROLLS BRYCE'S COUSIN, LUCAS. This is significant for several reasons:
Lucas is adamant that Bryce does not need a relationship at the moment and is determined that Colleen must STOP the madness that is her matchmaking. (Colleen does not like being told what to do.)
Lucas is temporarily in town because Bryce is his cousin. Bryce's father is dying and has asked that Lucas help "get Bryce through" the impending sad event. See, Bryce doesn't really "get" the reality that his father is a very sick man. Also, Bryce's father has been like a father to Lucas since his parents were unavailable for many, many years.
Lucas is the man that broke Colleen's heart. When Lucas speaks, Colleen can barely breathe. Lucas is Puerto Rican and looks sort of like a pirate. And HOW DARE HE WALTZ BACK INTO HER LIFE AND MAKE HER BREATHLESS?
Colleen hasn't forgotten the way Lucas broke her heart – interestingly, Lucas remembers things a little differently than Colleen. Colleen apparently has never stopped feeling the way she felt about Lucas – Lucas' life took a different direction but apparently his feelings never ceased either. HOWEVER both are being as stubborn as can be where the other one is concerned and regarding their still-alive-and-recently-unburied feelings – it is utterly ridiculous, completely hilarious, and at times it is also heartbreaking.
Basically, it is perfection in the form of
another Kristan Higgins book.
**************************************************************
YOU GUYS! I WANT TO SHOUT TO THE TOP OF MY LUNGS HOW MUCH I LOVE THIS BOOK! I really do, and I don't care how stupid I look or how populated the area may be at the time. There is something SO COMFORTING about The Blue Heron Series that makes me want to move to Manningsport, New York so I can be a part of the goings-on of this crazy and fun little lake town. I've grown to love the people of these books so hard, and every time a new character is introduced I can feel my heart literally flutter with anticipation at the feelings that will grow over the course of this series for him or her. (
I may be the dorkiest reader in the world, but I'm totally speaking pure honesty right now. And I know I'm not the only one that feels this way.)
Waiting On You was a little bit different for me, like I mentioned earlier, because reading this particular book meant spending a little less time outside of the "core" Holland family and focusing on close family friend, Colleen – this was totally okay with me because 1) I already knew her a bit from the previous books and 2) she is hilarious. I loved Colleen's story (maybe the most so far?) and I was thrilled and honored to be privy to it. Colleen has had a bit of an interesting past, particularly where love is concerned, and it has everything to do with Lucas. Thankfully she has had her twin brother Conner (LOVE HIM) who has been not only her dear friend and business partner, but a sound voice of reasoning through the years as she has made big decisions. This time, though, Colleen has to rely on her own self, her own heart – she has to let her tall, thick walls down if she's going to be able to love again like she wants to. DO IT, COLLEEN. DO IT!
Lucas is a super fun and brilliantly-written love interest. I just loved him to pieces. He has had a tough past as well – from his family history to his past romantic relationships – but the author chose to write him with enough comedic force to balance out the tearful moments you may feel when he is on the pages. Lucas was able to make my heart heavy and then he could turn around and make me laugh in the mere space of a page or two – and this happened over and over and over. I LOVED THIS about him. Another thing I loved about Lucas was the way he was fiercely loyal, even when it cost him something like time or happiness – I respect him so much for so many things he did and said and for ways that he acted. It wasn't always apparent to the other characters in the book, but readers will know what is up with this guy, and WILL LOVE HIM for how awesome he is. Yet another thing about Lucas is that he is a little cocky – now, I like that in characters when it isn't obnoxious. Lucas is the perfect amount of cocky – only at the right times and balanced well with sweet and sincere and honest. HOWEVER, Colleen is also cocky, and in this way the two rub each other the wrong way quite a bit too. It is really funny at first, then there is the romantic tension, then YAY IT GETS REALLY GOOD.
I would be doing a disservice to this series as a whole if I didn't mention the setting, which I have loved from the beginning. Manningsport, NY is a small lake town that seems picturesque and quaint (at least, it does in my mind) and I love the way the book LOOKED and played out in my mind as I read it. I could visualize every scene perfectly because of how well the imagery was created and maintained by the author – the continuity from book to book is fantastic. And hallelujah! to keeping the characters that I love so much in the books so often because I love it when I get to follow relationships or people as they continue with their lives – I actually, genuinely am thrilled when I see that my favorite characters are living life well and are happy together, being fulfilled in their lives and living out their dreams.
If Waiting On You by Kristan Higgins is any indication of how this series will keep progressing, I'm honestly not sure how I will be able to stand it. My heart swells so much at all of the emotions I feel when I read these books – sheer happiness at the right times and then the emotions come at the right times, but these times are broken up with hilarity – like laugh-out-loud hilarity even in public because this author knows how to create funny scenes. I adore this series, I adore these characters, I adore this town and the thing they have going there. I want to go there and visit and maybe buy a house and check out the local businesses I've read about. I want to BE THERE, inside this book. I'm a fan, I'm a fan, I'm a fan. I'm excited for the next book and the not-very-long wait for it – you can believe that I will be reading it eagerly as I have the first three. Solid, these books are, and I recommend them to EVERYONE – if you have never really given adult contemporary romance a shot, this is a fantastic place to start. Waiting On You is third in this series, but you don't have to read the previous two books to read this one – Colleen and Lucas can stand alone if you want them to!
**************************************************************
Waiting On You will appeal to fans of:
Adult Contemporary Romance/ChickLit
Romance: Wonderful. No Triangle.
Small Town Setting
Stories Incorporating Family & Sibling Relationships
Waiting On You
by Kristan Higgans
is currently available for purchase.
**************************************************************
Have you read this series yet?
Or any of Kristan Higgins' books?
If you haven't,
DROP EVERYTHING AND READ THIS ONE.