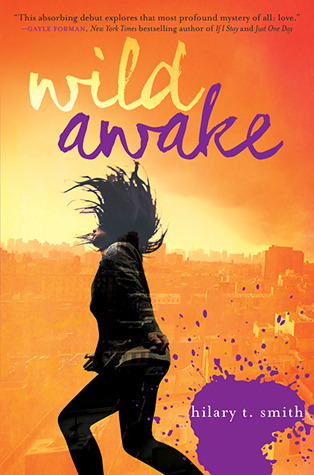 Wild Awake by Hilary T. Smith
Published by Katherine Tegen Books
Publish Date: May 28, 2013
375 Pages
Source: Edelweiss
Find it here: Goodreads / Amazon / B&N


Things you earnestly believe will happen while your parents are away:

1. You will remember to water the azaleas.
2. You will take detailed, accurate messages.
3. You will call your older brother, Denny, if even the slightest thing goes wrong.
4. You and your best friend/bandmate Lukas will win Battle of the Bands.
5. Amid the thrill of victory, Lukas will finally realize you are the girl of his dreams.

Things that actually happen:

1. A stranger calls who says he knew your sister.
2. He says he has her stuff.
3. What stuff? Her stuff.
4. You tell him your parents won't be able to—
5. Sukey died five years ago; can't he—
6. You pick up a pen.
7. You scribble down the address.
8. You get on your bike and go.
9. Things . . . get a little crazy after that.*
*also, you fall in love, but not with Lukas.



Wild Awake by Hilary T. Smith


My Thoughts: I've struggled with my thoughts on this book exactly. I mean, I know how I feel about it and I know that I liked it and I know that I waited a long time to read it but MAN I'M SO GLAD THAT I DID.



Wild Awake came to me at exactly the time that I needed it.


Before I go any further, here are a couple of other reviews of this book since I'm having a hard time articulating how I feel about it: Ivy Book Bindings and Rather Be Reading articulated some of my own thoughts very well and I have to agree with what they say. You can find a bazillion other great reviews here on the book's Goodreads page.


I've seen so many really great reviews of this book – people are saying these wonderful things about this author's writing style: some are saying it is beautiful prose and some are saying it is wonderfully disjointed. I love a book that has lovely words and beautiful phrasing and I do think this one was nice. The writing style was really interesting and lovely and captivating. If I am being honest, though, the writing didn't stand out to me quite as much as the characters did. This is not a knock on the writing, but a shout-out to the characterization. These characters – Kiri and Skunk in particular – are so wonderfully created they are like blinking neon signs. (Also, secondary character Denny, who is Kiri's brother – great character.)


The thing is this: I feel like Kiri is kind of like a study in both grief and mental illness. She's broken apart after finding out some previously unknown information about her older sister's death and she's upset that her family chose to keep this information from her. Kiri is upset that after she went on a little fact-finding mission about her sister's life; it appears that sister Sukey didn't live exactly the way she always envisioned. Kiri is more than broken up about this information – she basically comes undone. (This is amid some intense romantic rejection, some isolation, and some pressure for piano-playing perfection.) I think, personally, Kiri was already on the way to spiraling downward and it took this one more thing – this one more issue of re-living Sukey's life and tragic death – to quicken that downward spiral.


There's another thing: Kiri is an absolutely fascinating individual. She's bright and intelligent and completely artistic. She is able to see the beauty and the art in everything; she's just one of those people. And it almost seems like the further she spirals downward, the "crazier" she becomes, the more unhinged she is – the more creative she becomes as well. Her music becomes better. Her art seems to be enhanced by her deteriorating mental state.


Kiri's friend Skunk is also a bit of a study – he is a person that initially seems solid. I wondered, to begin with, whether it was safe or not for Kiri to befriend this guy – she didn't even really know him when she met him and almost immediately began to trust him (some of her actions had me screaming NO!! to her just for safety reasons, which is very indicative of the type of character Kiri is and solidified my predictions on her mental state). It soon became apparent that Skunk really cared for her and actually seemed to understand her, how she thought and how she dealt with things and processed things. They were quite a pair and I liked them together, as friends or whatever. It was comforting and also interesting to find out why Skunk had such a great understanding of Kiri, and it made him an even more likable character to me. Skunk was written in a flawed and realistic way, just like Kiri, was but he was very much the opposite of Kiri. They balanced each other out very well.


I chose to wait to read read Wild Awake because of personal reasons and then I chose to pick it up when I did because of personal reasons, so I think perhaps this book sits with me a little differently than other readers. Maybe? I'd like to think so. I wanted to understand people with issues like Kiri and her friend Skunk more and better. I wanted to understand how to deal with the ups and downs of people that have issues like Kiri – both the manic episodes and the depressive downs, the extremely creative times as well as the times of extreme emotion. I think that for me, this book was much more about the characterization and a little less about the evocative prose – although it is certainly there – and I couldn't help but hold my breath for so much of the book.


Also noteworthy: While Kiri was the focus of the book, there were people there trying to look out for her. Despite the fact that her parents weren't in the picture all that much, Kiri had friends that obviously loved her and wanted what was best for her. They were able to see in Kiri what Kiri couldn't see in herself, and that was key, I think. From the standpoint of the reader, Kiri's behavior and emotions and her shift from being in-control to being out-of-control was so big that it seemed bigger than the care and concern that the secondary characters had for her: her friend Lukas and his mom, her brother Denny, her parents. But that's not the case at all. Kiri was pretty much unable to see past her own self except where her own focus was: Sukey's death, making music, and Skunk. Ultimately, it took someone that was willing to be a voice of reason speaking louder than Kiri's madness to make a positive enough impression on Kiri to open her eyes to her own issues.


I think that this book is written so well because it validates my in-real-life experience with these types of issues. Kiri as a character is so well-written and so vivid that she could be a real person as far as I am concerned. That doesn't make her extremely likable. That doesn't make her someone that I'd like to spend my time around or look up to. It just makes her very real to me, and I think that's one of the reasons that I connected with this story in such a deep way. And this – my connection with Kiri and her ups-and-downs – is probably why I'm having such a hard time putting into words why I loved this book so much.


Wild Awake by Hilary T. Smith is a fantastic book, I think, and I wouldn't hesitate to recommend it to people that love YA Contemporary with Issues, great turns of phrase, great characterization, and people that love books with art and music on the inside. I am sorry that my thoughts aren't more orderly on this one, but I think they are perfectly in line with the book, ironically, and I am so thankful that I read this one when I did. It certainly spoke to me.




**************************************************
Wild Awake will appeal to fans of:
YA Contemporary with Issues, Romance & Mystery
Romance: No Triangle.
Great Characterization
Issues: Death of Family Member, Mental Illness
Wild Awake by Hilary T. Smith
is currently available for purchase.
**************************************************
Have you read this book yet?


What are your thoughts?
I certainly had a hard time putting mine into words,
although you can rest assured that I really liked this book.