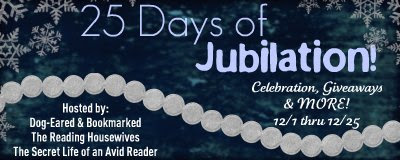 Thanks to Cyndi, Jacinda, and Yani
for hosting such an awesome event!

Welcome to my stop in the 25 Days of Jubilation event!
This event is hosted by three fabulous bloggers:
I've had a great time visiting the blogs that have come before mine

and
I'm thrilled to be a part of such a fun event!
Today, I thought I would take a few minutes
to share my favorite bookish Christmas memory with everyone
– something that I hold near and dear to my heart!
It involves this precious lady & her love of books:
Asheley & Grandma, a long time ago.
♥
I love to read today because of this woman.
No other person is as responsible for instilling in me a love of the
written word as my Grandma.
I absolutely adore her and love her for that.
My favorite bookish Christmas memory
begins
around the third grade
and
spans a period of about 16 Christmases
.
Yep, I said 16 Christmases.
See, my sweet Grandma decided to gift me
a series of books that were all my own
~she was always excited about owning a complete set of something~
so she began giving me
five shiny hardback Nancy Drew Mysteries every Christmas
until I had the complete hardback set

(by Grosset & Dunlap)

.
On the last Christmas I received Nancy Drew Mystery books,
I actually got six of them to complete my set.
Oh! It was so exciting to me! I had anticipated the moment
my set would be complete for
ELEVEN WHOLE YEARS
…
but it was also sort of sad.
Now that I had all 56 of them,
would this be the end of the tradition?


Grandma to the rescue!
By this time I was a sophomore in college and
Grandma decided that
she would continue her tradition with hardback classics. So…
st
arting in my junior year of college
and
for
the next five years
,
I got
three hardback classics every year for Christmas
.
This incredible tradition began in elementary school,
lasting through middle and high school, college,
and the beginning of my marriage –
only ending after
I had children of my own.
I can't you how many times I've read my Nancy Drew books.
I still have them all, and they are among my most precious things.
I can't wait until my girls start reading them.
I know they'll love them as much as I did and
they'll probably read them over

and

over

and

over – just like I did,
because of my sweet Grandma.
I know I'm not the only person to have a long-lasting
bookish tradition-turned-memory like this one.
But mine is
fabulous
and I did want to share it with you.
My Grandma was remarkable in a million ways,
and her love for reading was just one of them.
So! Bookish memory aside, let's talk
GIVEAWAY
!
I have $25 for someone to spend at either
Amazon or The Book Depository.
That makes this giveaway an International one, folks!
Giveaway Information:
You must be at least 13 years old to enter.

Deadline for entry is

Tuesday, December 27, 2011

.

This contest is open to Everyone.

Following this blog is not required, but appreciated!
The 25 Days of Jubilation continues!
Be sure to visit the rest of these awesome blogs
to see what they have in store for us!
Monday, December 12th:
Wednesday, December 14th:
Wednesday, December 21st:
and