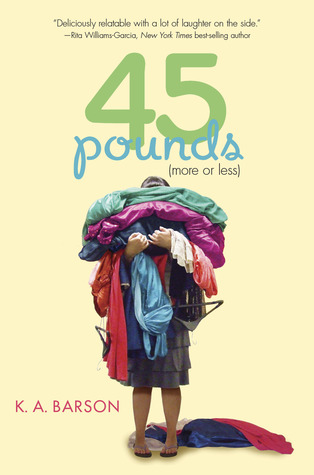 45 Pounds (more or less)
by K.A. Barson
Published by Viking Juvenile
Publish Date: July 11, 2013
272 Pages
Source: ARC Tour
Find It: Goodreads / Amazon / B&N


Here are the numbers of Ann Galardi's life:


She is 16.
And a size 17.
Her perfect mother is a size 6.
Her Aunt Jackie is getting married in 10 weeks, and wants Ann to be her bridesmaid.
So Ann makes up her mind: Time to lose 45 pounds (more or less) in 2 1/2 months.

Welcome to the world of infomercial diet plans, wedding dance lessons, embarrassing run-ins with the cutest guy Ann's ever seen—-and some surprises about her NOT-so-perfect mother.

And there's one more thing. It's all about feeling comfortable in your own skin-—no matter how you add it up! -(excerpt from Goodreads)


45 Pounds (more or less) by K.A. Barson


My Thoughts: I went into reading 45 Pounds not really knowing what to expect. I think I was wildly thrown off by the little quote/blurb on the top of the book that calls it "deliciously relatable" but I'll get to that in a minute. This book is cute. It's a quick read with a good ending that I am confident most of us will enjoy. And there is a little humor to it, but it packs a little bit of a punch too. And I loved that.


The main character, Ann, actually reminded me a lot of the daughter and her issues in the movie Spanglish. Anyone seen that movie? If you have, you'll probably understand what I'm talking about a bit more as you read this. (By the way, that movie is fabulous – you should watch it a thousand times.)


The first thing you need to know is this
:
As we see from the summary, Ann Galardi is overweight.
From the very beginning, almost the second we meet Ann, we start reading about her weight. Her size. How she's bigger than she should be and how her mother is tiny and how Ann doesn't feel good about herself and her body.
Around the beginning of the book, Ann and her mother are shopping for clothes – ugh, a bathing suit, you guys – and Ann is having a really difficult time finding one that 1) fits well and 2) she feels comfortable wearing. Anyone ever had that problem? YES, you know you have. You know – you know – how hard it is when you're shopping alone and you feel that way. In this case, Ann has her beautiful, perfect, tiny mother along, offering commentary and suggestions and unsolicited advice. Her mother certainly isn't helping things with her little off-comments or snide remarks about Ann's weight, losing weight, or ooohhh how she herself should try on THIS or THAT but wait! it would probably be too big…even when the sizes in her hands are too small for Ann. POOR ANN.
So…to set this story up: Ann is living her life in a home with a mother that is a great size. Who "encourages" her to lose weight nearly constantly. Ann is part of a blended family – both divorced parents are remarried and there are several siblings on both sides. So…Ann also struggles to figure out where she fits in the big scheme of things. There is more to Ann, but I'll just let you read it.
Now, what does Ann do when she feels down on herself? What do many people do when they become emotional? They eat. And do they eat the healthy stuff they see around them? NOPE. They go to drive-thru restaurants and order too much food. So I'm reading this book, I'm watching Ann self-destruct, I'm watching it be partially because of her mother and partially other things, and I'm immediately sad for her. This is all within the first few pages, you guys.
Ann TOTALLY reminds me of the character from Spanglish.
**I should note that some of Ann's classmates stopped by the dressing rooms while Ann was trying on bathing suits, making things even more mortifying when Ann was already having a hard time finding a suit. This kind of issue happens to Ann sometimes – things like that with the meaner girls at school – and these events contributed to Ann's self-destructive behavior with food because Ann felt comforted by the food.
The second thing you need to know is this
:
Ann finds out she has to be in a wedding and will require a dress. YAY!
Ann needs to lose some weight, and fast!
So Ann buys a diet system off of television.
Ann sees an infomercial on TV that seems to have had some really great results. The testimonials from the people in the infomercial are really convincing and practically had Ann in tears, so Ann decides that she should purchase this diet system too and try it out. Her problem? She doesn't have enough money. So a few things happen here:
Ann gets a job working at a pretzel place in the mall.

Ann orders the system but

freaks when she can't save the money fast enough to pay for it.

Ann accepts the money from her mother for the first payment and….she's off to weight loss!
Ann does a great job sticking to the weight-loss plan. She eats the (horrible) food and doesn't stop at any fast food places, even though they'd be delicious!! She doesn't eat any junk. She doesn't eat extra food. She is determined to lose the weight! By her calculations, she needs to lose about 45 pounds by the time of her aunt's wedding, which gives her about six weeks.
Sidenote: While working at the pretzel place, she is actually working with two of the meaner girls from school. One is as mean as Ann has always expected and known, but one is actually not – which is surprising. Ann realizes that perhaps she was wrong about this gal and maybe they can be friends. Maybe. ALSO ALSO ALSO there is a boy. An actual boy that talks to Ann! WHAT? Nobody talks to the big girl, you guys. Nobody.
The third thing you need to know is this:
Ann comes to realize that her unhealthy attitudes toward food
are having very, very unhealthy effects on her younger siblings.
ANN CHANGES HER APPROACH. BIG TIME.
One day when playing tea-party with her much-younger sister, Ann watches how she interacts with her stuffed animals – when she offers them cake and such (you know how little children do at tea parties, right?). Well, there are statements to the effect of NO, EATING CAKE WILL MAKE ME GAIN WEIGHT* and I CAN'T EAT THAT CAKE BECAUSE…* and Ann nearly freaks out.
This is truly an A-Ha moment for her. And also, in my opinion, a turning point in the story.
Ann realizes that little ears are listening around the house, at mealtimes, at snacktimes, all the time. The things that are coming out of her mouth, her habits, etc are having an absolute direct effect on her younger sister, which could in turn set that little girl up for a lifetime like Ann's. BUT not only that – so are the comments, actions, etc of Ann's mother. Her perfectly-sized mother – the one that doesn't really eat at dinnertime, makes the comments about weight and staying thin, etc. Ann is still freaking out. Also, Ann realizes that her mother is hiding some stuff.
Things change for the better at this point.
I LOVE HOW ANN CHANGES FOR THE BETTER AND WHAT HAPPENS BECAUSE OF IT.
*I'm paraphrasing, m'kay?
******************************************************************
45 Pounds (more or less) by K.A. Barson is a book that is about several things actually, but I saw it mainly about Ann's journey into trying to lose weight and then trying to find a healthy lifestyle – including seeing herself in a healthy way, which I loved. In the beginning of the book, we meet an Ann that has been put down because of her weight by lots of people – family included – and her self-image is poor. And it is sad. And a little of a downer. But by the end of the book, Ann's development and transformation made me want to run a marathon. I'm not even joking. I was so happy for this character.
Ann bought that diet system off of television because she does what so many people do and she believed what she heard. She hoped. She bought into the fad diet thing when she could've/should've maybe changed her eating habits and became more active. Yeah, I said it. And this frustrated me so much about Ann so many times, because she wanted/ended up taking what was the easy way out. Right away after making that phonecall to order, she knew something was up (or she should have) when she website was extremely hard to navigate and she had a difficult time getting an actual person to talk to on the phone. Then there was the food – it didn't look like it did on TV and it didn't smell or taste like Ann thought it would. Disappointing. Still, she persevered because she wanted to lose the weight so much.
And you know what? Ann did lose some weight with this system. But was it really worth it? To hate what she was eating that much? To watch her family eat delicious, healthy, well-proportioned meals while she ate something prepackaged that tasted like cardboard? To have her younger sister watching her doing this? These are all questions that Ann has to answer throughout the course of the book and while it takes her a while to arrive at each of these answers, it's a good and necessary journey for Ann.
About her job? Ann liked the job. She liked having a little paycheck, a little freedom of her own, some money. She liked one of the gals she was working with even though she just knew in her heart of hearts that that same girl had never really liked her before. But Ann learned that she was wrong and a really great friendship was born. I mean, the things that Ann's friend does for her toward the end of the book nearly made me tear up. I loved it.
And the boy. See, this boy comes to the pretzel place on Ann's first day. He orders his pretzel and Ann sort-of messes it up. They share a laugh over a well-placed bad joke about it, he takes the pretzel, and off he goes. But he comes back over and over and naturally this makes Ann's heart pitter-patter because he's a really good-looking guy. But that's the end of it, right? – guys never look at the big girls. Eventually Ann wonders if maybe, possibly, could it be that he might actually have a crush on her too??? And this sweet first (lite) romance is so much fun to read because it's tucked away underneath and in-between what is the main idea of this story, which is all of the stuff that is happening with Ann. It is kind of kept separate, so even though there are a few heavier times (not too many!) this little crush/romance stays just that. It's lovely and refreshing and never over-powering.
I can't sing the praises of how this book ends enough. Ann's family is completely dysfunctional, in my opinion. They are just a mess. I'm not sure if other people will think the same way or not, but to me – well, I could see issues with them a mile away. Ann didn't really because she was so caught up in her own struggles with her weight and fitting in with her parents and all that, but YOU GUYS WHEN SHE STARTED CHANGING TO MAKE A POSITIVE INFLUENCE ON HER YOUNGER SISTER…just, YES. Yes! Because even though her reasons were different, the effects were still the same. She was still making healthier changes to her life, still losing weight, and still becoming more well as a person. I just loved it.
I recommend 45 Pounds (more or less) to fans of YA Contemporary with Realistic Fiction. The blurb makes it look like a funny book – and I think that there are some parts that made me chuckle a little bit – but don't underestimate the messages that are present in this story. It's a super-quick read, enjoyable, and cute. It's not too heavy on the issues. And I think it'd be great for the summer. But it wasn't one that I took to be humorous – rather, I saw it as one that lots of people out there can really get something from, even if it is a little on the lighter side.
******************************************************************
45 Pounds (more or less) will appeal to fans of:
YA Contemporary with some Realistic Fiction
Romance: Lite. Slowly-developing. No Triangle.
(does not overshadow main plot)
Issues: Weight, Self-Image
Stories Incorporating Family/Family Dynamics
45 Pounds (more or less)
by K.A. Barson
is currently available for purchase.
******************************************************************
Is 45 POUNDS (more or less) on your to-read list?
Or have you maybe already read it?
Talk to me!!